My Journey So Far At JBIMS

I came to Mumbai with a suitcase. A suitcase full of dreams and a heart brimming with wonder. I looked at the brick red building that shone of a legacy built over 50 years and thought of all the things I would do here.
I replayed my introduction in my head, calculated the time I'd take to reach college by multiple ways of transport and being the engineer I was, chose the one had a faster 'ROI'.
I had an air of anxiety around me, just like everyone else had. With the hundreds of advices, testimonials and to-do-lists, my JBIMS (Bajaj) journey had begun. Reality came crashing down upon me when I had lectures from 9 AM to 9 PM. When I had to sit through 6 hours lectures of the same subject, I realized that from now on, l would be living here. Parents were consequently informed, food delivery default addresses were changed and all friends meeting plans were now made around college.
Here, there is no typical day. New days entail new experiences as much as they add to teachings. Sometimes you will have a 4 hour long break, sometimes you won't even get to eat lunch, sometimes power naps will be all you would get. As much as Bajaj is a student-driven college, it is largely academic centric. Here assignments will challenge you; you'll get more to bite off than you can chew. Google will be your best friend but will be everyone else's too. The first semester with 12 subjects, each having a syllabus so varied, will find you in a maze leave you in a daze and make expresso your best friend.
College has been nothing short of an adventure for me. Here at Bajaj, self-study is given utmost importance, lectures for the next day are decided at 11 PM the previous night, assignments require you to roam the streets and talk to strangers, each group assignment leads to a whatsapp group and sleeping habits are challenged on a daily basis.  Professors here will keep you hanging on to each word of theirs and case studies will force you to use brains more than you ever had.
Life here is often draped in black and white and you will end up finding peace in the archaic wooden chairs in the classes rather than in the comfortable couches of Starbucks. This may not be akin to the life you've had in engineering, commerce or any other undergraduate program. You have people with millions of net worth coming and addressing to you. You cannot help but be enamored by their humility, their knowledge and in a strange way, their thirst to learn from a batch of 23 odd year olds.
You won't have the comfort of hot home cooked food and you may have to miss the Friday nights you have been celebrating for so long. But Bajaj does promise a company of people who will challenge you, inspire you, invigorate you and help you carve your own success story. For me Bajaj has begun to do that. You may not believe me when I say that Bajaj is driving me crazy.
But in this chaos, I've found friends to hold on to, professors to look up to, stories to intrigue me and above all, a story to tell. Thank You Bajaj.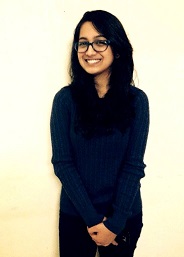 Radhika Vyawahare is an MMS- I student (Batch of 2015-17) at JBIMS, Mumbai. Connect with her here