My Leap To Godrej (In 3 Stages And 3 Feelings) – Karnn Rana From SPJIMR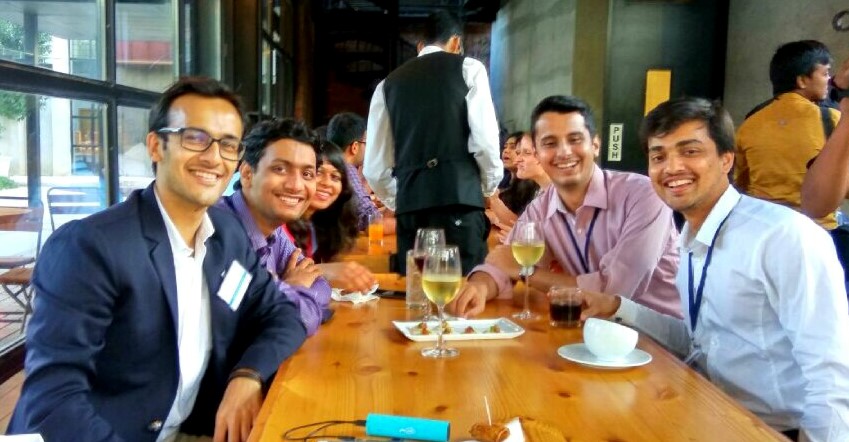 Sept 6, 2016 (0800 hrs) :
Take a quick shower- Check.
Dress up fast- Check.
Skim through the pre-reads for the morning lectures- Check.
Grab a quick bite while bolting off from the hostel to the academic block- Check.
It was just another Tuesday morning for me, here at SPJIMR. Little did I know that a simple message on my smartphone would change almost everything.
"Congratulations Mr. Karan Rana, you have been selected for a marketing internship opportunity with Godrej Consumer Products Ltd!"
Wa-aa-ow!
That message made me the 1st one, among a batch of 240 MBA participants, to bag an internship for the 2nd year. In my own little world, the feeling was legen– wait for it– dary!
It's said that whenever a big milestone event in your life is reached, your monkey mind quickly shows you the highlights of the journey that led you there. Well, I was no different. While walking up to my lecture hall, I had flashes of visuals popping up in my mind, zooming by my journey of applying to the Godrej LOUD program, getting shortlisted, sitting through rounds of online assessments, video submissions, and face-to-face interviews and finally landing that internship!
Stage 1: It all started with the Godrej LOUD program, wherein all we were asked to do was to share one of our dreams with Godrej. This could be in the form of a video, a ppt, almost anything. If they found 'passion' oozing out of our ppt slides, they would give away Rs 1.5 lakhs to go fetch our dreams. I loved the fact that instead of going the usual route of case studies and resumes, Godrej wanted to know the real side of us, the dreamer in us. Team Godrej put this message very aptly even on their merchandise T-shirts: " Coz I'm so much more than my C.V. "
People poured their hearts out- a dream to catch the Northern Lights in Norway, a dream to build a school in their village, a dream to visit Tomorrowland. The dream I shared was to travel all across India and shoot a music video on my iPhone, capturing all cultures, cuisines, and communities of my country, with the ultimate objective of spreading the message of #OneIndia. Although I didn't make it to the final list of the competition, but what I did land was an opportunity to attend the Grand Finale event and sit through an internship interview. The days between my initial dream submission and final interview were interspersed with rounds of quantitative tests, verbal aptitude tests, psychometric forms and video submissions.
Stage 2: The day came when I set foot in 'Godrej One'- the company headquarters at Vikhroli, Mumbai.
It was nothing less than an audio-visual spectacle. The moment you enter their office, the 1st thought that comes to your mind is that it's a 5-star hotel, operating as a company office. Gigantic lobbies, food courts spanning entire floors, screening theatres, swanky corridors, plush cabins, a building painted in all whites & greens- minimalistic design throughout.
Did I mention there is Starbucks inside the office?
Attending the event was such a delight. The finalists ranged from archery mavericks to dance enthusiasts to India's 1st flutist-cum-beatboxer. So much talent, energy, and dreams under one roof- it was so inspiring.
Stage 3: Finally came the moment I had been waiting for- the interview. Discussing my digital marketing experience, personal motivations and professional aspirations over a cup of coffee with the Business Development Head was quite an enjoyable experience. The day wasn't over yet. That's not how Godrej ends its events and interviews. There was a hip party thrown by the company for everyone. Was it a networking event meant for shaking hands with the who's who of the Godrej Group OR  was it an evening full of scrumptious food, exotic cocktails and groovy music- call it whatever you like.
A week after the eventful day at Godrej, I got the news that I made it. I could encapsulate the end-to-end experience in 3 buckets of feelings:
Feeling 1- Being surrounded by passionate, driven individuals (read 'dreamers') at Godrej office: Inspiring.
Feeling 2- Having your 2nd year internship sorted in the 1st 100 days at a B-school: Relieving.
Feeling 3- Looking forward to a marketing internship at a top-notch Indian conglomerate: Legen- wait for it-dary!