My Love Affair With Snapdeal – Sakshi Singh, SJMSOM Mumbai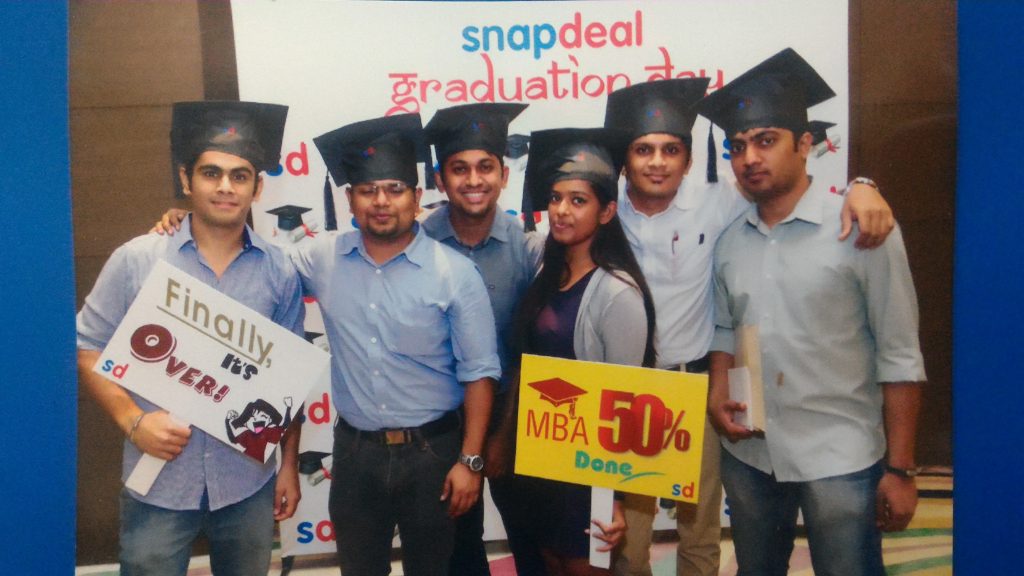 I always had this fascination for fast-paced, ever-changing world of E-Commerce. I have seen my buying behavior changing over time. And, Snapdeal was my chance to experience one.
I remember, after the selection process was over, HR tweeted a picture of us and since then I was even closely following Snapdeal all over from news feed to social media. I was waiting for my journey to get started. And this is how it began.
A day before joining, all interns received a mail stating that we need to be in formals for Induction. So, there we were in exquisite Induction Hall, all suited-booted, set to conquer e-commerce world. But we soon learned that HR's were just messing with us. Snapdeal doesn't have dress code as such. It's very open, very informal. During induction, we learned more about Snapdeal right from heads of various verticals. They shared their vision for the organisation and functional expertise, which helped me in framing the right approach for coming time.
So, here I was @Snapdeal "A fun place to work and a great place to learn".
Next day, I was warmly received by my mentor and manager and was introduced to the whole team. I was in awe after knowing the fact that my project was the key KPI of the whole team. But then the question was what should I do? I mean, project title was a 5 word sentence whose meaning even google decided not to tell me. So, I had to bother my team members on the very first day. After a few hours of discussion, I had a road map for me. In course of next 7 weeks, I interacted with numerous employees from multiple departments.
Everybody in Snapdeal  was just very open, very receptive and very supportive.
The real challenge of my project was that in current set of resources, system can't be optimized anymore. It needed either a lot of money or a lot of time. But system definitely needed improvement. So, I decided to seek some guidance from my mentor. His simple reply to this was 'think innovative, something new, you are new to system, you don't have bias, so forget system, only think of the problem this system solves and find us a solution'. And my quest for innovation began. A comprehensive primary research plan was laid out. Right from visiting 3rd party partners to listening customer comments, competitor bench-marking, mystery shopping, surveys, understanding other functions inside Snapdeal etc. I used to discuss all my ideas with my team and manager, almost on daily basis. I learned a lot from them. While research helped me in idea generation and discussions helped me in full-proofing and validating those ideas.
At one point of time, I was so absorbed within team that I almost felt like a permanent employee. Not just responsibility, I was also given freedom to make my own decisions. I loved my job, I loved my office and I loved the agility in Snapdeal.
There was one more dimension to my internship. Snapdeal had interns from 15 different B-Schools in India and we all stayed together. This facilitated networking and knowledge sharing. I learned more about other B-Schools as well. We interns had a super duper active WhatsApp group. You're stuck with some problem, or just need a foosball partner, simply drop a text on WhatsApp group. Not to mention sector 29 parties, Sunday shopping and late evening gossips.
On graduation day, we received an amazing party, heard straight from Mr. Kunal Bahl, had good food, played kickass games, clicked a lot of pictures and bid good bye to Snapdeal.
The day I landed in Delhi, I had no clue what to expect but as I was leaving, I had a collection of memories and valuable lessons for a lifetime.
———-
About the Author:
Ms. Sakshi Singh, Second year student at SJMSOM, IIT Bombay.