My MDI

14Th July, 2018. 1 month since B School had begun. 30 days just flashed by! I cannot think where my time had gone. From the induction week, to classes, to club activities, to playing the drums, to basketball, to hurting my leg during basketball and going to the hospital, to the frustration at not getting to play but not having time to play anyway, to more assignments and 4:00 am deadlines, to buying a new tie and socks for sessions! Life. Was. Hectic!
I don't know how we would have got through, if it weren't for our seniors. They put us through an amazing induction week to prepare us for the lack of sleep we were about to go through (2 – 4 hours a day being the norm) and always gave us solid advice and new perspectives. Many of them are younger than me, but the experience of going through MDI changes you. It's more valuable than any other life experience I had through my life. The experience they've had has so clearly changed them that you can easily differentiate between a senior and a junior at MDI. How, you ask? That's easy, the junior is always running (because he's late) or he is just sleep deprived, and the senior will be the calm and composed one, who has managed all the assignments well in time, and is planning to go out and have fun.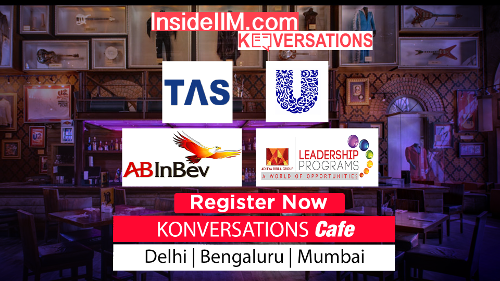 Like MDI seniors, we have seniors all around in every sphere of life. Someone who has gone through the same thing as you did. The experience is what makes them wiser, and what adds value. Some of them are friendly enough to share that experience!
I recollect having met such seniors during my 6-month internship at Aditya Birla Chemicals, Thailand Ltd., back in 2015. I was in the Phosphates division in Bangkok and met 2 sets of seniors who had come for 3-months of their LEAP program. They both gave me a small idea about their internships at many other ABG companies. The one that enraptured me the most was Aditya Birla Fashion and Retail Limited (ABFRL), Bangalore. The senior was working in the marketing vertical and told me about the experience she had analyzing the sales of various brands including Pantaloons, Allen Solly & Van Heusen, and how she learnt about preventing competition within the brands. This had really got my attention, and I didn't understand completely back then, but I was still very awestruck by the concept itself. Even today I am curious to know the strategies of keeping such a product mix, and probably that is what got me interested in marketing. The product mix built by ABFRL needs to be marketed really well to be successful, and dealing with such brands will be one heck of a learning experience!
If I ever get the opportunity to learn from seniors at an ABG company, I would love to do it at ABFRL, and hopefully become one of those helpful seniors there.