"My project demanded common sense and not heavy mathematical stuff" – Interview & Internship experience in General Managment
This is an anonymous Summer Placement Interview and Summer Internship experience brought to you by Rajarshi Saha of IIM Ahmedabad, on InsideIIM. To follow more interview experiences, check the tag – Interview Experience and follow our Interview Experiences Forum to get more than 300 Interview Experiences from top B School Recruiters.
The interviewee had interned in a major private sector energy and materials value chain company.  Following are the interview excerpts on his experiences:
Did you plan for a General Management role initially? Was that a preferred sector?
I was logical. I have a liking for finance roles, but I felt that companies would be reluctant to hire me since I do not have any prior experience in the sector or a related sector (the interviewee is an IIT grad). Hence I was open to any good role.
Tell us about the selection process.
There was a group discussion round followed by two rounds of interviews. The GD was more or less on the lines of a debate. There were five people only, two on either sides and one moderating the discussion. In the first round I was asked mostly HR questions. The second round was a bit of a technical round – but it was the interviewer who was doing the most of the talking. He spoke about the company's major manufacturing unit, how the company manages its upstream and downstream operations and asked me about what I have learnt from my past internship experience (the interviewee had interned with an energy major in his undergrad internship).
So was it that they had told you straight on which division you would be joining ?
Not really. I guess it was general chit chat. I came to know about my division only after my induction at the firm.
Okay. Tell us about the induction then. Where was the location and where were you put up?
The location was Mumbai – Navi Mumbai to be exact. The induction lasted for five days – from Monday to Wednesday it was more about knowing the company and ice breaking sessions among the interns. The last two days of the week were spent at a production site. On returning back to the office on Friday afternoon, we were assigned our projects and guides. As for the stay – the company offers its serviced apartments for the interns – but you may choose to stay separate in some other location if it suits you or is more convenient. I have no acquaintances in Mumbai – I took the guest flats.
Did you use the famous Mumbai Local train? How was the experience?
Yes I did! I am still fascinated and thoroughly enjoyed the journeys – might be because I used the Harbour Line which I guess would not be as crowded as its Western and Central counterparts. Further, I bought a first class pass to beat the crowd.
Tell us something about the project. How were your mentors? Was there any scope of using the learnings in the first year of your course?
The mentors were very co-operative. My mentor had to go to a conference in some foreign location for a couple of weeks while I was working, but he deputed someone else and this person was also very co-operative.
The project was mainly on studying consumer behavior of a certain chemical products. These are mainly by-products that are produced. There are three grades of these products, and the company is the only company in India that markets all the three grades. These are sold to mainly B2B customers who in turn produce detergents, lubricants, candles and various other consumer goods. The detergent market consumes around 70% of the products – and is well-studied. I was mostly corresponding with other customers, trying to understand their needs and consumption patterns and exploring whether there existed cross-selling opportunities or not. Additionally I even made a forecast of the market demand pattern.
The problem mainly revolved around market research – hence needless to say, the market research learnings came in handy, especially while making the questionnaire. And of course, Excel skills do help a lot.
You said about market demand pattern forecasting. How did you do it? Did you use any Statistical tools? How about the data?
The data was chiefly obtained from several related magazines – my mentors provided me with them. And no, the project was not too quantitative – just small regressions – my mentors were not looking for heavy mathematics stuff anyway. I felt that the problem did not demand Statistical treatment. Whatever we did was mostly commonsensical play around with the numbers based on logic and respondents' replies.
One final question. Gathering replies from surveys is a very painstaking job. How did you go about it?
The firm and my mentors were there. I was provided with the email ids of the customers and their phone numbers. While some customers promptly responded to the mailed questionnaire, I had to call up the others and get it filled over the phone itself. Surveys are painful – rather an evil necessity I must say!
– Interviewed by Rajarshi Saha (second year student at IIM Ahmedabad)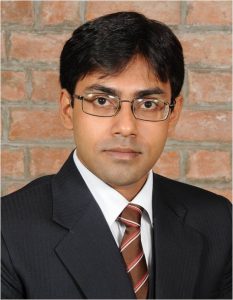 Rajarshi is someone who derives joy from things simple in this increasingly complex world. He likes to watch the sky, the sunshine and the clouds, to listen to birds chirping and the sound of rain and to occasionally, write a poetry or two.
You can follow IIM Ahmedabad on InsideIIM here.
You can follow Rajarshi Saha on InsideIIM here.