'My Take On A Consulting Internship' – Dikshya Routray's Internship Experience At A.T. Kearney – IIM Bangalore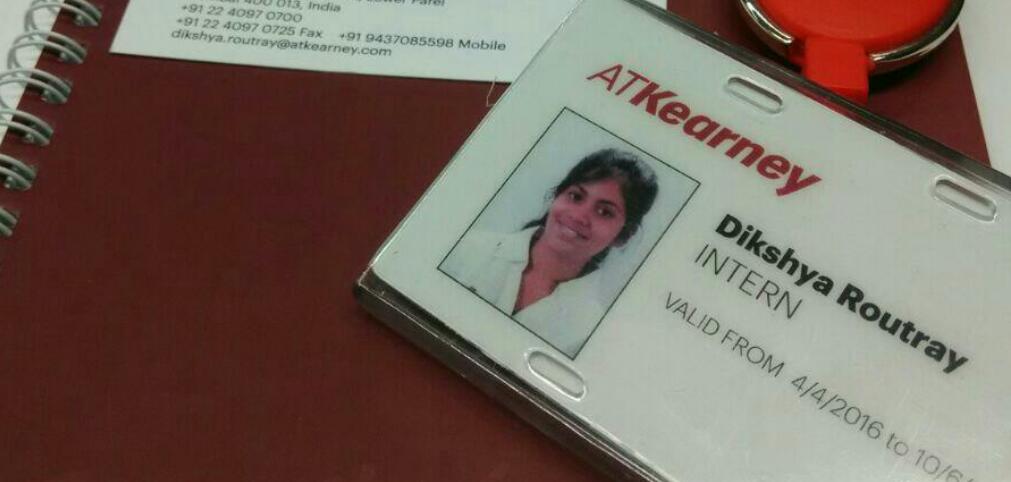 27th May: The Farewell
"The way I see it, there are only two possible outcomes: Either I make it down there in one piece and I have one hell of a story to tell, or I burn up in the next ten minutes. Either way…whichever way… no harm, no foul. 'Cause either way, it will be one hell of a ride!"
For some reason, the final lines of the movie Gravity kept running in my head as I waited for my final performance review at A. T. Kearney. I did not know what was going to come next, I did not know whether I was going to crack that coveted P.P.O. and I definitely did not know how I would feel now that the internship was finally drawing to a close. I wondered how much had I changed in that one year at IIM Bangalore and especially in the last two months at A.T. Kearney.
The answer lay in the envelope I tore open with my name on it. It had a sheet of paper enumerating ten expectations I had from my internship (customarily, on the first day of the programme, all interns are required to write their expectations from the internship which is duly sealed and is again given to them on their last day). I realized the programme had exceeded my expectations on many fronts. But then, like many others who wanted to experience consulting, I had also asked for a 'steep learning curve' and 'challenging work' and I had no idea what I was really getting into. And it seemed, the two-month capsule had taught me more about life, failures, humility and success than I had ever imagined.
4th April- 26th May: The Mumbai Diaries
The Initiation
It's difficult not to fall in love with Mumbai. It captivated me from the first day with its glamour and stark contrasts. Although I could not explore the city as much as I would have liked, I fell in love with its ambiance instantly. There is just something about the city that speaks to hopeful newcomers, like me, fresh off the shores of IIM-B, and about to embark on my first foray in corporate life. As I walked into the Mumbai office and saw serious faces gazing into their laptops, I was beset with a million questions: 'Will I be able to fit in?', 'Will I be appreciated?' and most importantly, 'Was my dressing game on fleek?' But soon, the entire office including the partners at the firm were there to greet all the interns and make them feel at home. And this continued throughout the internship: bonds became stronger and friendships grew closer.  Every day, A.T. Kearney gave me more and more reasons why it was considered a leading consulting firm, and was so proud of its people, and its culture.
The Responsibilities
Giving you a 30,000 ft. view of my work, I was staffed on a 5-member team to design a growth strategy for a major welding player which was a part of a global conglomerate. The challenge was to evaluate adjacent opportunities which they could diversify into without bleeding on margins.
Before the internship, I had been told that interns did not really get meaty pieces to work on during their tenure. On the contrary, my team ensured that I was given meaningful work and full ownership of the piece I was designing. Since, our engagement with the client was for six weeks, I got to experience a consulting project, end-to-end, which is rare for interns. One of the most exciting pieces I got was the evaluation of international market opportunity for our client across Middle East and South East Asia.  My team supported me well, helped me structure my thought process and create awesome decks.
We directly worked with the top management of the conglomerate, who were very happy with our intense study and exhaustive analysis. In fact, we delivered much more than was initially promised to the client.
The Fun
At work…
Passing the 'Airport Test' is a must for a consulting career. When you spend long hours with your team, it is extremely important to have fun with them if you don't want to die of boredom. So, don't skip the small talk!
Outside of work….
One of the reasons why people love consulting is the way it pampers you. Stay at 5 star hotels, travel, parties at high end pubs and gourmet meals with gastronomes: you truly understand what it means to work hard and party harder. In fact, my team also threw me a grand going-away party!
The Takeaways:
Be opinionated: About everything. After all, you are paid to have them! And communicate crisply, in clear and coherent language.
Build Relationships: Networking is Consulting 101. At times, it is not about what you know, but about who you know. And a consultant is only as good as his referrals.
Manage your time smartly: The more efficient you are, the more time you get for yourself and the lesser time you have to complain about 'work-life balance'. Any estimate that you make of the time required to finish your work is likely to be dead wrong. So, underestimate your efficiency and overestimate the time you are going to take in order to submit the perfect deliverable. My associate in fact, asked me to multiply the time I estimated with two all the time.
Think structure: Consultants love structured thinking. And once you are in the groove, you will hate anything which is not!
Six months earlier: The run up to the Summer Placements
If I were to talk to my younger self, a year back, what advice would I give her? Looking back, it's not very difficult to understand how B-School is microcosm of consulting. Network with your batch mates and seniors, understand the responsibilities you are expected to undertake and engage yourself in elevating conversations. And yes, hone your excel skills. You can swear by them all the time.
Oh, and don't miss the weekends at Canvas Laugh Factory at Mumbai, with its collection of best Indian stand-up comics in the scene right now. It is heavenly!