MYRA – Corporate ConneXion Talk by Amitava Saha, HR Head, Biocon

"I faced a number of challenges whilst I built Biocon. Initially, I had credibility challenges where I couldn't get banks to fund me; I couldn't recruit people to work for a woman boss. Even in the businesses where I had to procure raw materials, they didn't want to deal with women", said by one of the most powerful women in the world, Kiran Mazumdar Shaw describing the toil and sweat behind creating a bio-pharmaceutical giant, Biocon. After 37 years of its inception, Biocon is India's largest and fully-integrated, innovation led bio-pharmaceutical company largely due to the vision and efforts of its founder, Mrs Shaw. We were very privileged to have the HR head of Biocon, Mr. Amitava Saha who introduced us to the company, the transition made by the company from enzymes to bio-pharmaceuticals and valuable information on careers in the biotechnology industry. This session was held on 16th October 2015 in the Athena Auditorium at the MYRA School of Business, Mysore.
The talk started with Mr.Saha describing the journey of Biocon which began in 1978 with the enzymes business. Despite achieving consistent profits over the years, Biocon decided to expand their horizon by starting to invest in the bio-pharmaceuticals business which included branded drugs. The management at Biocon predicted even greater profits from investment in this division, hence they decided to sell off their enzymes division to Danish company, Novozymes. Mr.Saha stressed the fact that it was really difficult on their part to do away with the enzymes business. The company was unable to pay attention to the enzymes division because their focus had shifted towards the bio-pharmaceuticals business and wanted to invest heavily in that particular division. It paid off as a good exit strategy as today Biocon is growing by leaps and bounds and reaping the benefits from the seeds that it had planted.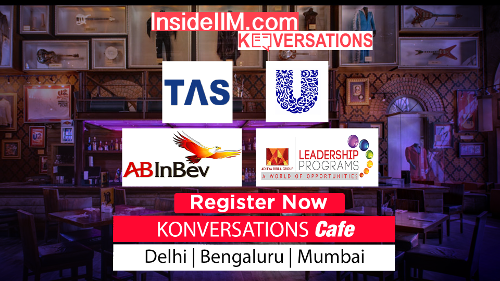 During the talk, Mr.Saha also showed us a video of how Biocon set up its first overseas manufacturing and research facility at Bio-XCell, Johor which is a biotech hub. The place offers a state-of-the-art biotechnology ecosystem and that Biocon's Malaysia facility will further augment its capabilities to cater to the global needs of diabetic patients for affordable insulin and insulin analogs.
Mr. Saha also spoke about the wonderful opportunities available at Biocon to start our career. Recruiting students and working professionals for internships and placements is an important part of the company's culture. At Biocon, interns are generally assigned real time projects to reap tangible benefits from the whole exercise. Interns get projects/assignments in all key business units in Biocon covering R&D, Operations, Quality, Marketing and support functions like HR & Finance. Though the company is primarily looking for graduates with a degree in bio-technology/pharmacy or professionals having relevant work experience, the management is always ready to welcome individuals who can be a cultural fit into Biocon, work efficiently in teams and display good inter-personal skills. Statistics at Biocon indicate that almost 8 % of their hires are interns-converts which means there is a great opportunity to grab a PPO (Pre Placement offer) after the internship period.
In his vote of thanks for Mr. Amitava Saha, Mr.Sumant Bakshi, (Career management Advisor, MYRA)) rightly said, "If I were to start my career all over again, Biocon would be the company to join." There are no two ways about that. Mr. Saha mentioned in his speech about certain employees having stayed at the organization for more than 30 years. This speaks volumes about Biocon as an organization that has always been growing with its employees. Students from the MYRA School of Business who have applied for internships and placements would indeed benefit from the lucrative opportunities available at Biocon.