The Mystery of Share Market Solved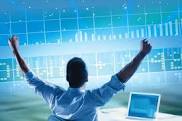 If   you are completely new to this world of stock market or you are about to start trading and  you don't know anything about it, this blog will solve the mystery of trading market. I also didn't know anything about trading market a year back. Being a Student of Marketing, stocks, derivatives & Mutual funds –these words were quite alien to me.
But not anymore. I have understood the markets by drawing parallel with the markets for other goods. To buy a product of your choice, we look for retail stores like reliance retail, Metro, Big Bazaar wherever we can get variety of products. What do we do in these retail stores! We look at various products and choose the product that suits our needs. In a similar fashion, there are a number of brokerage houses like HDFC Securities, Kotak Securities, Share khan  who are akin to retail stores where  a variety of shares, bonds and mutual funds are displayed on their shelves and the shops help  you  to make the choices by letting you know the characteristics of the underlying businesses. Let's for a moment think that you want to buy cooking oil. How will you decide which vegetable oil should you want to buy?  Most likely you will arrive at a decision after weighing pros and cons of a particular cooking oil. One would compare it on various parameters like health benefits, price, tastes etc. Likewise, the purchaser also compare stocks in trading market based on risk return characteristics, growth opportunities, liquidity and other numerous factors.
Imagine you would like to buy a soap. HUL has products Bru, lux, Kissan, .BSE and NSE also has a number of stocks listed on exchange. Brokerages like HDFC Securities, Share khan, ICICI securities are different retailers as More, Reliance, etc. You can buy a stock from these brokers after deciding on various parameters like risk, return, etc.
However, the only disadvantage Retail market is having as compared to trading market is that you can't sell the product which you have already bought. In the trading market, you can sell/Buy your stocks as many times as you want. It does sound nice as it provides you the option of disposing off your shares if you are not willing to hold it anymore or you are in urgent need of money. Though, the return will be based on market risk. You can either gain or lose in the process. However, after carefully analysing these stocks and picking the best it can make you a billionaire too. You just need to be aware of the market, keep a watch on it and invest based on the risk which you are willing to bear.
And you only learn about trading with experience. Start with investing small and with experience, I am sure you will be a billionaire one day.