NAVKRITI: A Chance For Startups To Pitch To Investors – E-Cell, NITIE Mumbai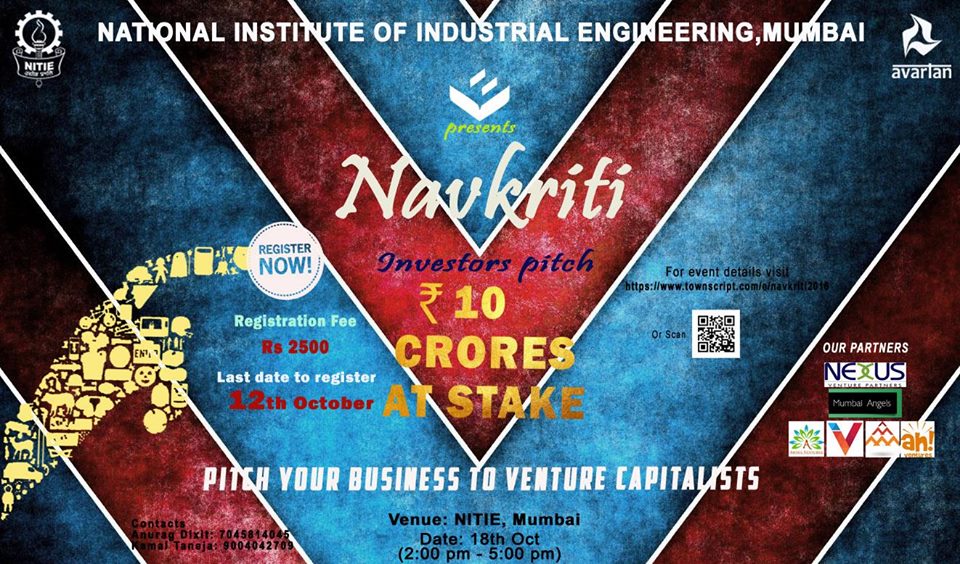 As India stares at a burgeoning 'job seeker' population, never was the need to focus on entrepreneurship as a solution more relevant- entrepreneurship will lead to setting up of more businesses, which in turn will create more jobs and thus, unequivocally stimulate the entire economy. But to create the right milieu for entrepreneurship, financial support and guidance is a must. This is where the Entrepreneurship Development Cell of the National Institute of Industrial Engineering steps in, providing a common platform for investors, successful entrepreneurs and aspiring entrepreneurs to interact with each other. The E-cell is one of the oldest and most well-known student bodies when it comes to organizing successful enterprising events.
'Navkriti' is a one-of-a-kind event which gives start-ups or aspiring businessmen an opportunity to pitch their ideas to potential investors. If these business ideas are found to be promising enough, they receive funding from several investment firms.  This year, the investors will be looking to infuse around 10 crore rupees in early stage startups. The investment firms that visited the hugely popular and successful event last year included the likes of Guts unlimited, Ad-ventures and Nexus Ventures amongst many others. These firms have invested in early round funding of startups like Myntra, Inmobi, Practo etc. indicating the immense scale and grandeur of Navkriti.
The 'Empresario Entrepreneurship Award' honors those visionaries whose ideas and ventures have radically changed the landscape of the industry. The award aims at motivating young and aspiring entrepreneurs to chase their business dreams, no matter how tough the going.  Mr. Narendra Bansal, founder Intex Technologies will be honoured with this prestigious award for the current year.
'D'apprendre' or 'My story Sessions', another crowd puller includes sessions wherein successful entrepreneurs share their tumultuous yet satisfying journeys with aspiring and potential entrepreneurs. Last year the event was graced by Mr. Faizal Farooqui (founder & CEO, Mouthshut.com), Ms. Natasha Tuli (CEO & Co-founder, Soulflower), Mr. Farooq Adam (Co-founder, Shopsense) and Mr. Aseem Khare (Founder & CEO, Taskbob). 
The previous year saw E-cell organize its maiden techno-entrepreneurial conclave, the topic for the conclave being 'Mobile- The Future of Business' The list of dignitaries who attended the event are Dr. Mr. Sandeep Sibal (Country Manager & VP, Business Development, India and South Asia, Qualcomm), Mr. Sameer Jaini (C.T.O. DCB Bank) and Mr. Hitesh Oberoi (C.E.O. Infoedge). This year the topic for the conclave is "Rural Entrepreneurship", which we expect will provide the audience with valuable insights from experts from the Banking, Skill Development, FMCG and other industries.
The 'Ideation Workshop' is an event aimed at guiding potential entrepreneurs on how to ideate, build, grow and scale up a start-up. 
Going by the gamut of events being organised, the entire program promises to be a blockbuster!
E-Cell: https://www.facebook.com/EcellNITIE/
Avartan: http://avartan.nitie.org/