NE India – SE Asia Education & Skill Development Conclave

NE India – SE Asia Education & Skill Development Conclave
"Empowerment for Inclusive Growth"
February 26-28, 2015, Hotel pinewood, Shillong
FORE School of Management in association with Indian Chambers of Commerce (ICC) has organized the "NE India – SE Asia Education & Skill Development Conclave: "Empowerment for Inclusive Growth" on February 26 – 28, 2015 at Hotel pinewood, Shillong. Dr. Mukul Sangma, Hon'ble Chief Minister, Government of `Meghalaya on Thursday inaugurated the Conclave at U Soso Tham Auditorium, where delegates from South East Asian countries like Vietnam, Cambodia, Lao PDR, Myanmar, Nepal, Bangladesh, Singapore and Indonesia have participated. Cambodian Secretary of State & Vice-Minister Tourism, H.E Tith Chantha and Deputy High Commissioner of Singapore to India Dr. Edmund Chia are among the high-level delegates from South East Asia attending the business summit organized jointly by North Eastern Council, Union Ministry of DoNER, Department of Commerce & Industries, Meghalaya and the Indian Chamber of Commerce.
Dr. Mukul Sangma calls upon people of NE, South East Asia to look for common business interests
He stated that "If we are looking at potential partnership across the countries of South East Asia, our level of competition should be at global scale and not at local scale, therefore we want to create multi-level skilled workforce that can enable us to create conducive environment to attract investment for furthering our business ventures." He also added "the whole concept of 'Look East' can ultimately be a game-changer only if our own people are willing to participate." The other eminent dignitaries who had attended the summit are Dr. Rajeev Singh, Director General, ICC, Mr. P B O Warjri, Chief Secretary, Govt. of Meghalaya, Mr. Ameising Luikham, Secretary, North Eastern Council (NEC), Dr. P. G. Rao, Mr. Malay Mukherjee, Chairman, Tourism Finance Corporation of India Ltd, Mr. M.R. Synrem, Principal Secretary, Tourism, Government of Meghalaya, Mr. M K Saharia, Chairman, NE Initiative, Indian Chamber of Commerce, Mr. P W Ingty, Principal Secretary Industry & Commerce, Govt. of Meghalaya, H.E. Mr. Ton Sinh Thinh, Hon'ble Ambassador of Vietnam,  H.E. Mr. Aung Khin Soe, Hon'ble Ambassador of Myanmar, H.E. Mr. Rukma Shumsher Rana, Hon'ble Ambassador of Nepal, H.E. Syed Muazzem Ali,  Hon'ble High Commissioner of Bangladesh, Ms Pooja Kapur, Joint Secretary, ASEAN (ML Divison), Ministry of External Affairs, Govt. of India.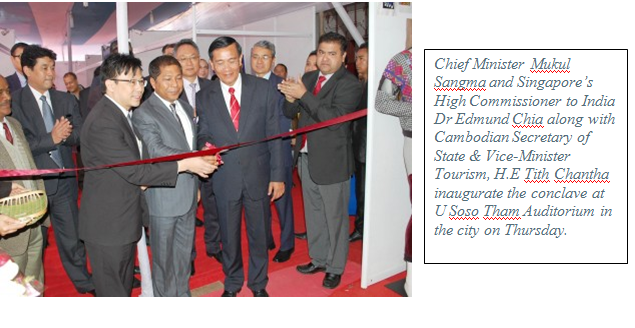 Dr. Jitendra K. Das, Director, FORE School of Management was invited to address the theme in the inaugural Session titled "Empowerment for Inclusive Growth" on Day 2 i.e. February 27, 2015 in this conclave. He (Director) was accompanied by the following prominent co-panelists:
Mr. Ishantor Sobhapandit, Regional Director – ICC – NE Initiative
Ms. Limabenla Jamir, Founder & Director, North East India International Model United Nations (NEIMUN)
Dr. R. C. Laloo, Hon'ble Deputy Chief Minister, Govt. of Meghalaya
Mr. Ambrose Marak, Director, School Education and Literature, Govt. of Meghalaya
Dr. Das highlighted upon "The higher education in management and technology need to focus on developing the best skills among future managers to emerge successful leaders." He also added "Looking at the current scenario, India with the largest education market in the world has a distinct social preference for private education driven by the luring global opportunities in the job market. This calls for an imperative to prepare and plan for World class, Competent, Skilled and Innovative Leaders backed by Robust Education and Training that empowers our human resources with a strong foundation integrated with quality education yet benchmarked to global standards."