New Campus – Naya Raipur – IIM Raipur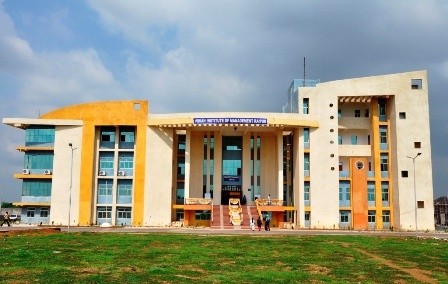 Indian Institute of Management (IIM) has been set up by the Government of India, Ministry of Human Resource Development in 2010 at Raipur, the capital of Chhattisgarh. Chhattisgarh is one of the fastest growing states of India with its rich mineral, forest, natural and local resources. Currently, IIM Raipur is situated in Sejbahar, sharing its campus with two other prestigious institutes which are IIT Bhilai and Government Engineering College, Raipur. It is quite a big campus, therefore all the three institutes are functioning well without causing any problem or hindrance in academic and other activities to any of the institutes. It's been two weeks since I am here at the campus and the weather here at Sejbahar is very pleasing. As the campus is situated in the outskirts of the city, the traffic and pollution level here at Sejbahar are quite low which makes the environment more peaceful and relaxing at the campus. Another uniqueness of the campus is that we at IIM Raipur has hostel facility in the Academic Building itself, therefore, it is very convenient for us to get up and reach the classroom within a minute. Also, everybody gets individual attention from the faculty so whenever a student feels any difficulty in any subjects Professors are effectively receptive for any uncertainty, for any doubt at any time as every professor know every student singularly. There is zero communication gap between students and the administration of the institute which is a very conducive environment for any student to self-explore himself/herself.
NEW CAMPUS-NAYA RAIPUR
The institute is expected to shift to its new campus by this year which is situated in Naya Raipur. The new campus of IIM Raipur will come up on the 200 acres of land and will be one of the finest examples of state of the art campus planned with a blend of modernity and cultural heritage of Chhattisgarh. The campus will depict modern architecture and assimilate the culture and traditions of Chhattisgarh. The foundation stone laying ceremony marked the beginning of the establishment of the campus of IIM Raipur. One of the uniqueness of a new campus is that it has a radiant cooling system installed in all hostels.
Which ABG company you would want to work for and why?
The Aditya Birla Group Company I would like to work with is Aditya Birla Fashion And Retail Ltd under which brands like Louis Philippe, Pantaloons, Peter England operate. The reason I am pursuing MBA is to get an opportunity to work in an esteemed organization and what better than ABG. It will provide me with an opportunity to grow, learn and develop myself into a better individual. I want to join AB Fashion and Retail Ltd. to take up work and challenges thrown at me and try to deliver what is expected by the Organisation.
Rajat Chouksey is a first year student at IIM Raipur.