New Chronicles from Central India: MP Global Investors Summit, Leadership Panel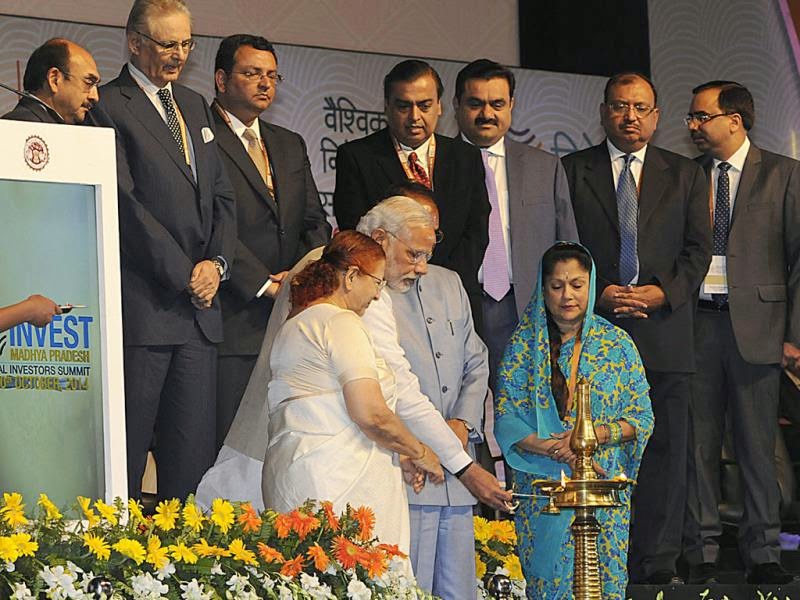 Indore was the venue of a mega event last week, the third Madhya Pradesh Global Investors' Summit (GIS). This was a start-studded event, with a who's who of Indian industry sharing the stage with Prime Minister Modi and MP Chief Minister Shivraj Chouhan. The general mood was positive – everyone continues to bask in the glow of the optimism created by the new government and the hope that good days are ahead.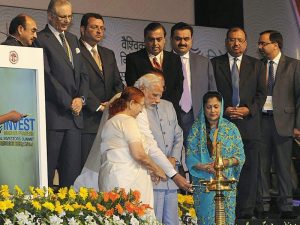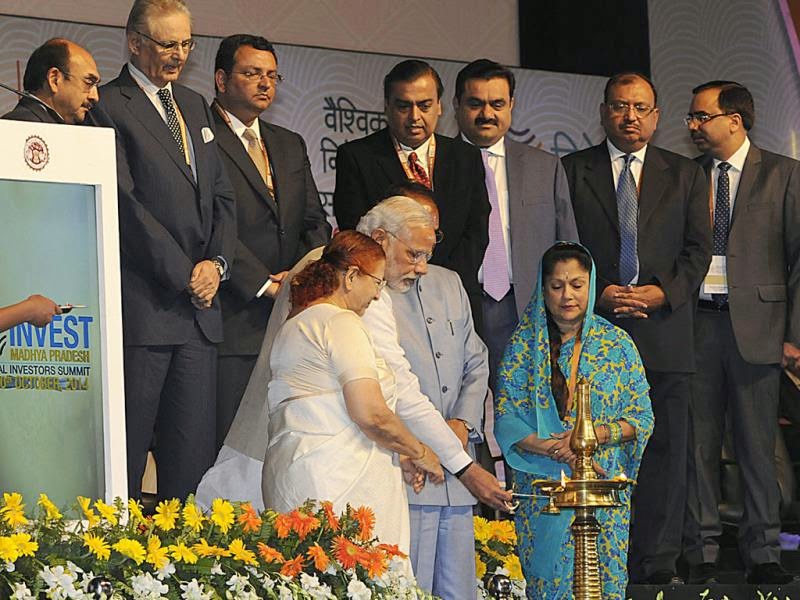 Madhya Pradesh's economic performance in recent years has been impressive. At 11%, the state had the fastest growing economy in the country in the last year.  Much of this growth has come from agriculture. I haven't studied this in detail, but improved irrigation, better storage, and value addition through food processing appear to have been some of the drivers of this agriculture-led growth. MP is a major producer of crops as diverse as soya, potatoes, and wheat.
There is plenty of evidence of improved storage in the vicinity of IIM Indore itself. 6 or 7 huge cold storage facilities are clearly visible within a 2-3 km radius of the campus. I recently met one of the cold storage owners, and he told me that there are 15 near IIM, not 6 or 7. He added that all of them are doing good business, with the focus being on potatoes. Given that 30% or more of fruits and vegetables grown in India are lost due to spoilage arising from poor storage, MP's focus on this issue seems to be spot on.
MP's advantages as a location for agriculture were brought home to me when I met one of my former students from IIMB, Deepakk Goyal, at the GIS venue. Deepak is today a full-time farmer in MP, having chucked his job and moved out of his hometown, Kolkata.

MP's Challenge
But, the state realises that sustaining this growth momentum will mean going beyond agriculture. That's where industrial investment comes in. In his speech, the Chief Minister outlined some of MP's key selling points – electricity (the state is power surplus thanks to substantial increase in generating capacity over the last decade), availability of land (the state already has a land bank), water, roads (highway infrastructure), people and a supportive government and bureaucracy (reflected in clear policy documents and "single window" clearance).
Having lived in MP since the beginning of this year, I can see that these are by and large true, but the challenge is now to make sure that these benefits are consistently available. Contemporary manufacturing is all about efficient logistics, and the competitiveness of any enterprise will be limited by the weakest link in the chain. Speed of execution is important, and from what I can observe of infrastructure projects in the vicinity (flyovers on the By-pass road, flyover on the railway crossing near the IIM campus, the roads connecting IIM to the city, etc.), there is considerable scope for quickening the pace!
Panels at the GIS
The GIS was more than just an effort to bring industry leaders to MP, there were a number of other sessions organised around the main event. These included sectoral panels, presentations by partner countries, and some thematic sessions. We were invited by the organisers (CII and E&Y) to put together a panel on "How Great Leaders Inspire Action." I don't know how they chose this topic (it's quite different from most of the other panels at the summit), nor how they chose IIM Indore to anchor it, and honestly I was initially a little unsure of what was expected. But, after some persuasion by our faculty colleague, Professor DL Sunder, I decided to accept the request to design and moderate the panel.
The Leadership Panel
We had four interesting speakers on our panel.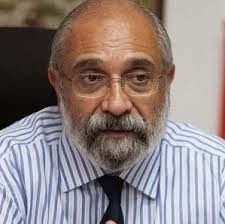 Sumer Singh is a veteran teacher and principal, and currently heads Daly College (DC), Indore. DC has a hoary past, having been set up more than a hundred years ago to train the princes of Central India. Under Sumer's leadership, DC was recently rated as the best school in India. Sumer is a fascinating person himself (he is an author and a chef besides being a teacher) and it doesn't take much to imagine him being a great source of inspiration to DC students.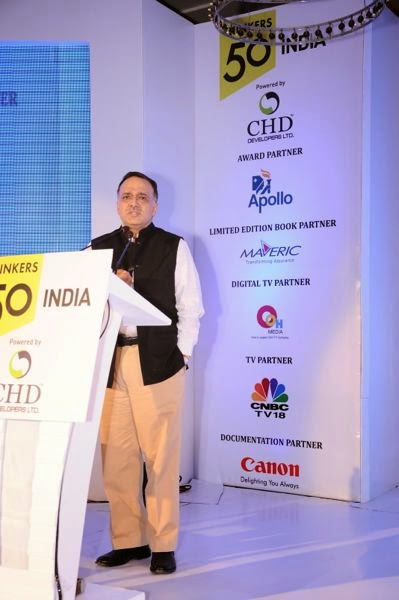 Pramath Sinha has motivated people in a variety of contexts including McKinsey & Company where he was a partner, Ananda Bazaar Patrika where he was CEO, the Indian School of Business (ISB) where he was founding Dean and, more recently 9.9 Media as the principal founder. The Young India Fellowship (YIF) that he launched four years ago has today become a part of India's first world-class, liberal arts-centric Ashoka University, of which he is a co-founder.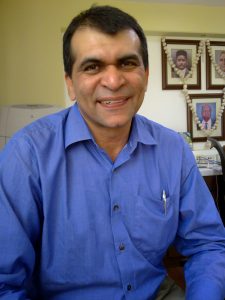 Shoaib Ahmed is a member of the core leadership team at Tally Systems, India's most successful software product company with over 650,000 installations. He is also a fellow at the Indian Software Product Industry Round Table (iSPIRT), an initiative to help India become a leader in software product development. At iSPIRT, Shoaib has led a pioneering effort to bridge the gap between small enterprises and software product developers.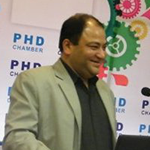 Deepak Malhotra's day job is as a VP of HR at ILFS. He is an author and his first book is on its way. Deepak's current focus is millennials in India and their aspirations.
In the discussion, we didn't restrict ourselves narrowly to the topic, but looked at multiple dimensions of leadership. Shoaib's insight from Tally's leadership in products was the importance of having the right mindset. In their case, it meant thinking and behaving like a product company rather than like a services company. This included proactively identifying what new features customers would need and incorporating them into the product roadmap.
Deepak's emphasis is on "matching the age to keep them engaged" (also the title of his forthcoming book). Leaders who understand the aspirations of different generations of employees in their organizations are more likely to be able to achieve this engagement. He shared his understanding of what drives the current generation of millennials.
Not surprisingly, both Sumer and Pramath spoke about the role of the education system in encouraging leadership. Sumer related how there is a deliberate effort in DC to allow students to find what excites them so that they can excel in that. In response to a question he clarified that counselling parents to allow their kids to pursue their dreams is sometimes needed. But, there was general agreement that Indian parents are now more open to considering alternate career options ranging from being a disc jockey to being a chef.
Pramath related how the realization that leadership development is unlikely to happen within a business school setting led him to look at innovative programmes like the Young India Fellowship (YIF). YIF is a one-year liberal arts post-graduate programme offered to talented students from a wide variety of fields. I have taught in the YIF, and I must say that the YIF attracts some outstanding students. They have been very successful in going on to some of the best graduate programmes in the United States.
Pramath emphasised the importance of exposure to the humanities and social sciences in creating outstanding leaders and spoke about some of the distinctive features of Ashoka's curriculum.
MP CM on Leadership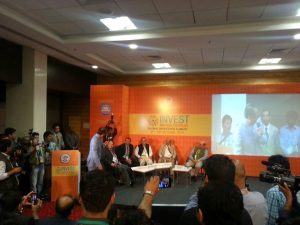 We had the pleasant surprise and privilege of an unexpected visit from MP CM Shivraj Chouhan during the panel discussion. I invited him to share his perspective on leadership with the panel and audience. Shivrajji underlined the importance of individual qualities like humility and taking people along with you in the practice of leadership. Clearly, this is close to his heart for these are the same traits that are used to explain his becoming the CM for the third time!
All in all, the GIS was an important event for Indore and MP, and brought huge crowds to the venue to participate and share in the excitement.
——-
Rishikesha Krishnan