NITIE Mumbai Hosts 22nd Convocation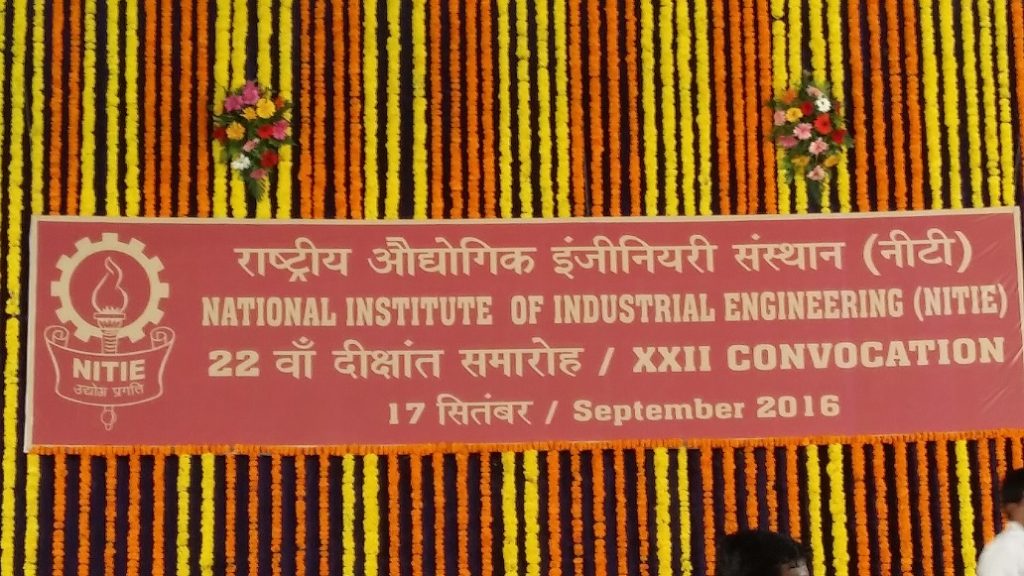 It is that time of the year again when NITIE welcomes its brightest in its annual convocation ceremony at its lush campus grounds in Powai. Freshly minted graduates are awarded their much coveted Post Graduate degrees. From cracking 2 of the most competitive exams in the country (CAT and GATE) to slugging it out for 2 years in a hyper competitive environment, this degree is a vindication of the hard work and toil that goes into making our newest alumni successful professionals.
NITIE is part of an exclusive club of "Centres of Excellence" comprising 6 IIMs, 6 IITs and the IISc. It attracts the best engineers in the country. Our unique techno-management curriculum seeks to convert good engineers into even better managers.  We are consistently ranked among the top B-schools in the country by numerous surveys. Our superb placements cement NITIE's position at the pinnacle of management education in the country. A wide spectrum of companies from the FMCG, Manufacturing, IT, Finance, E-commerce and Consulting domains make a beeline for the campus to snap up some of the best techno managers of the country. 
The stats speak for themselves :24 new companies visited campus for the first time in 2015-16 for both summer internships and final placements. Foreign offers have recorded a 8.4% increase Y-o-Y. The average domestic compensation has soared by 17 % to 15.82 lpa. A total of 115 companies visited campus for recruitments. Students were placed in record time.
NITIE has added yet another feather to its illustrious cap by awarding PG degrees to its first batch of Project Management and Manufacturing Management students. In keeping with the stature of the event, the distinguished "Missile Lady of India", Dr. Tessy Thomas, Director, Advanced System Laboratory(ASL), DRDO, Ministry of Defence, Government of India, will be the Chief Guest who will deliver the XXII convocation address and address the assemblage.
———–
About the Author:
Saikat Gupta, is a student of NITIE, Mumbai, PGDIM batch 22, and a media relations cell coordinator.