NMAT 2016 Exam Analysis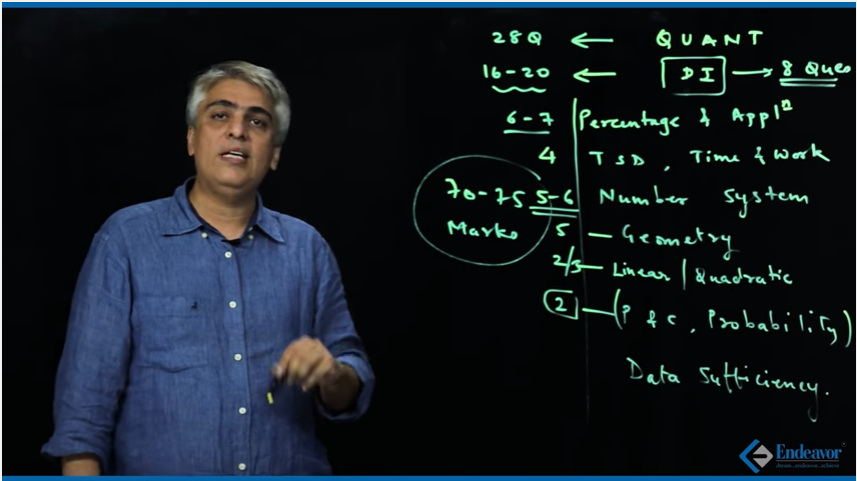 NMAT by GMAC started on 7th October and will be going on until 20th December 2016. It is a computer based exam with three different sections – Quantitative Ability and Data Interpretation, Logical Reasoning, and Verbal Ability. A student is eligible to give NMAT maximum of three times in this duration of 2.5 months and the best score out of the three will be considered.
| | | |
| --- | --- | --- |
| Sections | Number of Questions | Sectional Time Limit |
| Quantitative Ability | 48 | 60 Minutes |
| Logical Reasoning | 40 | 38 Minutes |
| Verbal Ability | 32 | 22 Minutes |
Total Number of Questions: 120 Questions
Total Number of Marks: 360
Total Time: 120 Minutes
To expect a call from NMIMS Mumbai, you need at least 208-210 marks. Higher, the better as the final conversion would depend majorly on the test scores.
Strategy for Quantitative Ability Section:
Data Interpretation is a part of this section and out of 48 questions, around 16-20 questions will be of DI. Since the difficulty level of NMAT DI is high, 8 genuine attempts in DI section is good enough. The  strategy is to maximise the number of attempts in Quant, that is to say, 20-24 genuine attempts in the quant part. NMAT pays attention to even the sectional cut off, therefore it is essential that you get a minimum of 70-75 marks in this section.Try and solve all the questions in the quant section first and then move on to the easiest two sets of DI. Spend 40-45 minutes on quant and the remaining 15-20 minutes for DI. The last few minutes should be kept for randomly marking the answers as NMAT by GMAC has no negative marking. Identify the difficult questions and skip them.
Strategy for Verbal Ability Section:
Attempt the RCs at the end of the verbal section as you have just around 20 minutes and it is possible to get stuck in this part of the section. The cutoff for verbal is usually 54-55 marks which mean the expected questions that you need to genuinely attempt are 18-20 questions. The verbal section is broken down into the following parts: 6 Questions on Vocabulary, 2 Fill in the Blanks, 8 Questions on Grammar, 4 Questions on Para Jumbles, 4 Questions on Cloze Test and 8 Questions on RC (2 Paragraphs – 4 Questions each). The nature of Vocabulary questions is slightly difficult but if you have done your word list, you would be good to go. It's important to maximise genuine attempts on the verbal section and attempt at least one RC correctly.
Strategy for Logical Reasoning:
Logical Reasoning in NMAT consists of three distinct areas:
Verbal Reasoning – 12 Questions

Arrangement Questions – 12-16 Questions

Single Questions – 12 Questions (Blood Relations, Set Theory, Coding/Decoding, etc)
This is the section that is most ignored, hence many people find it difficult to clear this section. The questions in this section are easy-moderate difficulty level. The arrangement questions are easy but time-consuming and if enough attention is not paid to the time taken, it's likely that you will miss other questions. If you can crack the question in the first minute, solve the question. Otherwise, move on and solve the next one. The expected cut off for this section is 60-65, that is to say, you need to attempt at least 22 questions correctly.
Important Point to Remember:
Mark answers for the questions. There is no negative marking. Mark the answer at the time instead of leaving it at the end. When you see a question, decide if you are going to attempt it, if not then mark an answer right away.