NMIMS Mumbai – National Winners Of CFA Research Challenge Share Their Journey To Victory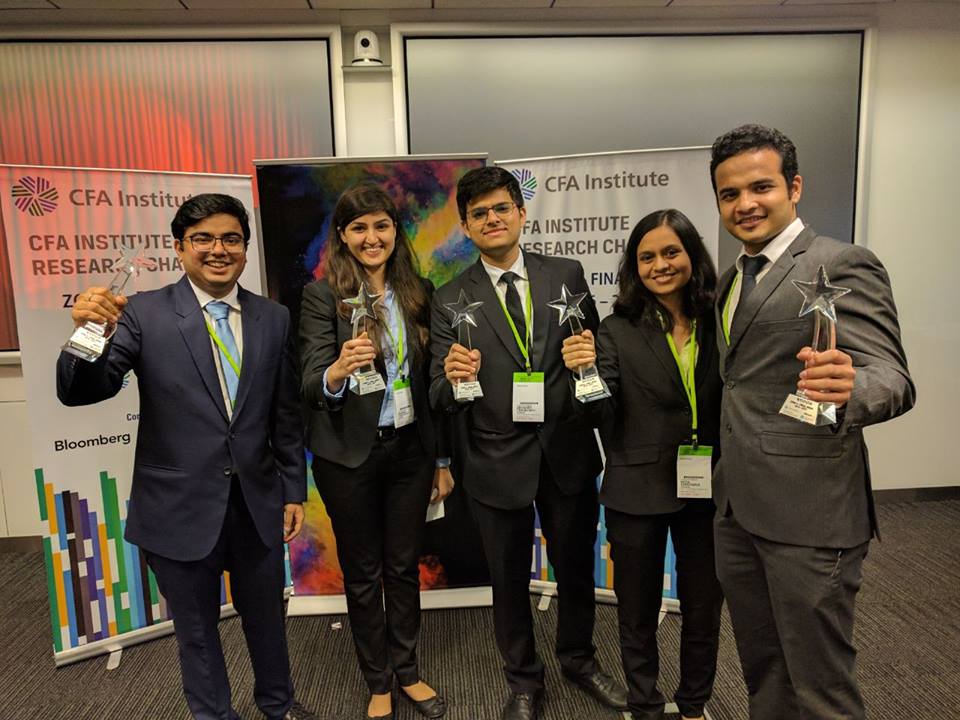 B-school competitions are meticulously designed events which test various aspects of a managerial student. The CFA Institute Research Challenge is one such competition which is considered the holy grail of finance competitions. NMIMS Mumbai made its mark at this event by winning the National Finals and proceeding to the Asia Pacific Regional Finals and hence get a chance to represent India!
The CFA Institute Research Challenge is an annual global competition that provides university students with hands-on mentoring and intensive training in financial analysis. Students work in teams to research and analyse a publicly traded company — sometimes even meeting face-to-face with company management. Each team writes a research report on their assigned company with a buy, sell, or hold recommendation and may be asked to present and defend their analysis to a panel of industry professionals.
The first Research Challenge competition was hosted by the New York Society of Security Analysts in 2002 and involved just five teams from the New York area. Since then, the competition has grown to involve tens of thousands of students from over 900 universities in more than 75 countries. This year the society hosted the 10th edition of the competition.
It was an eclectic mix of both first years and second years that we had in the team. Manish Agarwall (team leader), Ekta Chhotaria and Rohan Jagetiya from 2nd year and Bhawna Chaudhary and Abhishek Chaudhary from 1st year made up the team which was going to represent NMIMS Mumbai at the competition. The first challenge was the West Zone challenge where the team got PVR Limited as the company to be analysed. It was entertainment (pun intended) for us apart from the number crunching that we dealt with. What really impressed us was the meticulous planning of the organisers. From clearly defined deadlines to industry experts who were assigned to us as mentors to even the update meetings we had with the management, everything was organised down to the wire.
The Research Challenge included report writing followed by presentations at both the Zonal and National rounds. Each zone had six team finalists based on the reports submitted. These finalists battled it out based on the presentations and two teams from each zone progressed to the National round. In similar fashion the Nationals had three winners who are going to represent India in Thailand for the Asia Pacific Regional Finals on 15th March 2017.
Talking about the experience, Rohan remarked, "RC requires perseverance and dedication due to the scale and duration of work involved. We learnt a lot during our interaction with our industry mentor and the CFA Society India team. The extensive inputs we got on our report and presentation helped us immensely. We expect a tough challenge at the Asia Pacific Regional Finals, but we as a team are prepared and are looking forward to the challenge." Adding to his comment, Bhawna said, "Competing against six teams at the Zonal finals, eight teams at National finals and now twenty-five teams at APAC finals, the scale of competition has increased. However, the team have also gone from strength to strength in each round and we are up for the challenge come the 15th of March."
Recalling her experience, Ekta said, "This competition, apart from the knowledge and perseverance, requires a great amount of team coordination as well which is also highlighted by the separate marks allotted for team participation. The journey has made us understand each other's strengths and weaknesses and as the competition moves forward this helps us better coordinate our activities and hence complement each other during the various rounds." On closing remarks, Abhishek said, "The journey has been amazing till now. We have received feedback on every aspect of presentation and performance and preparations are on in full swing for APAC round. We hope to put up a great show in Thailand too!"
It is not every day that you get a chance to represent your country at such a competition. The team from NMIMS Mumbai is all geared up to take this challenge and bring home the grand prize!