'Not Only Do What You Like But Also Like What You Do' – Tarun Gupta – Best 50 – Class of 2016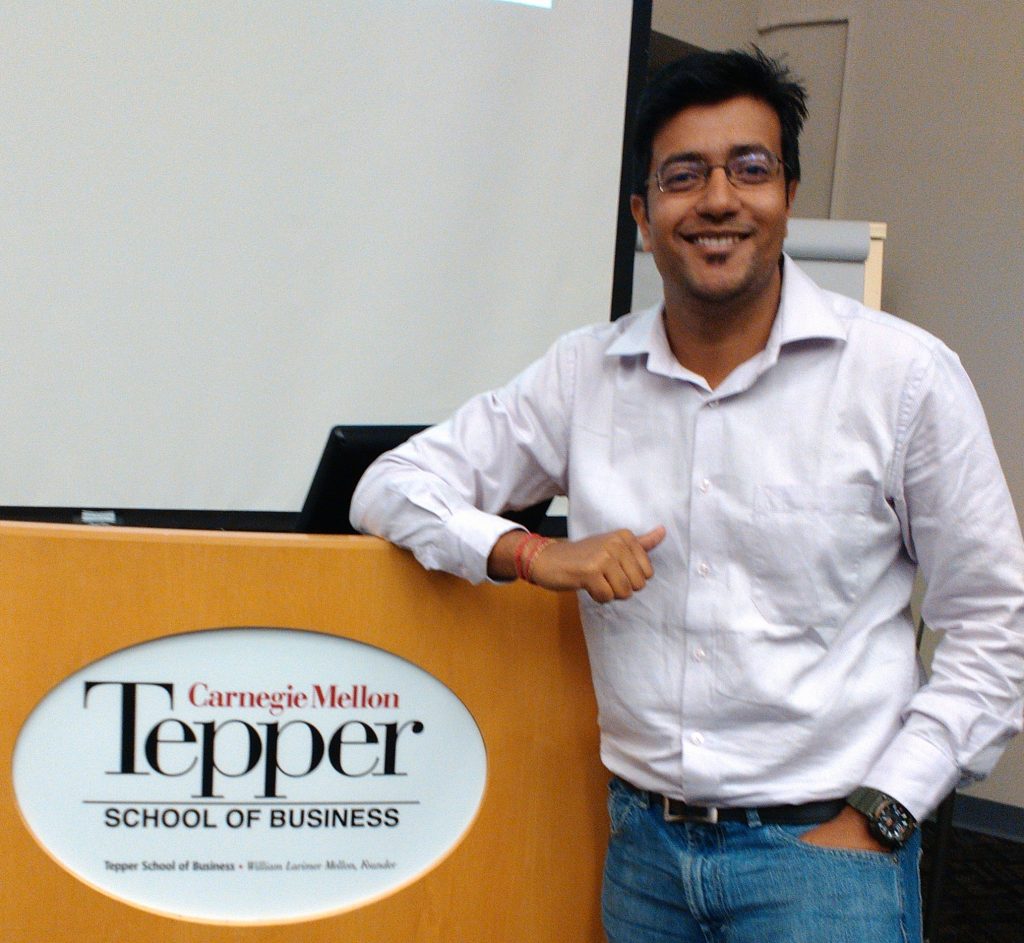 Tarun has been chosen as one of the top 50 most employable candidates across B-schools and programmes in India for the Class of 2016. He has one of the best 50 profiles among the candidates who participated in the Best50 competition.
About Me
I am one of the 30 out of 227 students of SPJIMR who got the opportunity for double specialization, major in Information Management and minor in Consulting. I also studied few advanced subjects from Tepper school of business for 3 weeks.
I consider myself as an all-rounder who balances in all different aspects of B-school life. My aim for entering the B-school was to do as many activities as possible on campus. It might be the last chance before I get back into the real world. Being a practical person, I learnt more from industrial cases over academic text books. While learning business from various lenses, I also became a national finalist for Pepsico BIAC8, campus finalist for J&J and HUL IT-Reboot, participant in TBLA, Accenture strategy & Deloitte Maverick.
Along my MBA, I am providing freelancing services as Business development consultant to INKPPT, where my main task is to improve SEO, identify and generate sales lead and maintain relations with student body of various B-schools.
For my people management skills, I was elected as Logistics head for SPJIMR Business Academia conclave. As part of Academic committee member and head coordinator of IM 2016 batch, I have installed Euromonitor tool in our campus for all the students.
What makes me unique is the combination of leadership skills, time management skills and pressure handling skills. I am of the kind of person who needs challenging tasks at a very frequent interval so that I don't lose my motivation. Infact three qualities of job what motivates me are challenging, sense of achievement and recognition. Overall I strongly believe in "Not only do what you like but also like what you do".
What have you done in your life that you are the proudest of?
It feels immense pleasure when your efforts make someone else happy. During my rural internship in Rajasthan Mahila Kalyan Mandal, Ajmer my objective was to develop a sustainable model to empower poor women & self-help groups through goat based livelihood. Hence I made a plan of collecting goat milk from various houses of the villages and supplying to cities through existing dairy truck collectors and marketing through various chemists and Patanjali store. The challenge was to convince the dairy owners to invest time and money in this complete process as they believed that there is no difference between goat milk and cow milk. With the help of various studies and testimonials of people living in cities we were able to convince the NGO, dairy owners that this project will not be in loss. After the efforts of around 30 days, the milk which villagers were selling at Rs. 50-100 per litre before was able to sell at Rs. 200-300 per liter. The same milk is sold for Rs. 500 per litre in market. Seeing the higher margins villagers were elated. Seeing the happiness in the eyes of villagers and NGO workers, I feel proud.
If I all ask the same questions to my parents, they are proud of my decision making skills in every aspect of life, right from my school days.
If you were the Prime Minister of India, what would be the one problem that you would solve. Please explain your reasons.
In my engineering days at NIT Calicut, I realized that government is spending a lot on education for general and reserved categories. Within 6 months after interacting with various batch-mates, I felt those scholarships in the name of reserved categories are used by people who can easily afford the education. The whole purpose of uplifting the sector is defeated as who really needs to get benefits are left out. The problem which I would like to solve is changing the parameters of reserved category and make it income based reservation. It should be totally on the basis of family income and living standards of family. Currently caste based reservation is not helping as money is not going in the right hands.
The biggest challenge in order to achieve income based reservation is financial inclusion. I believe with the support of bureaucrats and social workers, correct information can be stored and updated online. If we see it from complete India point of view it seems difficult but if we break the same problem to a division levels under each district then this problem is solvable.
Meet the rest of India's 50 Most Employable Management Graduates from the Class of 2016 here