Nukkad 2014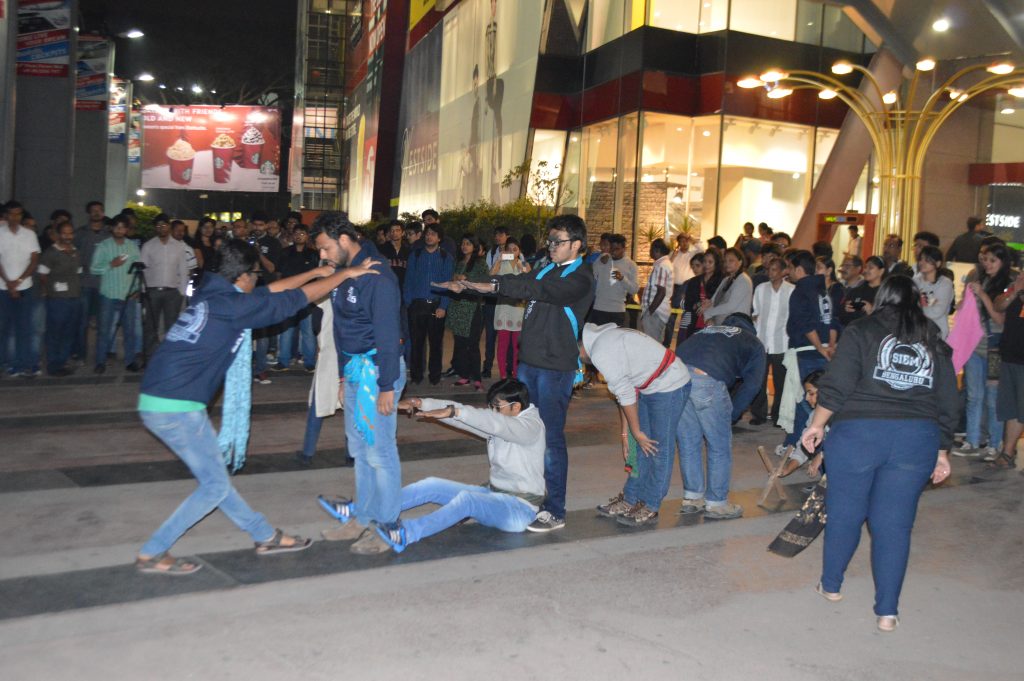 Bengaluru, Karnataka, 26th November, 2014: Symbiosis Institute of Business Management, Bengaluru organized a street play at Forum Mall, Bengaluru to mark the anniversary of the terrorist attacks that shook Mumbai on 26th November, 2008 and to pay tribute to all the people who lost their lives. The street play was witnessed by onlookers in and around Forum mall, a prime location in Koramangala, Bengaluru.
The play, which was organized by SIBM-B's Social Responsibility Committee in coordination with their dramatics club, Jzaa, focused on the theme of Humanitarianism- which emphasized on the ethic of extending kindness and sympathy and showing benevolence to all human beings. The play brought to light the ways in which we, as common people, can bring about a change and help curb societal problems by acting well within our power. The play depicted everyday scenarios which we face like spitting in public, urinating in public, apathy of the public during the event of an accident and rape. It also portrayed how the fast and busy pace of life had made human beings selfish.
Through this endeavor, SIBM hopes to sensitize the people of Bengaluru to the persistent social and civic problems that torment our society and bring to light, solutions that we, as common people, can implement by taking matters into our own hands in an attempt to make society a better place to live in.
Aditya Chiruthapudi, coordinator Social Responsibility Committee, said, "The annual street play endeavor has been SIBM-B's way of conveying a strong message to the citizens that we are awake and ready to act to upon the troubles that torment our society, and so should you. It gives me great pride and satisfaction to work with a talented dramatics club in organizing such an impactful event for a social cause".
Chetan Gupta, member Jzaa, the Dramatics Club, quoted, "Our purpose was to bring out and live every emotion of life and to make people aware and socially responsible towards the society. It was a learning as well as realization for most of the students which was appreciated by the audience during feedback."
SIBM Bengaluru
Ever since its inception in 1978, SYMBIOSIS has been synonymous with progress. The trend of progress has been continued by setting up of SIU's first campus outside Maharashtra at Bengaluru in 2008. SIBM Bengaluru is now one of the leading B-Schools of the country. The focus, now, is on matching global standards of management education. SIBMB instills a work culture which is unparalleled among various institutions. It provides a holistic approach to management which goes a long way in creating a dynamic identity. Vibrant student associations and committees complement the program with a number of activities involving institute-industry interaction.