One Day At IIMB By Vikasana, The Social Impact Club Of IIM Bangalore
Have you always been curious about how life at IIMB is? Read a lot about it and now… want to experience it? Don't worry.. Here is an opportunity for you to not just spend a day at IIMB but impact the society at large…. Thanks to Vikasana!!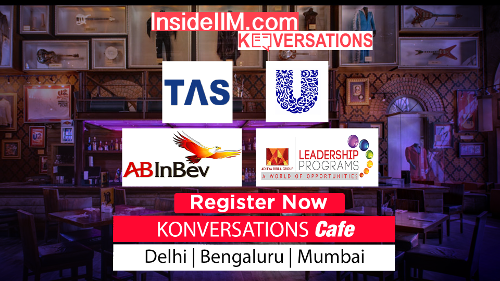 Vikasana is the Social Impact Club of IIMB. It is a student run organization that takes social initiatives for the benefit of the society. It was started in 1990 by enthusiasts to provide education and free tutorials to the children of the Construction workers at IIMB. In the past 25 years, this club has grown tremendously and now, undertakes many new endeavors and responsibilities and thereby, takes forward the vision of its founders.
The events organized by Vikasana are
NGO visits – To sensitize the incoming batch about the needs of the Organization so that they become Socially Responsible Managers in Future
Blood Donation Camps – Vikasana does not just organize blood donation camps but also ensures that they used for noble purposes. The collected blood is used by Hospitals like Sparsh – Narayana Hrudalaya, NIMHANS and Govt. Hospital through the Lions Blood Bank services
Teach to Transform – The student committee is engaged to tutor students from varied backgrounds and classes based on their specific requirements and needs
Project Transform – Live projects are floated where the students of IIMB solve real life issue of various Organizations such as Ashwini Charitable Trust and St. John's Research
Sahay – Organized for the first time in 2015, Sahay is a common ground for social enterprises, ngos, investors. The objective is to bring together representatives from various NGOs and create a common platform for them to brainstorm on key challenges through the sharing of best practices and interactions with renowned professors
"We make a living by what we get, but we make a life by what we give."  This is the inspiration behind this flagship fundraising event of Vikasana. The proceeds are donated to Karunashraya-The first hospice facilitiy to provide free professional palliative care for advanced stage cancer patients. 
Attend lectures  by eminent Professors in the field of economy, marketing, strategy and a case study class
Tour of the camp to get a feel of the life in campus
Array of engagement activities
This year, this event is set to happen on October 9th at the famous L11 classroom where the movie 3 idiots was shot. You can register for this event at https://www.facebook.com/OneDayAtIIMB/ The registration closes on 30th September.  Hope to see you all at the event to spread joy 🙂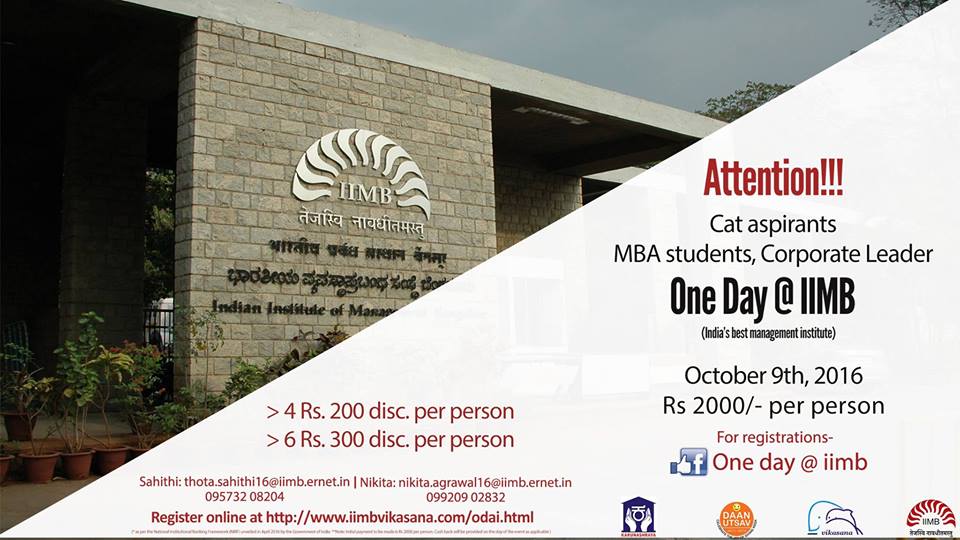 Rinku Stephen
Rinku Stephen pursued Computer Science and Engineering just because she was fascinated by the law of cartoons. But later during her course, she was smitten by the tech bug and went on to develop developed Peer to Peer Application for NFCs, automated healthcare claims and solutions to clinical trials. She also had a brief stint as the IT consultant for a Startup – Praise Foundation. Currently, she is a Product Manager in Flipkart. Setting the geek side aside, Rinku loves to trek, try new sports, read crazy, and of course.. GOT.