'IIM Calcutta treats its students as mature adults and gives freedom to make choices' – Pawan Makadia – President, Student Council, IIM Calcutta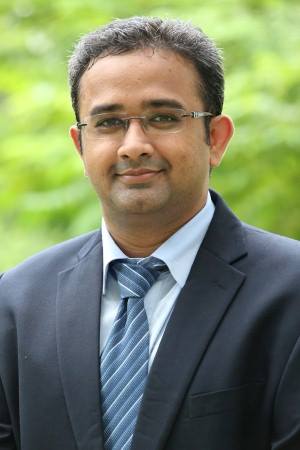 This is the third in the ongoing series of 'Joka Miscellany'. We interview the most diverse profiles at the Joka Campus. This time we profile Pawan Makadia who has over 4 years of pre-MBA work experience, has an Undergraduate degree in Engineering as well as Law and is the President of the Student Council at IIM Calcutta.
About Pawan (in his own words)
Prior to IIM Calcutta, I have over 4 years of experience as a Project Manager with Mott MacDonald, where I led, coordinated, managed, and delivered projects largely for industrial and infrastructure sector. My association with the company for nearly seven years had provided me an opportunity to work with Independent Regulatory Bodies, State/Central Governments, International Financial Institutions and Fortune 500 and 100 FTSE Companies among others. During my tenure, I had an opportunity to get associated with more than 50 projects in both public and private sector, with an aggregate investment potential of more than US $25 billion, and a far-reaching positive returns to the society. At an age of 26, I was promoted to the youngest project manager in the organization with less than 5 years of experience and was leading multi-disciplinary team of 14 consultants across India.
I hold Bachelor's Degree in Engineering as well as Law.  I completed my graduation from Dhirubhai Ambani Institute of Information & Communication Technology wherein I handled post of Election Commissioner for three consecutive years.  I was also instrumental in framing constitution and student council structure of DAIICT.
It is clear from your profile that you have been a leader all along. How do you plan to use it at IIM Calcutta? Also, how did it help you in converting your IIM Calcutta personal interview?
My personal interview with IIM Calcutta was all about assessing my adaptability to academic world after a long duration of break in the industry. In addition, it was also about understanding my motivation for pursuing MBA and expectation of such a MBA, in alignment with existing reality of Indian B-Schools. During the interview, the panel, comprising of faculty and alumnus, and I extensively discussed my profile, career goals and also alternatives beyond IIM C. For your first question: One thing I learned from my experience is that the true value of leadership resides in contributing back what you have learned and earned to the society, with an ultimate objective to improve the quality of life of people you have lived with. With responsibility of being a president of the Student Council at IIM C, I would like to take initiatives to further improve the life of students at the campus in all possible way.
What is your suggestion to people who believe that with over 3-4 years experience it is better to go abroad or look at other schools like ISB rather than join a PGP programme at an IIM?
It very much depends on what one is looking for. If he/she is looking for a change in job profile, then it could be little tricky as companies in India tend to prefer people with lesser work experience in order to appropriately mould them. Often students may end up not getting exact profile that they are looking for. But, if they are looking for a good MBA or a valuable degree then a two year program at IIM, I believe, is good.
What according to you is the most important subject at business school based on your experience of leading teams and having seen how an organization functions?
Having had the opportunity to closely observe how an enterprise functions, I think the courses dealing with soft skills, behavioral understanding, and conflict management (Behavioral Sciences) are more important than others. I realized this through my own experience that as you progress in your career, focus of your activities shifts from numbers/information to people. In addition, it is also important to learn how to look at problems/issues with more holistic perspective, when you know you are responsible for the following decisions you are going to make. Case based pedagogy, which IIM C extensively follows, helps you in building exactly these skills. However, the most important learning from B-school comes not from reading course materials or attending class room teachings, but from interactions and discussions with your fellow peers & faculty.
How does the knowledge of Law come in handy?
I believe basic knowledge of law is essential for every human being. It makes you cognizant not only of your rights but, importantly, of your duties. However, for me, study of law had three primary objectives. First, when I worked closely with government, semi-government clients and international clients in fields of infrastructural and industrial segment, working on contracts, agreements, regulations and policies became imperative. Having deeper understanding of legal intricacies and terminologies was therefore essential in doing business. Second, knowledge of law has broadened my viewpoint and perspectives of analysing and understanding situations. Thirdly, it provided me an additional skill which gives me a professional advantage over my peers.
How do you plan to use this IIM C experience in terms of your career plans?
After my rich, wide-ranging and exhilarating experience at Mott MacDonald, I wanted to pause and re-evaluate my strengths and weaknesses, enhance my business and commercial understanding, equip myself with advanced and essential skills, and explore new challenges and career opportunities. IIM C provides me an opportunity for all of these. It also allows me to socialize/network with my classmates who have different backgrounds and perspectives, and with institute's highly successful alumni. In addition, the institute provides an exceptional access to pre-eminent faculty, and abundant resources of knowledge, which I wish to fully utilize to my own advantage.
Do you have suggestions for people with relatively higher work experience on how to crack summer placements? Do you think people with work experience have a disadvantage during summer placements?
I think, I don't have any particular suggestions for people with higher work experience, but can only provide generic advice for anyone sitting for interviews. Having been part of the recruitment process in a company, I can advise one thing without reservation: Just be what you are. Sometimes the selection/rejection of candidate is not dependent on one's skill sets or capabilities, but strictly on requirements. Also, the companies do give due importance to other aspects of your profile such as: how good you will fit to their organizational culture, what is your attitude towards learning, etc. So preparing yourself on basic facts of the company always comes of an advantage. I don't think people with work experience per-se have any more disadvantage during summer placements than those with people who are targeting niche/specific roles or industry have.
What do you like the most about IIM Calcutta?
"Joka is not a place, it is an experience." This was the first thing, I was told when I entered the campus. Every moment of my last seven months is testimony to this fact. There are many things that I love and admire about this institute, whether it is the most exuberant celebration of inter-hostel sports event or the most sophisticated discussion in hostels.
Also, the way IIM C engages and deal with students is worth appreciating. I am impressed by the way the institute treats students as mature adults, thereby giving lot of freedom to make their own choices on how to utilize their valuable two years.The deferred placement policy to encourage students to experiment with their career options is also laudable.
Last but not the least, IIM C has faculty par-excellence. The enthusiasm and engagement of faculty does not end with classrooms. Their involvement and interaction with us continues in the corridors of the institute, and I am sure this engagement will continue with us once we leave this place. It is an asset every student of IIM C has.
Read More
Joka Miscellany – Dr. Garima Tiwari – Doctor before MBA
Joka Miscellany – Harishwar Subramaniyam – IIT Bombay, Goldman Sachs PPO Holder
First year MBA Topper Series – The Special Ones