PERCEPTION: A STAIRWAY TO HEAVEN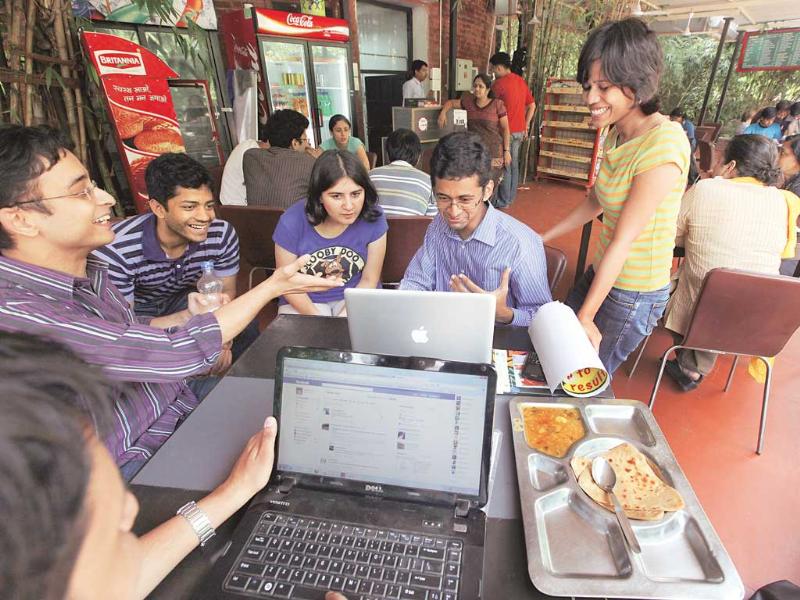 This is an entry for The Great Indian B-School debate.
Name: Ansuman Mishra
Team Name: The Rebels
Team Member: Akshya Kattuputhur Murali
Institute: XLRI, Jamshedpur
Article I am refuting: http://insideiim.com/you-know-you-are-at-hell-when/
'We are all in the gutter, but some of us are looking at the stars.'             -Oscar Wilde
It would certainly be lame and disrespect to the truth behind life at B schools if I counter the facts stated in the article. However, another fact still remains to be stated with regard to how this rigorous, lightning-paced life is perceived as. Countless night outs, endless assignments, classes that are a collection of a pitiable professor and a herd of sleepy students vociferously dishing out their opinions and points of varied degrees of irrelevance in a desperate attempt at class participation, a group project that never tends to completion owing to the sheer talent of the individual members to focus their creative skills on the huge store of gossip from each hostel that is due to be shared, submitting an entry 5 minutes before the deadline (or later, never in advance)- all these are a part and parcel of everyday life at B schools.
Is it really as tormenting as that? Is there not a tinge of enjoyment intertwined in this mix? Of course there is.
The system followed might not be the best system there is. But it still works and has worked for ages. The mess food sucks, true, but it is still edible. And, there is no greater fun in the world than group b******g about the irrational system, the marginally diminishing quality of mess food, the speed and connectivity of internet and so on and so forth.
Spamming is an utter waste of time but applying the concept of segmentation envisaged by Kohler, spamming becomes an art. Zero in on the right target audience, and lo, that's a survey completed! It doesn't really matter if the results actually help in arriving at conclusions.
You actually know you had been in hell for so long when you first discovered this wonderful game called candy crush saga. You never knew what you were missing till then. And now you know what you're missing when you fail to squeeze in time in your hectic schedule to unlock greater levels of this absolutely stress relieving game.
Everything in this world, from grades to financial risk, is relative. So is free riding. It is the extent to which a person exhibits the tendency that differs. Ultimately, all the work is done in the 11th hour and turned it at precisely the 59th minute, universally. All is well that ends well. After all, satisfaction is the greatest happiness known to mankind.
It is indeed a wonder how several batches of B school students managed to churn out Gas before the advent of Google, Wikipedia and a life saver called the Internet. We do belong to the fortunate era. Assignment copying has been our cup of tea right from the graduation days. The brain that deftly deceives Turnin undoubtedly rules the world today. If only that could earn a CV point too! You feel that you have lived a life of depression when an empty CV glares at you but that doesn't mean you lose hope. So what if you consistently get thrashed out in the first round of all the events and case studies you register for? The eternal optimist sees CV points in everything from having Balu Bhai name a dosa after him to successfully passing in QT without the slightest hint of what was taught, what was expected to be studied and what finally was asked in the exam.
The most important and indispensable part of B school life is the company of friends, friends for life. And this is the part that makes you sail through the work load, manage the stress and share a hearty laugh for the silliest of things, the part that reinforces that there is light at the end of every tunnel. The source might be matchstick or a lighter but there definitely is a source. Of course you drink. And dance. For this opportunity for being happy never does come again in life. Relationships may happen, may break and may happen again. Life goes on forever, with some significant other. And one keeps learning from every break up, from other people's break ups and relationships too. This is indeed a happening place! , with some significant other too. This is a happening place!e goes on forever. And one keeps learning from every break up, from
' The mind, in its own place, can make a heaven of Hell and a hell of Heaven.'    -John Milton