Places To See And Things To Do When You Are At IIM Lucknow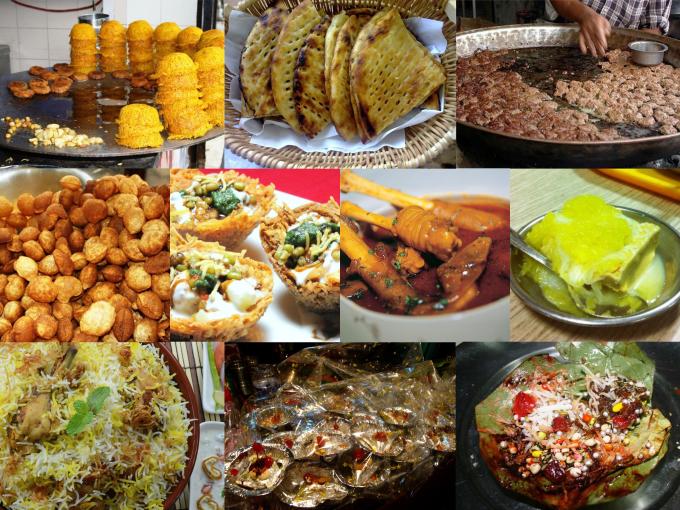 Hello, Managers-in-the-making! When you convert a B-School its, not the campus alone that catches your attention but also the city; its people, food and culture. As a fresh IIM Lucknow convert, I was equally excited about exploring the city. Lucknow-the city of Nawabs is also the Land of Awadhi cuisine. A foodie's paradise that it is, it offers myriad culinary marvels from kebabs & biryanis to paans & kulfis. The city is a beautiful gallimaufry of modern and traditional delectable food items that take your taste buds for a roller coaster ride. Every narrow alley of the city leads to the food heaven. Located in the vicinity of major tourist destinations, being in IIM Lucknow leaves you with a plethora of options for weekend detours. Here is a brief snapshot of a few Places to Go and Food to Eat in and around the city of Nawabs:
——————————————————————————————————————————————-
5 Culinary Marvels of Lucknow:
   1. Prakash ki Kulfi: 
Desserts are usually supposed to be had at the end of a meal, well not when you're in Lucknow because Prakash ki Kulfi is too delectable to be stored for the end. It is authentic awadhi kulfi with lots of faluda topping.
2. Basket Chat:
The patented Basket Chat of Hazratganj is a mouthwateringly delicious chat that is served in an edible basket. This happens to be one of the most recommended dishes of Lucknow. The shop has pictures of actors, politicians among others having basket chat. You just can't afford to miss it.
3. Galawati Kebab:
What's Lucknow without Galawati Kebab? The famous Tunde Kebabi serves mouthgasmic kebabs. Although it was traditionally only for the non-vegetarians, now we also have vegetarian variants of the dish.
   4. Lucknawi paan:
Lucknawi paan is an absolute must-have for every visitor of the city of Nawabs. Unlike the regular paans, Lucknawi paan is a half-sweet, cheery laced paan that is impossible to resist.
   5. Lucknowi Biryani: 
Drooling already? Unlike the regular spicy Hyderabadi Biryani, Lucknowi Biryani is a fair balance of spices that would take your taste buds on a roller coaster ride. The famous Mashi and Wahid biryani should be on the top of every foodie's list of must-have Lucknawi delicacies.

  ——————————————————————————————————————————————-
5 Places to go around Lucknow:
1. Nainital:
Nainital is the closest hill station to Lucknow. It is a Himalayan resort town in the Kumaon region of India's Uttarakhand state. It's set around Nainital Lake, a popular boating site with Naina Devi Hindu Temple on its north shore. A cable car runs to Snow View observation point, with vistas over the town and mountains including Nanda Devi, Uttarakhand's highest peak.
2. Agra:
A road trip to Agra tops the list of places to visit for every student at IIM Lucknow. It's home to the iconic Taj Mahal, built for the Mughal ruler Shah Jahan's wife, Mumtaz Mahal. You can also visit Mathura and Vrindavan which lie in close vicinity to Lucknow.
3. Nepal:
Located mainly in the Himalayas, Nepal includes parts of the Indo-Gangetic Plain. With an estimated population of 26.4 million, it is 48th largest country by population and 93rd largest country by area. Bitten by the travel bug? You should definitely plan a Nepal trip.
4. Banaras:
Regarded as the spiritual capital of India, the city draws Hindu pilgrims who bathe in the Ganges River's sacred waters and perform funeral rites. Along the city's winding streets are some 2,000 temples, including Kashi Vishwanath, the "Golden Temple," dedicated to Lord Shiva.
5. Dudhwa National Park: 
Dudhwa Tiger Reserve is located on the Indo-Nepal border in the Lakhimpur Kheri District and has a buffer of reserved forest areas on the northern and southern sides. It represents one of the few remaining examples of a highly diverse and productive Terai ecosystem, supporting a large number of endangered species, obligate species of tall wet grasslands and species of restricted distribution.
It is a perfect place for a weekend detour amidst a peaceful milieu in the lap of nature.
   ——————————————————————————————————————————————-
5 Places to go in Lucknow:
1. Bara & Chota Imambada:
The  Imambara of Lucknow is one of the most famous monuments of the city. Also known as Asfi Imambara, after the name of the Nawab of Lucknow who got it constructed, it is an important place of worship for the Muslims who come here every year to celebrate the religious festival of Muharram. The Imambara is primarily known for its incredible maze, known as Bhul Bhulaiya locally, which is located on the upper floor of the monument.
2. Gomti River-Front:
Gomti River-Front is a recently developed park alongside the Gomti river. It offers absolute peace and serenity to one's soul to watch the sunset while seated on the benches at this place. Highly recommend everyone to visit.

3. Lucknow Mahotsav:
Lucknow Mahotsav is organized every year to showcase Uttar Pradesh Art and Culture and in particular Lucknowavi 'Tehzeeb' so as to promote Tourism. One of the objectives of the cultural bonanza is to provide encouragement to the Artisans. Craftsmen from all over the country bring their masterpieces to the festival to the delight of shoppers. Colourful processions, traditional dramas, Kathak dances in the style of Lucknow Gharana, Sarangi and sitar recitals, ghazals, qawalis, and thumri produce a cheerful atmosphere during the ten-day-long festival. Exciting events like ekka races, kite flying, cockfighting, and other customary village games re-establish an ambience of the bygone Nawabi days.
4. Rumi Darwaza:
Rumi Darwaza in the heart of Lucknow looms over the busy everyday traffic of Lajpatnagar like an old guardian angel that has seen the city rise and fall. The ancient Awadhi architecture of Rumi Darwaza is one of those features of the old city of Lucknow which still clings on to the nostalgias of the past, like the horse driven Tonga cart. The creation of Rumi Darwaza has a very charitable reason behind it. When famine struck North India during 1748, the then Nawab of Lucknow came up with a plan that will feed his countrymen as well as give him something to cherish and be proud of.
 
5. Ambedkar Park: 
The Ambedkar Memorial Park was constructed by the Mayawati Government in Gomti Nagar, Lucknow. The park was built to commemorate the people who dedicated their life to equality and human justice like Dr. Bhimrao Ambedkar, Kanshi Ram and others. With a budget of a whopping seven billion rupees, the park is one of the loveliest things to see in Lucknow.
 ——————————————————————————————————————————————-
Pratik Ranjan
Pratik is an MBA candidate at IIM Lucknow. He is an ardent aspiring marketing strategist. His passion for marketing multiplied multifold post his internship with Unilever, where he was conferred with a PPO. Bitten by the entrepreneurial bug & seized by afflatus to read, write & explore, this twenty-something believes in the power of dreaming with his eyes open. He is a columnist in various newsletters and is up for any discussion that involves the nuances of marketing and strategy. P.S: He's charged by the fuel of caffeine.