Planet-I Diaries: An Account Of My Induction Week At Prabandh Shikhar

Words will not be enough to hold.
The tale that hence needs to be told.
On the 29th of June, 2018, I stood at the colossal gates of this grand hillock of which I'd only heard and read about, wondering what lies ahead of me in terms of space and time. As the auto took several serpentine turns around the rocky terrain, I couldn't help battling the thoughts of anxiety and excitement spurting at odd moments in my head. Like an overflowing chalice, I was almost spilling with emotions. I had seven bags of luggage and one colossal bag of nostalgia clinging heavy to my chest; after all bidding adieu to an abode of 22 years was not easy!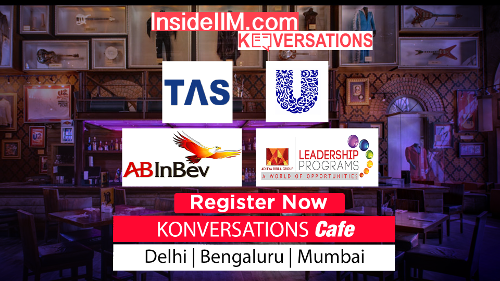 Sometimes you spend such a fine moment of reflection amongst a tsunami of hullaballoo circling you that it sticks with you forever. That moment struck me when I first entered the gates of my hostel (the glorious SR-12 where innumerable sagas have unfolded and will continue to unfold in the future) and my father was stopped at the entrance by the guard. It was then that I realized that I was on my own. No more pampering and being-taken-care-of 24*7! It was one of those rare split seconds when life looks you into the eye and asks you to be brave and take control of your own decisions.
Then began the hopscotch of 'the induction at a B-School' that I can go on describing to the length of a novel. Like a confused traveler I wandered from station to station, trying to cram the everlasting list of names and faces in my head. My first week at India's largest IIM was a vicious cycle of asking people their names and backgrounds, forgetting it, meeting them again and starting all over!
Three days of constant up and down the hill (read 'Almighty Prabandh Shikhar') with my Health app showing precisely 12.85km average distance covered per day and not to mention the colossal waves of exhilaration and anticipation hitting hard at the shores of my psyche, I let myself completely soak into the incessantly bustling life at IIM Indore, a place which I'll be calling my home for the next two years.
As surprises and revelations were unfolding themselves at the speed of 300000000m/s, I finally found a place where I found peace (a luxurious word on planet-I, as planet-I never sleeps). The first day when I entered the four walls of the large lecture room with tinted windows covered with multi-colored covers and housing a long array of revolving wooden chairs, the one thing that seized my vision was the fourth seat from the left, second from the top that read 'FATIMA FIRDOUS'. Of all the nights that I had slogged on tea, of all the silvery dreams that I had fancied in my slumber, of all the tears of parting that I had shed on my journey, of all the times when I kept on telling myself to buckle up and not to give up, this was the sweetest reward of all my efforts. My name etched on a tiny strip of paper carefully slipped inside a transparent plastic casing, present somewhere in a corner of a deserted hillock in a state in the heart of peninsular India, but to me it seemed like the focal point of the universe, the one place in the entire cosmos from whence my spring of happiness was spurting in leaps and bounds- my spot!
The rest of my induction week flew me by like a speeding bullet. I don't remember when I slept and when I woke up but the one thing that I distinctly remember is that I came out of a large shell. I came out of perceptions and notions that I had been harboring since I came to my senses. The fear of not being able to punch-in at the correct instant, the doubts of not getting accustomed to mess food (which none of us will but a woman's got to eat), the apprehension of coming across subjects that I haven't ever touched in a lifetime, the nervousness of walking shoulder to shoulder in an environment which is as demanding as it can get; I packed everything in an empty mental suitcase and shoved it somewhere in a deep fathomless ocean of oblivion, never to look back at it again !
Fatima Firdous
Currently pursuing MBA from IIM Indore (PGPI Batch 2018-20). I am a fresher who loves writing and painting! I was shouldering the responsibility of 'Literary Head' for the college committee at Undergrad level and presently I am a part of Club Humain-i, the HR Club of IIM Indore. Professionally I have been a freelance content writer and personally I am someone who muses by the window at 2 a.m. and pens rhyming schemes and blank verses through the night. My paintings deal with watercolours and oil paints! I adore arts and crafts, both in terms of appreciating it and creating it!