Praagya's Journey To One Of The Most Picturesque IIMs
Before I go on and on about how special and beautiful IIM Indore is (Oh yes, it's gorgeous, to say the least, so much so , if not reminded of the deadlines constantly, I would be on vacation mode 24×7)  and how much I cherish each and every moment I get to spend here, I would like you all to have a look at something I wrote exactly a year ago when I was unable to make it to the final list of this very reputed company that had come for placements to my engineering institute:
As I face rejections dejections and struggles anew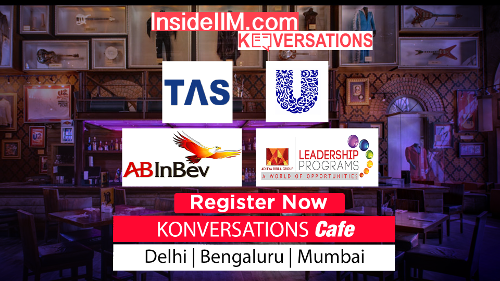 I know God will give me my due
Am not the one who will savour his little mercies
I would rather devour on his choicest blessings
There will be a silver lining to my murky clouds
There will be an end to the ghostly darkness that today enshrouds
I await my bright rainbow painted in several and not just 7 hues
My magnanimous God will surely give me my due
Well this was me, broken (well, now that I retrospect, I had gotten a little melodramatic though), teary and of course wallowing in self-pity. I wasn't entirely at the top of my game and had it not been for my parents, I would have stayed in that zone for quite some time. And mind you, all this had happened with CAT  just 60 days away. But thanks to the amazing folks I have, it took me just about a week to regain my composure and get back to where I belonged to.
CUT TO 25th January'2017
I was happily chatting with my homies when a friend of mine called saying that IIM Indore has released its shortlist. I remember experiencing a gamut of emotions in those 5 Minutes. I was flustered, excited, nervous all at once. When the screen flashed, "Congratulations!!, you have been shortlisted for the WAT & PI round of IIM-Indore" I was more scared and skeptical than happy. A part of me had already started celebrating, but then my demons would keep telling me repeatedly that it's going to end up like it always has, missing the mark by a whisker.  To top it all I had all the fests, events, mid terms and parties in that window of 21 days.  Needless to say, I would fret, nag, complain and do everything except for doing what I should ideally be doing. My ever so vigilant folks as always came to my rescue and helped me walk through all of it. This entire process of securing an admission to IIM-I has taught me the value of friendships and family. They are absolutely the circle of our strength. Today as I write this, I think it was probably universe's way of telling me that this is exactly what I am going to sign up for.
Indore is probably, the first interview that I have cleared in my life. And it is surreal in the sense, that this was an interview I valued the most. I was kind of lucky in a way that, 70% of my interview revolved around classical dance, (note to the readers: if there is something that interests you, try knowing it inside out for there is a lot of chance that the panelists might end up grilling you on just that) something that I am extremely passionate about. The panellists were extremely sweet and comforting. They offered me chocolates right at the start even as I had just entered. The entire process felt like a nice smooth conversation.
Since the day I converted, till today, life has been nothing short of a Roller Coaster ride. It's tiring and exhilarating at the same time. There are times here when I feel that it's all slipping away (and if you are an engineer fresher, you get that feeling a little too often), the challenges never seem to end and the learning curve is extremely steep. There are submissions, quizzes, meetings, and parties all happening in these 24 hours. The campus never sleeps and sometimes all I do is gasp for breath, but the fact that I get to be a part of an institution that boasts of such rich legacy makes it all worthwhile. The adrenaline rush one experiences after everything, be it reaching the class room on time to submitting the assignments, it's akin to what one would probably feel after successfully scaling a mountain maybe. But then we here do that literally every day, considering the entire campus is on a Hillock called Prabandh Shikhar. In this one month of my stay here, I have surely changed from being a not so outgoing, junk food binging plump girl to someone who can probably give any mountaineer a run for the money (a little exaggeration may be, but then I still have 17 more months to go and improve).
With this I leave you all with these very inspiring lines that have kept me going till now and hopefully will rejuvenate you as well :
"Remembering that I'll be dead soon is the most important tool I've ever encountered to help me make the big choices in life. Because almost everything – all external expectations, all pride, all fear of embarrassment or failure – these things just fall away in the face of death, leaving only what is truly important." Steve Jobs
Praagya Sharan
My name is Praagya Sharan. I hail from Ranchi and am an engineering graduate from NIT Jamshedpur. I have trained in classical dance (Kathak) and music. These art forms form a major part of my life, particularly the former. I am a closet writer, a big time foodie and travelling enthusiast who is always game for exploring new cultures and cuisines.