Prepare To Be Unprepared – CAT Conundrums
There are not many who have the good fortune of having a close friend on campus while preparing to join an IIM, fewer still who have any clue what life on campus is really like. Most of us just buckle up and decide to do an MBA just because it is a sure shot at 'success'; at least the way society has defined it. Some sorted out souls may have grand career plans where they know exactly which institute to join, what specialization to undertake and which company to work for even! But for the uninitiated majority, we hear tidbits from friends who have cracked CAT earlier and as always, a little knowledge is a dangerous thing.
In most cases, the only thing that keeps us going on a dreary weekend while preparing for quantitative aptitude from Arun Sharma (when all your friends or colleagues are out for a movie) is a colourful image of a wonderful college life in the land that was promised once you cross the ironclad gates of CAT interviews. Come November, once the exams are done and dusted we wait in anxious anticipation to see if this is the year that you will add that coveted life event to your Facebook timeline. Once the results have come and reality sets in, there is very little time left to think about the course contents because we are all busy preparing for the interviews. In the hustle and bustle of getting suited up, reading up on a year's worth of general knowledge crammed into a single day; we tend to get lost in the process and forget the big picture.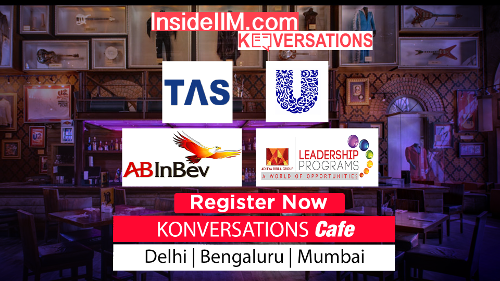 I know a lot of people who have quit their jobs to prepare and get into premier business schools in the country. I used to admire their dedication and willpower to push themselves to study..study and study some more. But I have grown past that stage and absolutely pity those poor souls because one thing you need to know when you are at an IIM is to manage time. You need to think on your feet every single minute of the day. There is no room to focus on one thing now and doing it properly; it is always going to be – I have to do things in one hour with more to come right after. So, if you think that managing your social life while working and preparing for CAT is hard…think again because you might end up biting more than you can chew!
So, my word of advice for all the CAT aspirants out there – I know you come across a lot of articles asking you to do this and that and what not. But I would like to tell you not to quit your day job to prepare for CAT just because the hours are long. Chances are you will be able to crack CAT even while being employed and once you are on the other side, it will be the day-to-day experiences at work that help you plough through the myriad of activities thrown your way at a premier b-school. Pausing on that note, I would like to wish all the people out there preparing for the CAT exam round the corner all the very best!