Prerna 4.0 – Bringing smiles to the faces of children – SIBM Pune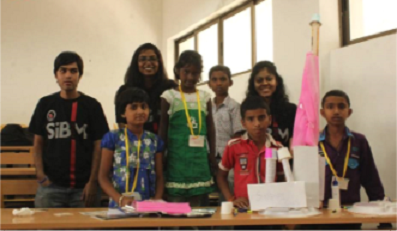 Prerna is an initiative aimed at spreading knowledge and smiles among children. The objective is not only to teach, but to instill in young children a passion to study, learn and equip themselves with knowledge so that they can go a long way in raising the social status of their families.
Launched in 2011, Prerna has always received excellent response from SIBM Pune students. In earlier editions, the students of SIBM Pune visited the Z.P. School of Nande village to teach English, Mathematics and Hindi to the students of classes VI, VII and VIII, focuses on improving soft skills among children.
This year, in order to give back to the staff who dedicate their time and effort to making the campus a better place, we planned to bring the sons and daughters of the housekeeping staff of the hilltop campus to the college and conduct various workshops for them on a weekly basis. The students of SIBM Pune turn mentor, and strive to provide a fun and positive learning environment for these kids once in a week for a period of 6 weeks, involving them in a variety of sessions, games and activities.
These enterprising mentors offer their skills in a gamut of areas, right from conducting storytelling sessions to organising craft workshops, among other things. In addition to the benefits to the children who are part of the workshops, a single day of such interactions instills valuable skills like empathy, compassion and a sense of understanding in the young mentors, as well as providing an eye-opening and fulfilling experience.
Prerna 4.0 was inaugurated on November 23rd, 2014 by Dr. Raman, Director, SIBM Pune and the alumni of SIBM Pune. The theme for the first session was Team Work, under the name "Ekta Mein Shakti Hain". The session saw 30 kids between the ages of 8-12 years come to the campus, under the tender guidance of 12 carefully chosen mentors from the batch.
Prerna 4.0 was successful in achieving the goal of imparting to the children an understanding of the dynamics of working in a group, constructive and effective communication with peer groups, identification of the role of leadership, and the way in which it emerges.