Prince Manocha already feels like the King of the world with a new territory at hand to forge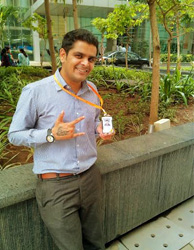 Prince Manocha from Jabalpur, Madhya Pradesh always understood the importance of giving himself a cutting edge advantage in today's competitive professional arena. That's the reason he pursued his CA program and cleared the IPCC – 1st group. He also passed three exams of the National Institute of Securities market and has a certification of Financial Planner from Sydney University to boot. But that didn't seem enough for the man with big dreams, which is why he headed to SCMS Cochin to pursue his PGDM program. And it's here that he seems to have hit the jackpot by bagging a job with ICICI Securities.
Prince will now be working as a Senior Relationship Manager with the company and will have serious responsibilities on his shoulders. "I have to deliver the desired revenue target numbers while looking after cross-selling to existing customers and acquisition of new customers," he tells us. "I will also have to provide solutions to customers' financial needs besides preparing and maintaining sales calls reports and all relevant MIS." After his experience at his institute, Prince is ready to take on practically any responsibility given to him.
He admits that his two-year journey at SCMS Cochin was filled with ups and downs, and several unexpected situations that he had to deal with quickly. It called on his presence of mind and perseverance to get through the initial tough period, and it's these qualities that he will rely on in his professional career from now on. Prince also recalls the rigorous classroom schedule and the strict discipline that was a part of the learning experience. "The journey has its pros and cons but it has helped me look at difficulties as opportunities," he mentions. "The cons made me a patient, confident and independent person."
SCMS Cochin offered several exciting opportunities to him during his two years' stint and they served to be a learning experience, not only for management concepts but for his overall growth too. Prince recalls being the coordinator of the Integrated Management Learning Program (IMLP) to be one such experience that helped him to a great extent. During his time at the institute he also participated in several inter-collegiate contests that boosted his confidence further. "Winning the first prize in the finance games organized by Amrita School of Business and Stockmind (virtual trading game) organized by ICICI securities are the highlights of my academic sojourn," he says with a smile.
Given the opportunities he has had and the platform offered to him by the institute, it is little wonder that Prince recommends a professional program like his to future management aspirants. "Leading media groups in the country have ranked SCMS Cochin as one of the top 25 B-Schools in the country," he says. "It has won several National and International awards for excellence in leadership development, entrepreneurship and many more. The teaching methodology followed by experienced faculty members is impeccable. And the course program is well designed, structured and up-do-date, which gives us the edge."
It is this competitive edge besides the SIP experience with Sharekhan Limited, Mumbai that Prince took to the interview table for the placement with ICICI Securities. And he impressed with his talent and newfound confidence, which finally earned him the job. Now that he is a management professional himself, what does he plan to achieve with his new company? "I want to excel in my career and am willing to put in all the effort asked of me to deliver to the best of my abilities," he answers. "I want to be firmly settled in the company with a clear understanding of my role in its future."
His institute has given Prince the means to call the shots in his future career and make a place for himself, not only in his company but the world of management as well.