Prof. MK Seshasayee addresses the PGDM vs. MBA dilemma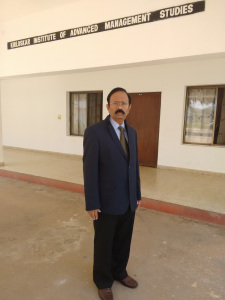 PGDM vs. MBA is an ongoing debate in the world of management education, which leads to a conundrum in the minds of aspirants. As a management hopeful, you naturally want the best platform to launch your future career from. Therefore, it's important to address the dilemma one might have before making the all-important decision. That's why we have seasoned Prof. MK Seshasayee from KIAMS to shed light on the debate and talk to us about the merits of a fully residential PGDM program like the one offered by his illustrious institute.
Right at the onset, Prof. Seshasayee makes it abundantly clear that irrespective of the management program one chooses, a lot of hard work and effort has to be put in. Moreover, an individual's passion, intellect and competency play a role in his or her eventual success, according to him. He highlights the basic difference between MBA and PGDM when he says, "MBA is offered by a University and the curriculum is fixed with not much scope for fine tuning depending on the trends in the industry – that's where PGDM has its advantages."
A PGDM program is offered by autonomous institutes recognized by AICTE and is designed and developed by them to not only suit the requirements of the students, but in keeping with industry demands as well. "Overall the curriculum is quite flexible. The institutes can quickly react to the needs of industry and markets and evolve the curriculum without making a change to the core subjects," Prof. Seshasayee explains. Thus quite simply, while students pursuing their MBA and PGDM might gain an education in core competencies, the latter, to some extent, have the advantage of industry readiness.
However, Prof. Seshasayee is quick to add that most of the recruiters, especially the MNCs, don't differentiate between MBA and PGDM and a lot depends on one's individual merits. "All the awards of PGDM from AICTE recognized institutes are equivalent to a master's degree offered by the Universities," he explains. "It also means that after you have completed your PGDM you can pursue further education including PhD in India and abroad. A lot of your career prospects depend on the institute you have got your degree from."
Prof. Seshasayee believes that it's not just the curriculum, teaching pedagogy and strategies employed at KIAMS that makes their program stand out from the rest. The noted B School believes in imbibing communication skills amongst students and building their personalities, as well. Prof. Seshasayee illustrates this with an explanation of the curriculum: "The curriculum is designed to mould the management students into a fine blend of industry and market-ready personalities. They are subjected to academic rigor and vigorous training while the option of choosing additional elective courses enhances their complete learning experience."
The PGDM offered by KIAMS is a two-year fully residential program, which has its own advantages, according to Prof. Seshasayee: "A fully residential program will save you a lot of time and they will be immersed in a diverse environment that will also give them a sense of competitive world. As students learn on lush campuses in serene environment, they gain a sense of independence and boost their social skills as well. Moreover they will have access to campus facilities all through the day." Prof. Seshasayee has a lot to say regarding this debate. And, due to his impressive credentials and experience, future candidates would be wise to listen to him as he explains what lies ahead for them as they pursue their education.
KIAMS Harihar & Pune
OUR STRONG TRADITION OF EXCELLENCE CONTINUES! We live in the world where winner takes it all and there's no place for the second best. Not only do you have to beat intense competition, you have to be at the top of your game and race ahead of time. The forethought of our Director is evident today and his vision is refelected in our main aim: "At KIAMS we aim to provide an outstanding education, academic, social and extra curricular, which give opportunities for all students to excel, thus developing their ability to benefit themselves and others." You need to step up and take on the challenges, consistently hone your skills to be at your best. At the same time you need to keep yourself refreshed and rejuvenated to stay motivated and focused on your goals. Nestled on the banks of river Tungabhadra, is a 6 acre setting that promotes all this and more. Welcome to KIAMS, where idyllic setting meets intense learning atmosphere. A place where you will feel inspired to think creatively, and where the scope of your mind will be broadened so that you can unleash to its optimum potential. A BRIEF PROFILE Kirloskar Group Of Companies, one of the largest industrial conglomerates in India, has been growing and enriching lives for more than a century now. KIAMS was conceived as a training institute and knowledge hub in 1991. It was envisioned as a learning centre where Kirloskar Group Managers shared their expertise, experience and kept up with the latest concepts and movements in Management. In 1995, the training institute was opened to managers all over the country. ACTIVITIES • Management Development Programs - training and consulting education for industry executives • Consultancy - in India and abroad • Research