Prof. Y K Bhusan, Director IBS Mumbai, Brings In Six Decades Of Higher Education Experience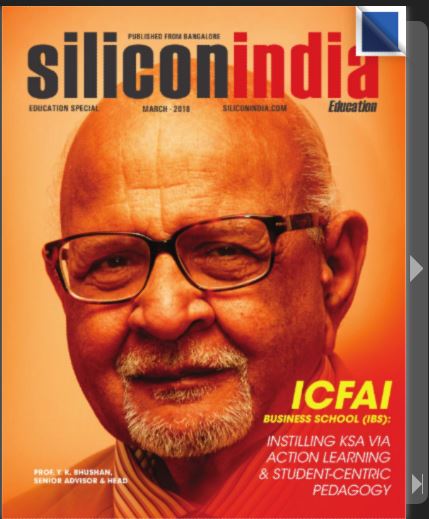 As a cover story, Silicon India Magazine published the interview of Prof. Y K Bhusan, Director IBS Mumbai, where he explains the importance of Instilling KSA via Action Learning and Student-Centric Pedagogy. Today when recruiters are not looking for tyro who only has seen the corporate world in their books but they looking for someone who has the temperament to face and conquer the corporate world with their knowledge and experience. In 1984 ICFAI was established to help students to become capable to face challenges of corporate world with his unique way of action learning and student-centric pedagogy.
Established with the objective to bridge the gap between theoretical knowledge and practical experience, ICFAI Business School has achieved a remarkable success in Indian education sector by helping students aware of industry trends through action learning while substantially infusing relevant knowledge, skills and attitude. Prof. Y.K.Bhushan, Senior Advisor & Head, ICFAI Business School(IBS), Mumbai, asserts,"We at IBS focus on action-based learning and close involvement with industry to make students work-ready for the corporate environment, armed with relevant knowledge, skill set and attitude. Our approach is student-centric that fosters individual career guidance, mentoring and personalized training by adopting 'participant-centric' pedagogy".
Since its inception, 43000+ alumni of ICFAI Business School has been placed nationally and internationally in various national and multi-national companies.
As companies recruit people from various backgrounds, the need for professionals with standardized skill set has increased. ICFAI Business School understands this and to prepare the students, IBS has chosen Post Graduate Program in Management (PGPM), so students attain excellence in business management, encompassing diverse managerial expertise. The institution is following a contemporary curriculum, CASE Based pedagogy proffers over 77 elective specialization course to choose from, a provision significant to IBS' prowess. IBS also provides 14-week summer internship program (SIP) where students can incorporate their theoretical knowledge with corporate managerial experience and filling the gap between them. To know more please click here. 
About ICFAI Business School:
ICFAI Business School (IBS) is a constituent of ICFAI group and was incepted in 1995. Since then it has been providing quality business and management programs and is one of the pioneer B -School in India. ICFAI Business School provides globally accepted programs and 100% case-based learning. In Ahmedabad, Bengaluru, Gurgaon, Kolkata, Mumbai and Pune campuses, they provide PGPM program and at Dehradun, Hyderabad and Jaipur they provide MBA programs.
For more information about ICFAI Business School please visit http://ibsindia.org/
ICFAI Business School App downloads links:
Android – https://play.google.com/store/apps/details?id=com.app.ibsbusinessschool
I phone – https://itunes.apple.com/us/app/ibs-business-school/id1156004960?ls=1&mt=8