As per a report by two scientists at the University of California, in today's world, an average human processes as much as 90 GB of information in a day. That is as much as watching 19 movies! Search engines, content platforms, social media, messaging services, even your phone itself; all of you are constantly processing data in the form of information.
Has it ever happened to you that you had thought about buying something & somehow your favourite shopping app shows recommendations of exactly the same product? That wasn't magic or even co-incidence! For every byte of data that you process, you also create more data & information through your interactions. E-commerce companies drill into your data to learn more about you, who you are, and what you are looking for.
Data Analytics helps companies draw insights & trends in customers' spending patterns, shopper behaviour, wallet size, etc. by sorting through raw data to find meaningful patterns. Data analysts use tools like Power BI and Tableau to present data in a way that helps businesses to take all sorts of strategic decisions; from the design of next year's trendiest baby stroller to the features of a new luxury sedan.
Owing to the rise in volumes of data in recent years, the demand for Data Analysts have increased drastically too. As of December 2021, there are 75,000+ active job openings for Data Analysts on Naukri.com and LinkedIn combined. A Data Analyst in India can command a range of salary from INR 3.4 to 17.5 lakhs per annum, depending upon many factors like experience, skills, location, and employer.
Thinking about it already? You're on the right track!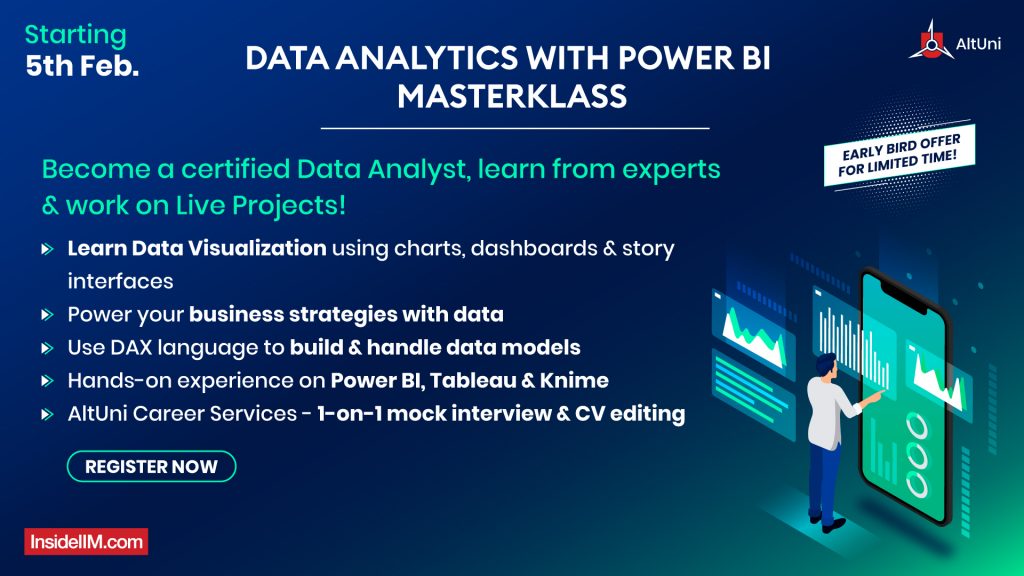 If you're planning to build a career in Data Analytics or any other management domain, Data Analytics is a skill-set worth adding to your profile. With AltUni's Masterklass on Data Analytics with Power BI, you get to,
Learn Data Visualization techniques and build data-driven business strategies
Build charts, interactive dashboards, and story interfaces for visualization of data and trends
Use DAX language to build and handle data models through the use of formulas & expressions
Get hands-on experience of Data Analytics & Visualization in 2 Capstone Projects
Become a certified Data Analyst!
Become an AltUni alumnus to get access to exclusive job opportunities & huge discounts on all current and future programs
Get access to AltUni Career Services like 1-on-1 mock interviews & profile building sessions by industry experts.