About the Webinar
A single supermarket visit would expose you to almost 1000 brands which is why marketing campaigns need to awe us & build a connection between the brand and us.
In the pre-digital era, great marketing was based on great instincts of marketeers trying to decode consumers through research and instincts. Today's true leaders in marketing are ignoring hunches and using advanced technology and machine learning to increase speed & accuracy.
Highly data-driven organisations are 3 times more likely to report significant improvement in decision-making, according to PwC research!
Marketing has certainly evolved and with it, so have the expectations from a Marketeer who needs to constantly think on his/her feet, adapt and act. Yet, 62% of executives still rely more on experience and advice than data to make decisions. There is a clear gap between the expectations and the reality and to close that we present to you,
Click on the links below to learn more about the Masterklasses
Register For Both Masterklasses For As Low As INR 3999
Early Bird Offers Ending On 17th February!
These 2 programs, rated highly by our alumni, are the ideal bootcamp for management professionals who want to learn the techniques to increase sales & market share! They will help you understand the nuances of the fast-paced world of Marketing, learn to devise data-driven marketing ideas & campaign execution & optimisation using analytics.
With a curriculum crafted and sessions delivered by experts, you also get umpteen real-life highlights and insights on the behind-the-scenes realities of marketing.
Marketing Analytics 101 Masterklass has been curated & will be delivered by Ankit Kush, who is the Practice Head - Marketing Analytics at Searce Inc. He is the startup mentor for the popular coworking startup, 91springboard and is an alumnus of ISB and NIT-Surat.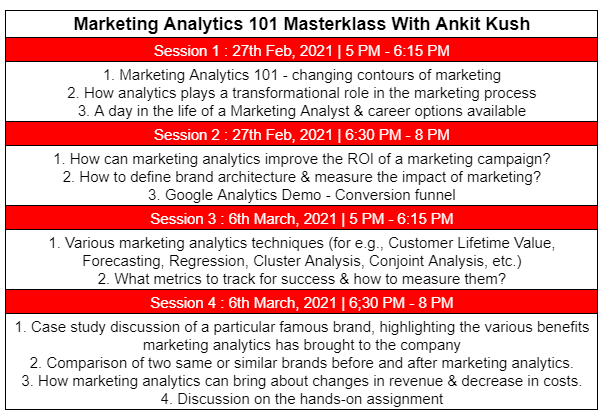 FMCG Marketing 101 Masterklass has been curated & will be delivered by Naveen Gupta, who is currently based out of Amsterdam as the Global Brand Equity Manager at Blu-a. Previously, he was the Global Senior Brand Manager of Knorr at Hindustan Unilever where he had started his career after completing his MBA from IIM Indore.