The world of Finance has changed rapidly, especially in this last decade; from doing big transactions at your fingertips within minutes to businesses using blockchain technology, open APIs, cryptocurrency, and offering customers multiple modes of payment. The pandemic has acted as an add-on catalyst for the complete digitalization of the industry that was already evolving. Around 80% of the innovation projects in Asia/Pacific banks are classified as digital transformation. As organizations rethink their business models, Finance students & professionals also need to relook at their core skills in the modern world of Finance.
More than 30% of the Finance professionals feel that their skills will not be relevant after the pandemic, as reported in a recent survey conducted by IMA. It also said that close to 80% of the Finance professionals have worked on improving their job skills during the pandemic & 70% agree that the upskilling has helped their career progression.
Realizing the importance of the comprehensive knowledge of different functions, technologies, and directions that the Finance industry is taking, InsideIIM AltUni is launching Finance CareerPro, an intensive program taught by IIM-A, B, C, and XLRI alumni who've worked in companies like Deutsche Bank, Edelweiss, Merrill Lynch, Kotak Securities, Kotak Mahindra, TAS, etc.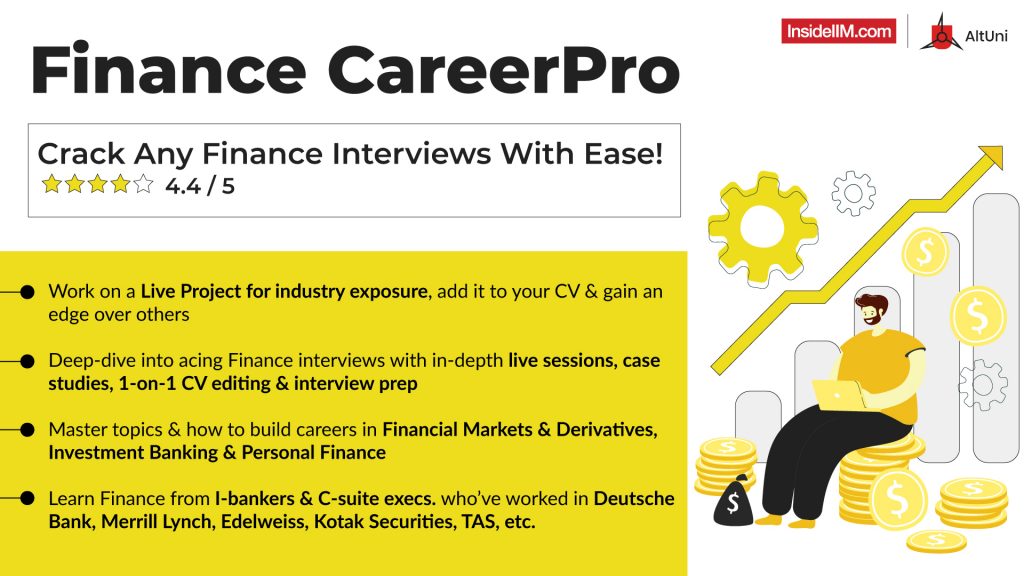 Learn the mechanics of the Finance world with a comprehensive curriculum that includes Financial & Derivatives Markets, Investment Banking, Personal Finance, Wealth Management, FinTech, etc.
Work on a Live Project, get invaluable industry exposure & highlight it on your CV
Deep-dive into acing Finance interviews with 30+ hours of in-depth live sessions, mock interviews, case studies, 1-on-1 CV editing & interview prep
Learn how to apply financial management concepts to the situations faced by a manager in investment, dividend & financing decisions for the firm
Understand the nuances of Investment Banking, skills required & career routes after that, behind the scenes stories of high-stake deals
Learn about the different stocks, types of futures and options contracts, and their specifications
Get study material: 'Financial Ratios' & 'Technical Analysis' cheat sheets.
Here's what some of our alumni had to say about us,
"The entire course was quite enlightening. Kenneth handled it very well, by explaining everything in layman's terms restraining from the use of technical jargon", Amritha R.
"A definitive guide to starting a career as an I-banker. The live sessions were executed with perfection. As a student interested in Finance...this series provided me invaluable insights", Suryavinay K.
"The Finance Festival has been a great learning experience as industry experts took the sessions. I have gained some confidence in Finance...they have given me a direction to my goals in Finance", Parth S.
Register Now For AltUni Career FinPro, Rated 4.4. Out Of 5 & Get 25% Off* On The Program!
*Offer valid for a limited time period only.