As countries move from a crisis phase to a renewal phase; the companies are getting a sense of how their worlds have evolved. Value-driven purchases, experience affinity, sanitation & sustainability are themes that have picked up pace. In a McKinsey survey, 96% of the respondents in India have tried new shopping behaviours in the pandemic and 75% of them intend to continue those.
In the same survey, more than 50% of respondents in India stated that they are more inclined to make online purchases of snacks, alcohol, medicines & books. For marketers especially, this has substantial implications and they do realize that. 84% marketers feel that the increased usage of social media by consumers to engage with brands is here to stay as per a CIM report.
To stay relevant, marketers & brands are constantly on the lookout for new ways to reach consumers digitally; how to tell them the same story on digital channels; how to personalize experiences for their consumers. The share of digital advertising has grown rapidly, from 20% in 2019 to 29.4% in 2021, and is expected to reach 32.7% by 2022!
If you are a Marketer or if you aspire to be one, there is no better time to acquire the age-old Marketing skills & upgrade them with the new-age skills that can give you an edge over others. We have just the perfect upskilling program for you; AltUni Marketing CareerPrep; a program with 30+ hours of live sessions by experts from Google, P&G, Nestle, PepsiCo, Bain & Co., Snapdeal, Siemens, Airtel, InMobi, etc.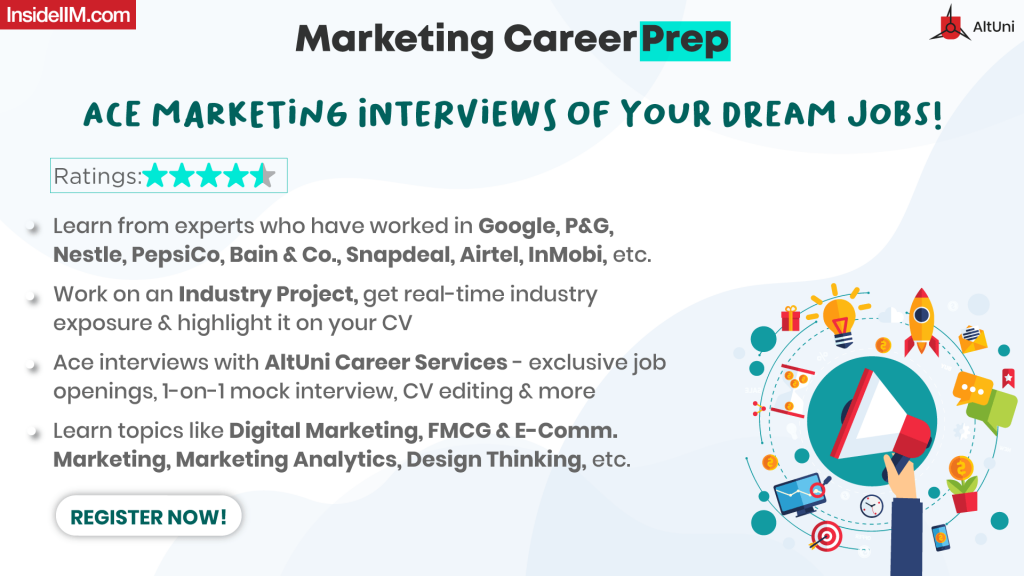 With a comprehensive curriculum, learn in-demand concepts like Digital Marketing, Marketing Analytics, FMCG Marketing, E-Commerce Marketing, Design Thinking, LinkedIn Marketing, etc. ​​from INSEAD, IIM-L, SPJIMR, NMIMS and TAPMI alumni
Get to work on an Industry Project to get industry exposure, add it to your CV and stand out from the crowd!
With the live sessions, you also get access to AltUni Career Services; exclusive job opportunities, 1-on-1 live sessions with experts to help you prepare for Marketing interviews with mock interview, CV editing, career coaching.
You'll get access to exclusive study material developed by experts & recording access to the sessions for revision.
Learn how to create 360-degree marketing strategies, execute them & measure their results & deep-dive into industry best practices & application with frequently used tools
Master the nitty-gritty of the new-age marketing essentials of E-Commerce marketing & FMCG marketing like marketing funnel, consumer journey, insight mining, consumer experience, etc.
Here's what some of our alumni love about us,
There are few experiences that you can't measure with money; this was one of those..He was so immersed that 4.5 hours of scheduled time went upto 8-9 hours. I can say it was really worth it. - Rohit Chakraborty
It was beyond my expectations! The curriculum was carefully structured. Learning from an industry expert meant that we could go beyond theory & talk about real life examples. - Gursimran Kaur
Masterklass brings in industry experts from various fields to give the best sessions & learnings that are not available outside easily to others. It gives insights & areas to work on our CV. - K. Vijay Balaji
Get 25% Off On The Program If You Register Before 26th September!