Getting into a b-school of choice is a dream for most people and when that dream comes true, it is often accompanied by a sense of accomplishment and relief. But little do the incoming b-school students know that a myriad b-school world awaits them. It is almost like the first date, when you are clueless about what to expect & even if you know, it always surprises you!
Summer Placements are usually one of the first curve balls faced by students in a b-school but you would definitely want to be prepared for that. Not just because it will decide your internship but because of reasons, like we talked about earlier, it's your first date; you get to know each other, decide whether the match is a cultural fitment and whether this can be taken ahead.
Believe it or not, a lot of recruiters open up full-time positions to their interns first before actually looking for a candidate in the market because it requires less effort, induction becomes easier and you already have a hang of the role and the company. And there is your first mover advantage. Of course, if you get a PPO, you have practically got your RoI of the b-school within half the time!
"Every intern is critically evaluated by a panel of leaders for pre-placement offers and in the last few years, over 50% of the summer interns were given PPOs", noted TK Srirang, HR at ICICI Bank in a HT report.
"As many as 48% students converted the summer internship assignment into a PPO and this is an upward swing trend. Five years ago, only 25% of students used to get a PPO and today it has almost doubled," said Ramakrishnan Raman, Director of SIBM in ToI report.
So how do you make the most of this opportunity? How do you score a home run at Summer Placements?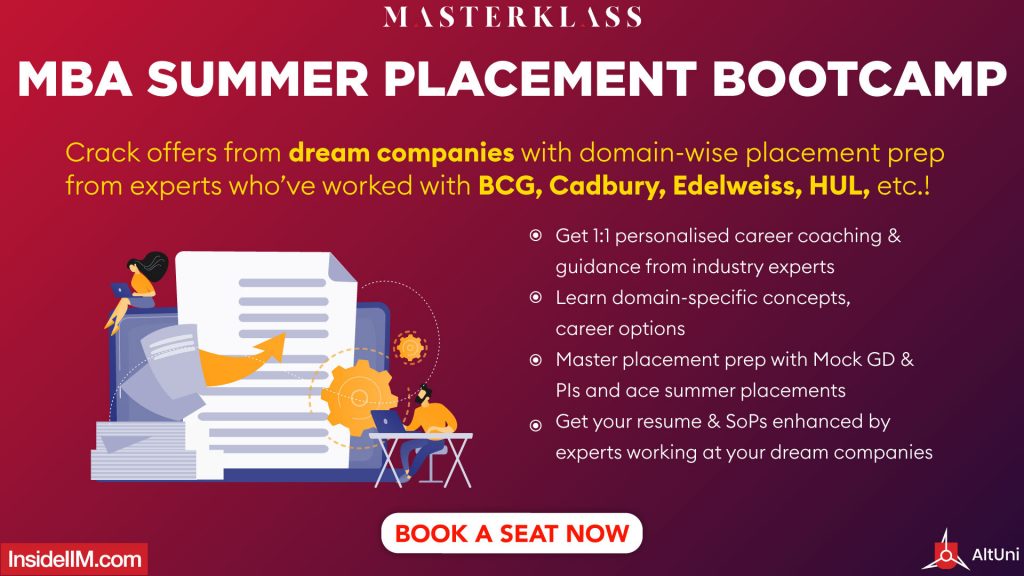 This bootcamp will help you crack your dream companies for the 2021 Summer Placement Season!
With a perfect mix of,
1:1 Career Coaching sessions & 1:Many Masterklasses,
learning from established industry experts & fresh graduates of top b-schools,
mock GDs, PIs, and demos & preparation study material,
This 21-day bootcamp is all you need to get cracking your dream summer placements!
By registering for the Summer Placement Bootcamp, you will
learn about specific careers in each domain, how can you get an internship & convert it into a PPO
get 1:1 career coaching from experts who've worked with BCG, Cadbury, Edelweiss, HUL, etc.
get access to InsideIIM's exclusive domain-specific first-hand accounts of interviews & internships
get access to InsideIIM's exclusive recruiter research of dream companies & panel discussions
learn & get 1:1 guidance specifically about CV & SoP enhancement & take part in mock GDs & PIs.
Or Call Us At +91-75065-72579 / +91-97686-46464.