Summer isn't just for vacation; it also includes a plethora of activities centered on MBA summer internship placements for you, as a student in b-school. It turns out to be a common tendency to not take this seriously without realizing that it is one of the most crucial periods in your b-school life. By the time you've settled into the notion of an MBA, summer placements arrive, and you don't have time to comprehend anything and may feel disoriented.
MBA summer internship is a brief learning experience involving on-the-job training with top organizations. It is an excellent opportunity for your career trajectory by assisting you in defining your preferred career path.
Industry exposure: You can belt the knowledge of mid-level management experience along with core knowledge of the industry in real-time. That makes it the best opportunity to learn how things are done in real-life situations and industry norms. And it turns out that this practical experience can help you build your confidence in no small measure.
Preview of roles and responsibilities: This is an opportunity to explore the fields and work in your area of interest. It gives you insights into the roles, responsibilities, and nature of the work that you would be embarking on, after graduating from b-school. If you don't think you're suited for the role, you can reconsider your area of interest and change your career path.
Network expansion: In today's world, networking is one of the factors that lead to success. With this placement, you not just learn domain skills but also build good influence and interpersonal relationships with professionals in your field. These new acquaintances can become your potential mentors or employers.
Feedback from industry experts: What's better than receiving feedback from experienced leaders and learning from them? And there are high chances of getting recommendations from your supervisors that help you in climbing the corporate ladder. It's not just that, the feedback helps the placement committee team of your college to understand the pros and cons before the final placement.
Pre-placement offer: It also increases your chances of being offered a full-time position. Having said that, the National Association of Colleges and Employers reports that 70% of firms provide full-time opportunities to interns. As companies recruit interns that fit their culture, it's a win-win for both.
The experience you gain from the summer internship placement will make you a well-rounded candidate and serve you well in the success of your future endeavors.
We, AltUni, have a decade of experience in helping students make the most of their b-school life and set their career trajectory on an upward path that has led to their career success.
Following the massively successful 2021 Summer Placement Bootcamp which gained an excellent rating of 4.47 and helped 75+ students gain their dream offers, we are back with an even more effective Summer Placement Bootcamp in 2022 to enable you to crack your dream job offers with 10+ industry experts, who received an instructor rating of 4.58 in the 2021 season.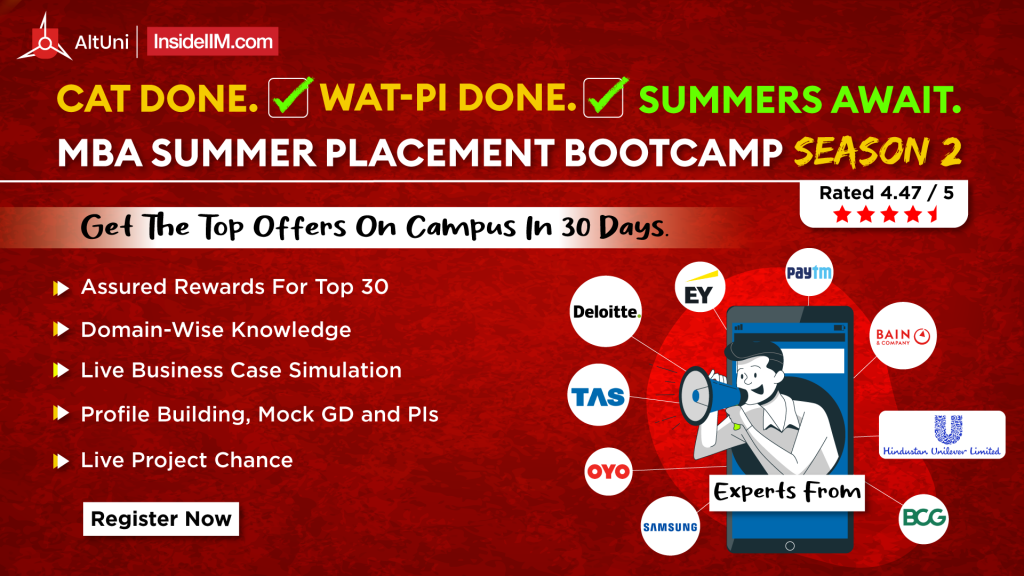 How Will It Benefit You?
You will be able to crack offers from your dream companies on Day Zero of the 2022 Summer Placement Bootcamp;
Get 1:1 - domain expertise from industry experts of TAS, BCG, HUL, Deloitte, Bain & Co., EY, Samsung, RIL, L&T, Paytm, Oyo, etc.;
Work on a LIVE Business Case Simulation & get exposure to solve business problems real-time;
Get a chance to work on a Live Project based on your profile and your performance in the Bootcamp;
Master domain-specific interview questions & tips and take part in mock GDs & PIs to ace summer placements;
Learn from students of top b-schools on how they cracked their PPOs and placements; and
Improvise your resume & SoPs with the help of experts working at your dream companies.
That's Not All!
There will be assured rewards for the Top 30 Rankers of the program;
You will receive study material & interview prep guides crafted for each domain;
Get access to InsideIIM's exclusive recruiter research of dream companies & panel discussions on the same; and
Get access to InsideIIM's exclusive domain-specific first-hand accounts of interviews & internships.
Finally, The Best Part!
Get FREE access to the Klub of India's top professionals that comprises 5 million+ unique annual users, 60+ industry partners, and 250+ mentors across the globe.
What's in it for you?
Find the perfect opportunities through our weekly list of job postings, internships & gigs
Carve your career path with 1:1 mentorship
Build the CXO mindset through interactions with business heads
Upskill at your own pace with our recorded library
Get noticed by your dream recruiters with profile building sessions
Get exclusive monetary benefits worth INR 1 lakh
Expand your knowledge graph with peer interactions.
What Do Our Students Say?
"Really insightful info given about the different roles in the finance sector for an MBA graduate, as well as a great articulation of job scenario in current/ previous crisis"
Saket on How To Ace A Finance Summer Placement Interview session
'The insights facilitated a complete whirlwind for me, the perception I had of Sales & Marketing took a straight 180 turn, and my existing knowledge got amped up by an insane margin.'
Anandmayee Tripathy on How To Ace A Sales And Marketing Summer Placement Interview session
Common Mistakes made by aspirants, some really great ideas to bolster one's CV starting now"
Anandmayee Tripathy on 1-on-1 CV Editing and Review session
"An equal proportion of time for great insights regarding consulting, case studies, interviews & prep. and clarifying doubts."
Sai Pranav Sidhu on How To Ace A Consulting Summer Placement Interview session