About the Webinar
Products & technologies have had increasingly higher adoption rates. Telephones took almost 100 years to reach 100 million users, mobile phones took 20 years, Facebook took less than 5 years to reach the same mark and Instagram just 2 years! With a breakneck speed in the product adoption rates, organisations all over the world are realizing the importance of the product management role in developing, adoption, growth and retention of the product in its life cycle. Companies are cognizant of the fact that they can make consumers the king by actually making the product the center of all their strategies.
An average product manager draws a salary of approximately INR 17 lakhs in India, increasing even more with experience. From an entry level package of INR 10 lakhs to upto INR 35 lakhs for an experienced professional, the demand for Product Managers is surely outstripping the supply.
Product managers are professionals with the best armory to face the modern day challenges hence, organizations are consistently hiring more professionals who can understand users, collect and process data, set product vision and strategy, and evangelize products within the company. Since it is a relatively new career path, it is important to start a career in product management by setting very strong foundations.
We, at AltUni, bring to you, back on popular demand,
Register Now & Avail Early Bird Discounts!
Offers valid till 31st December, 2020.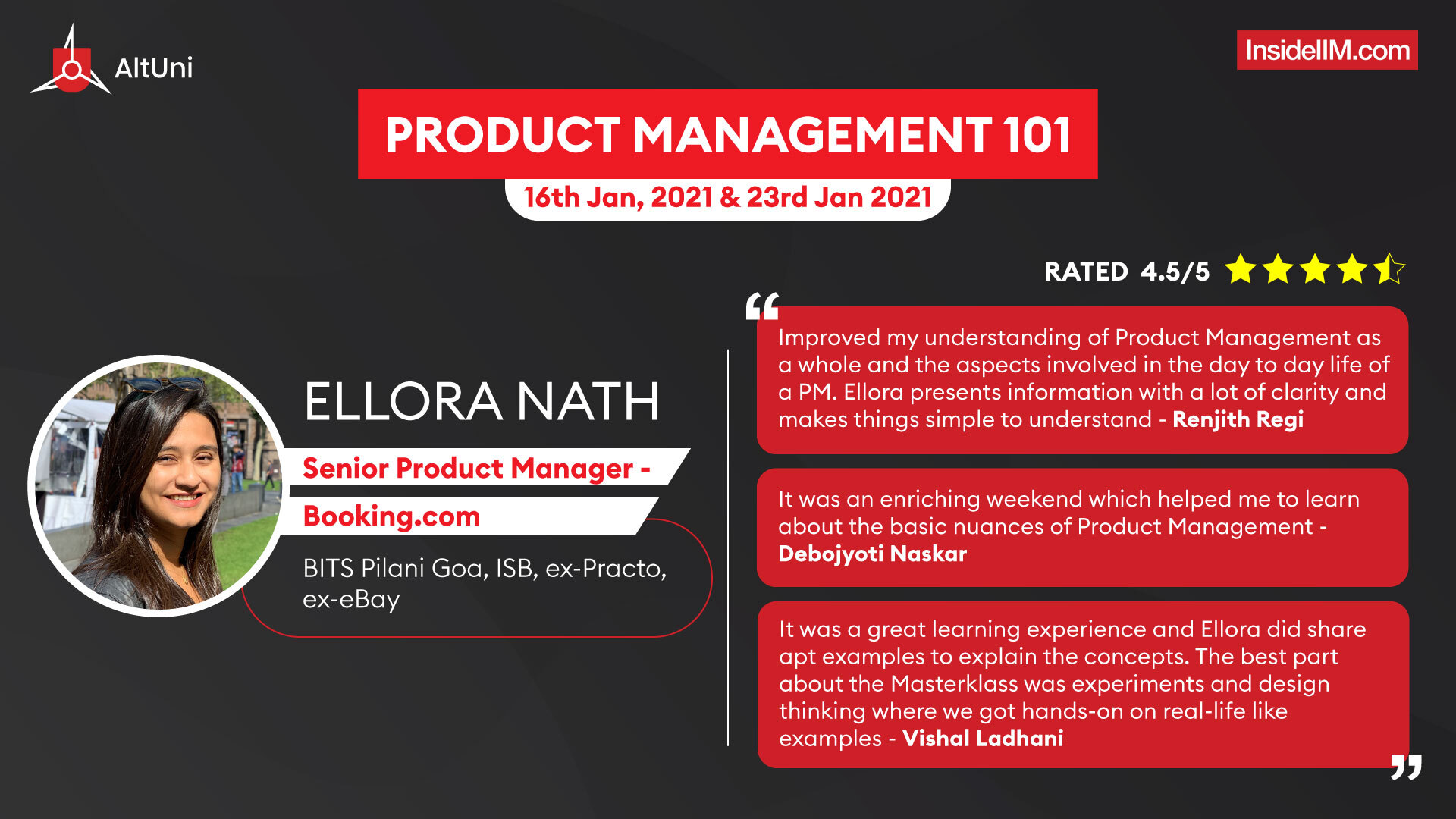 In this InsideIIM Masterklass, we take up fundamentals of Product Management, realities and myths of building a career in product management, career paths, case studies & design thinking workshop! Here's what you'll take away,
4 interactive and live sessions of 90 minutes each

Dedicated Q&A time with Ellora Nath

Learn by working & actual application of knowledge on live case studies

Experience the process of building your own product with a detailed assignment on Product Management

Workshop on Design Thinking

Access to session recordings for 6 months

Certificate of Excellence to boost your resume post program completion.
Ellora Nath is a Senior Product Manager, Booking(dot)com in Amsterdam. She has also worked with eBay and Practo in the past & is a BITS & an ISB Alumna. You would have heard her journey on our platform & in case you haven't, listen to her below,
Don't Do An MBA To Figure Out Your Future - Ellora Nath, Product Manager, Booking.com, ISB Alum -

here

My Experience At ISB, Practo Ft. Ellora Nath, Senior Product Manager, Booking.com -

here

What It's Like To Work As A Product Manager Abroad Ft. Ellora Nath, ISB Alum -

here
Here is the program schedule and curriculum,