About the Webinar
Over 93,500 Data Science jobs were vacant in India at the end of August 2020, despite the hiring freezes & layoffs in 2020, according to a study!
Surprised? Don't be. According to the Head of Data Science at Quora, "A big issue right now is that while more and more companies are committing more heavily to data-driven product development and their data teams, there are very few examples of folks deep in their careers who are pure data scientists...". Data powers the world today. From innovations in supply chain management to marketing & strategy decisions, data is at the heart of everything we do.
But what exactly is Data Science & how is it different from data engineering or data analytics? Data Science covers the end-to-end process of mining data in various forms, collating this mined data, analysing actual phenomena with that data and presenting a conclusion that aids an organisation in making a calculated decision. Organisations are no longer looking to hire people for generalist roles, they are looking to hire people with specialised skills, which is why you need to understand the difference between Data Science, Engineering and Analytics as they're often wrongly used interchangeably.

So how do you gain skills required to build a career in Data Science?
Presenting Data Science 101 Masterklass by
Roopam Upadhyay, Founder & Director - YOU CANalytics!
Roopam Upadhyay is an IIT-B alum, who is the Data Science & Analytics Consultant at International Finance Corporation (World Bank Group) & is the Director & Founder of YOU CANalytics. He has previously worked with American Express, Reliance Capital, Axis Bank, Allstate Insurance, DHFL, etc.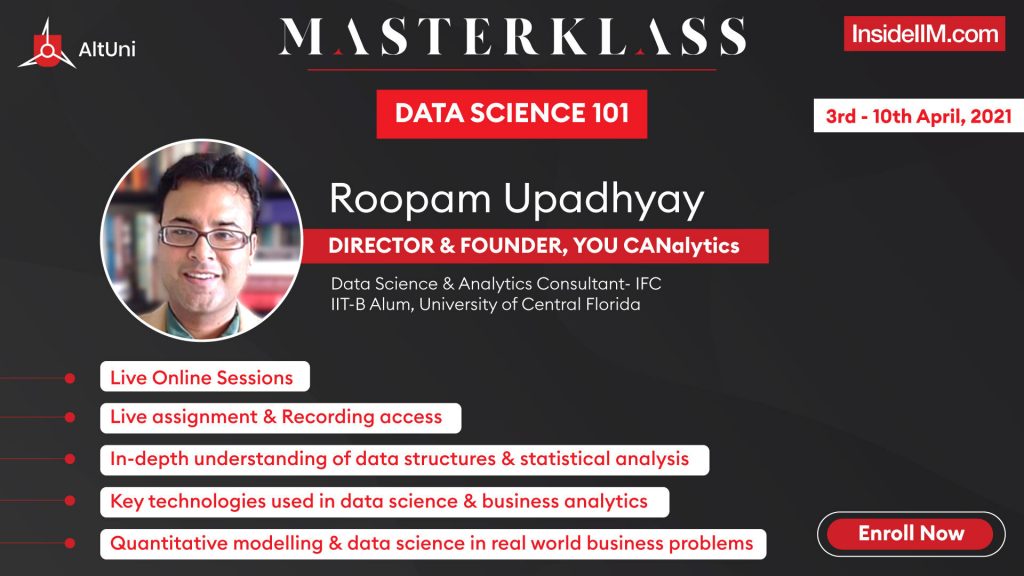 Why should you sign up?
This Masterklass will be conducted from 3rd April to 10th April, 2021. Learn data science to extract relevant business insights from data. Unleash the power of synthesizing structured & unstructured data to drive impactful business decisions.
6 hours of live, online sessions with QnA time
Live assignment, demos & recording access
Gain an in-depth understanding of data structures & statistical analysis of data
Deep dive into the key technologies used in data science & business analytics
Learn to apply quantitative modelling & data science to real world business problems.