About the Webinar
The annual worldwide sales of the retail e-commerce industry for the year of 2017 stood at $2.38 trillion. Yes, you read it right! Trillion! And now, imagine this, in 2021 this figure is set to be more than doubled, taking it past the GDPs of countries like Japan, India, Germany, UK, France!
It is safe to say that E-Commerce has revolutionized the way we shop, we pay and the way we own the goods. A few years ago, when e-commerce was just beginning to make a mark, it was touted as just another bubble, waiting to burst. While it has proved certainly that it isn't, it has also shown that there's a lot of room for growth in E-Commerce. The brick & mortar retail industry has taken a nearly fatal hit with pandemic and E-Commerce has shown that it is even more robust.
If you're looking to move to the E-Commerce companies like Flipkart, Amazon, Udaan, Myntra, PayTM, etc., you've come to the right place at the right time! In this post, we'll tell you all you need to know about jobs in E-Commerce marketing.
How does 2021 look for the E-Commerce industry in India?
While the e-commerce sales in India in 2020 did slow down owing to the lockdown & depressed consumer spending, it still grew by 7-8% & gross sales stood at around $33 billion, quoted an analyst at Forrester Research to ETNow. In fact, what the lockdown did was help the industry almost double its users!
What are the segments which will have the MOST JOBS in the industry?
Online grocery - Consolidation in the industry is imminent owing to the entry of JioMart

Super apps - WhatsApp's entry will be a catalyst to an ecosystem of such super-apps

E-pharmacy - changed habits with the pandemic
After an analysis of more than 25,000 jobs (including the ones for freshers) posted in the last 30 days in the E-Commerce Marketing segment, the median salary offered was around 8 lakhs, going upto 50 LPA with experience!
If you're looking to build a high-roller career in the up & coming E-Commerce industry,
we have just the right expert for you to talk to!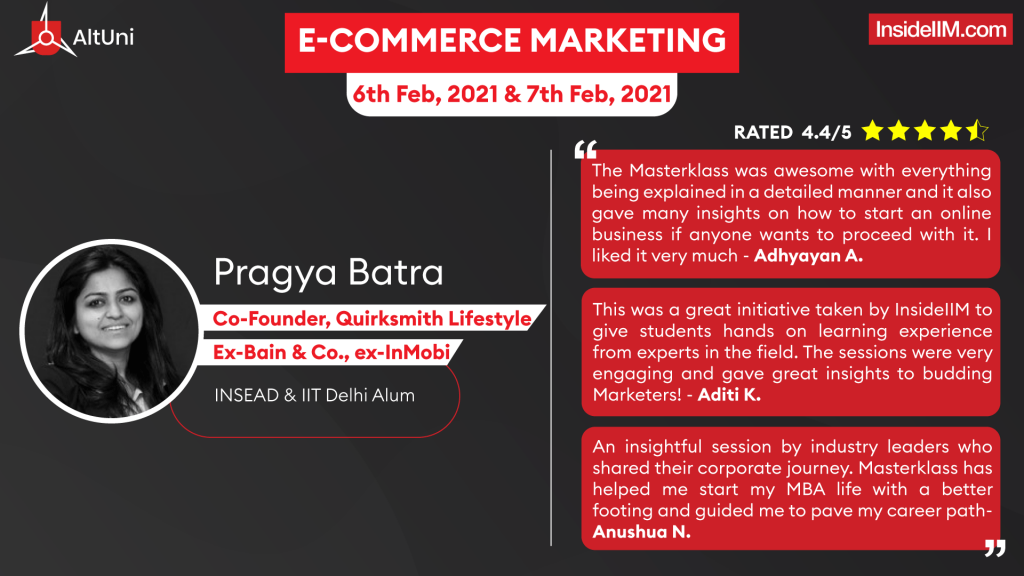 Introducing E-Commerce Marketing Masterklass with Pragya Batra,
an INSEAD alumna, ex-Bain & Co. & the Co-Founder of Quirksmith Lifestyle.
In this InsideIIM Masterklass, we take up fundamentals & advanced topics of E-Commerce Marketing, realities of building a career in e-commerce, live assignment & much more! Here's what you'll take away,
4 interactive and live sessions of 75 minutes each

Dedicated Q&A time with Pragya Batra

Experience E-Commerce Marketing first-hand with a live assignment on digital campaign management

Access to session recordings for 6 months

Certificate of Excellence to boost your resume post program completion.
Pragya Batra is currently the Co-Founder of Quirksmith Lifestyle, a handcrafted, silver jewellery multi-million dollar brand. She has also worked as a Consultant with Bain & Co. in the past & is an INSEAD & an IIT-D alumna. You would have heard her journey on our platform & in case you haven't, listen to her below,
Here is the program schedule and curriculum,