Ranbhoomi10, The Battle Of Wings – IIM Shillong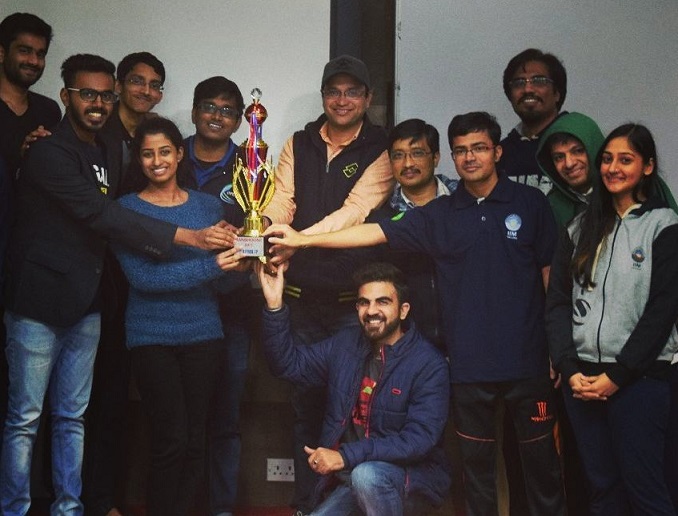 Smashes, Shots, Dunks, action, passion, and entertainment. Ranbhoomi 10 had all of it. It started with a boom and ended with a big bang. 12 wings competed against each other in 7 sports which included Basketball, Table tennis, Badminton, Volleyball, Chess, Carrom, and Golf. Ranbhoomi 10.0 was full of action and moments which IIM Shillong will remember and cherish for a long time.  There could not have been a better time to conduct the sports festival than this, with beautiful cherry blossom flourishing all over the campus. It was fascinating to see that when mercury was dropping in Shillong, students enthusiasm after a rigorous day of coursework was rising it. One thing that we again realised was that sports might not define personalities, but surely they do bring character to the fore.
The event concluded by the award ceremony, felicitating all the winners of an individual sport and overall fest. C wing emerged to be the champions of Ranbhoomi 2017. Prof Rohit Joshi, Prof T.K Giri, and Prof Bidyut J. Gogoi graced the occasion by their presence. Prof T.K Giri stated the importance of sports in one's life and encouraged the gathering to embrace one kind of sports activity. Faculties of IIM Shillong also expressed their interest in participating as players in various sports for the forthcoming intra-college sports festival.
Ranbhoomi also acts as a platform for students to showcase their talent, and gives them an added advantage during the selections of the college team for the respective sport. Ranbhoomi 10.0 raised the bars of performance as each wing showed exceptional performance and last-minute deciders became quite common towards the end of the tournament.
After Ranbhoomi, Sports Committee is all set for next gala event KOPDA: Intra College Cricket Tournament in February next year. This year Sports Committee of IIM Shillong held successful Intra college Football tournament and had again put up a great show in organising Ranbhoomi 10.0. The committee expresses its gratitude to all the teams, players and organisers for making it a huge success.
————-
About the Author:
Aakash Kshatriya
Office Bearer, Sports Committee – Class of 2018, IIM Shillong