Ratan Tata gets candid about TATA Nano and his E-commerce investments at Great Lakes' 11th Convocation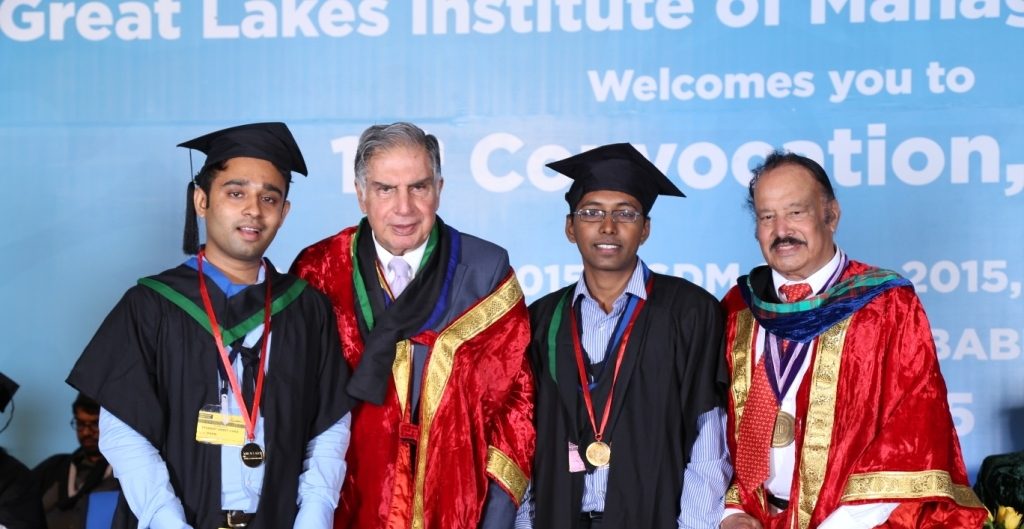 Great Lakes Institute of Management, Chennai, held its annual Convocation today at the CTC Convention Center, Chennai. The chief guests for the occasion Mr. Ratan N Tata, Chairman – TATA Trusts participated in the convocation interaction and Mr. Faizal E Kottikollan, Founder and Chairman, KEF Holdings, Dubai delivered the presidential address.
A total of 611 students graduated this year across five different full-time and executive programs including PGPM, PGDM, PGXPM, PGPM (Flex) and PGP-BABI. Six best outgoing students and four academic toppers from each program received Gold medals during the graduation ceremony.
Speaking on the convocation, Chief Guest, Mr. Ratan Tata, Chairman – TATA Trusts, said, "I express my deepest and genuine congratulations to the graduating class. The purpose of this curriculum given to you at Great Lakes will be realized once you leave this place. And that is when your real learning starts. Just be yourself and be driven by the desire to make a difference. Your real learning starts now, the tools, experience and exposure have been given to you, but what you make of it in life is what you do after you graduate. There will be thousands of occasions when you have to make difficult decisions and you have to ask yourself whether you are taking the right one, however, difficult or unpopular that may be."
Mr. Ratan Tata also took questions from the students and talked about the support young startups need. He mentioned that "I see this as an opportunity to encourage and support young start-ups in new space (e-commerce and e-retailing), which in my view is, going to change the face of the Indian merchandise and marketing. So, in a small way, because I am not a wealthy person, I have invested in some 10 companies. Some of them will succeed." On being asked by a student about the lessons that can be learnt from the launch of Tata Nano car, he said it was a really an exhilarating experience to produce a car that was affordable and could be purchased for Rs.1 lakh. But, it was a greatest mistake to brand it as the cheapest car instead of most affordable one. It caused a negative impact on the market. People did not want to be seen in a cheapest car.
Delivering the convocation address, Mr. Faizal E Kottikollan, Founder and Chairman, KEF Holdings, Dubai, said, "Today, as you graduate, I wish you all to be different and think different. Just hold on to your values as it is these values that will define you as a good human being."
Welcoming the gathering, Dr. Bala V Balachandran, Founder, Dean & Chairman, Great Lakes Institute of Management, said, "It gives me great pleasure to welcome our Chief Guests to Great Lakes. I feel proud to be present here on the 11th convocation ceremony of Great Lakes in the presence of our honorable guests. I firmly believe that it is a confluence of diverse thoughts and ideas which makes an institute grow and reach even greater heights.  I can say with conviction that today's graduands stand by this very principle of diversity at Great Lakes. No doubt that these graduates are among the best in the world and have the potential to become catalysts for change. I wish each one of you a great success in your career ahead. The world is out there, awaiting for your contributions and the knowledge that you acquired at Great Lakes will definitely lead you to a positive change. Step out and make your alma mater proud."
Besides academic toppers, medals and certificates were awarded to nearly 70 graduands in the following categories – Dean's Merit List, Domain toppers, best Empirical Study and Committee contributors.
One of the highlights this year was, twenty graduating PGPM students from Great Lakes who completed their six weeks exchange program with University of Bordeaux, France in July 2015, will also be receiving their MBA (Level- M2) degree in European Business Administration and International Business from University of Bordeaux subsequently during Bordeaux University's graduation ceremony.
Great Lakes Institute of Management
Great Lakes Institute of Management, established in 2004 by Dr. Bala V. Balachandran, has emerged as a leading B-school in India within a short span of 10 years. Led by exceptional academic faculty, steered by an outstanding advisory council and buoyed by the international collaborations, Great Lakes has, within a short span of 10 years emerged as a top-ranked business school, ranked 8th among 1 year MBA program by Outlook India, 9th under Executive Programs by Business Today, 10th among Executive Programs by CNBC-TV18 and 16th among top Indian B-schools by Business India in 2013. In 2014, Great Lakes was accredited by Association of MBAs (AMBA, UK) for its PGPM and PGXPM programs and became the youngest B-school in India to receive this prestigious international accreditation. Great Lakes has 40+ full time faculty and 130+ visiting faculty including over 20 international faculty from top global schools like Yale, Kellogg, Stanford, etc. Further collaborations with world's leading institutions like Yale University, Nanyang Technological University, University of Houston, University of Bordeaux, etc., have helped Great Lakes in globally benchmarking its programs. Great Lakes has a 27.5 acres LEED Platinum rated green campus in Chennai and a second campus in Delhi-NCR.