The Red Building Of Dreams – Aditi Saini, FMS Delhi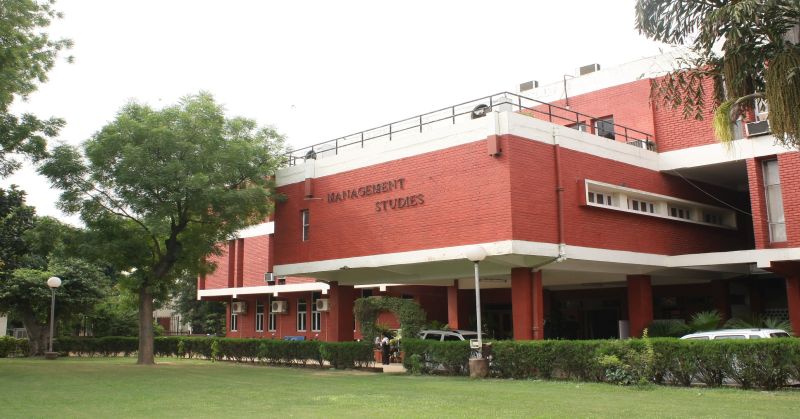 What makes my campus unique?
FMS Delhi is a small building situated in the heart of North Campus in Old Delhi. But this building has nurtured many, many business leaders of the country. The limitation of infrastructure ensures that all the 400 plus students know each other personally, friendships get cemented and love blooms. All of us spend almost all our times in the campus together, leaving for few hours only to gather at one of us place to brainstorm on the latest group tasks given.
Our college is run by the students, with the students and for the students. Our seniors easily slipping in and out of the role of being a mentor and a buddy.  I can bet that no other Business School in India has the kind of student-driven program like ours.
The faculty at FMS gives loads of freedom to students to pursue their areas of interests and provide guidance from time to time. All of them are humble and approachable and their faith in the abilities of students propels all of us.
What truly sets my campus apart from the thousands in the country is the attitude of the students. Over the two years, we all grow with each other utilizing limited resources available and inculcate the spirit every challenge in our stride. No matter what life situations throw at us we have the knack if figuring out things anyhow. There is no way we give up and fight all the battles with conviction.

A memorable classroom experience in my B-school
My love for Marketing drove me to FMS and ever since I got admitted here I had been looking forward to being in the Marketing class and learn from the bigwigs of the Indian academia. Before our first Marketing class, we were given the case that had to be discussed and presented in the class. I worked hard for the presentation, did the best research possible and prepared a decent submission. Next morning I had butterflies in my stomach in the anticipation and nervousness of presenting the case as well as sitting in my first Marketing class. I volunteered to give the first presentation and was happy with my performance. The Professor praised me in front of the whole batch. I was on cloud nine. The say well begun is half done. My journey at FMS began on a fantastic note and this is the most memorable experience I have on my campus so far.
Introducing – some of my crazy batch mates
Shanky Garg is the craziest person in the FMS 2020 batch. Newly passed out of undergraduate college, he is a bundle of energy and an absolute delight to work with. In the moments, when we are not in splits listening to his jokes, he shares his amazing and quirky stories. Shanky has a passion for mimicry and charges each one us a samosa for entertaining us in the cafeteria in our free moments together. He is the guy to be around while facing the heat of MBA rigour. He has the talent of turning even the most stressful situations easy breezy. My best friend in FMS and the most quirky guy in the campus is Himanshu Makhija aka Grumpy. He likes doing everything systematically and is easily the most focused student in the batch.  He is an absolute fun to be with. We both have prior work experience and it becomes so easy to connect with him. There is so much I learn from him each day.  He pulls my leg each day long in the most insane ways and switches to the grumpy mode when the favour is returned. He loves sleeping so much that he dreams about sleeping each day long.
Aditya Bhale is easily the most talented and the most popular student of our batch.  He has a soulful voice and an interesting personality. Hearing him sing, robs one of all the stresses and pressures of the B-School Life. He has masters in Tabla and plays it incredibly well. Bhale as we fondly call him hails from a small village in Chhattisgarh and has a lot of village stories to share. Hearing him talk about his experiences in his native town, transports us there. Aditya is extremely humble and helpful. He rides a cool bike and has a  cute, boyish charm.
Aditi Kaviya
My namesake in the batch and a dear friend, Aditi is cool inside out. She has crazy travel stories to tell She is passionate about going to Spain and she speaks fluent Spanish. She is the Leader of the batch and has a charming personality. Being around her always lifts my spirit.
Which ABG company would you want to work for and why?
If given an opportunity, I  would love to work in Aditya Birla Fashion and Retail Limited.
It is the conglomerate of my most favourite fashion brands. Forever 21, Louis Phillipe, Allen Solly, Pantaloons. BIBA, Global Desi, Levis, Lee Cooper can all be found under one roof of Pantaloons.  I would like to be the part of an organization that plays a great role in the success story of our country It is one of the biggest fashion house in India that integrates people, information and ideas. The company that does not stop but hustles hard every single time it enters the market, I want to be the part of ABG family.
Placement Cell FMS Delhi
Established in 1954, FMS has been a pioneer in India offering management education. FMS has the unique advantage of being a premier 'B-school' in a University milieu and in the national capital, thus offering valuable opportunities for our students in interdisciplinary learning and to undertake live projects from national/ international organisations. FMS is proud of a long list of illustrious alumni. It has rich legacy and history of producing World Class Business Leaders who are ranking stalwarts in Top MNCs across the globe.