Red Building Of Dreams – Aniket, FMS Delhi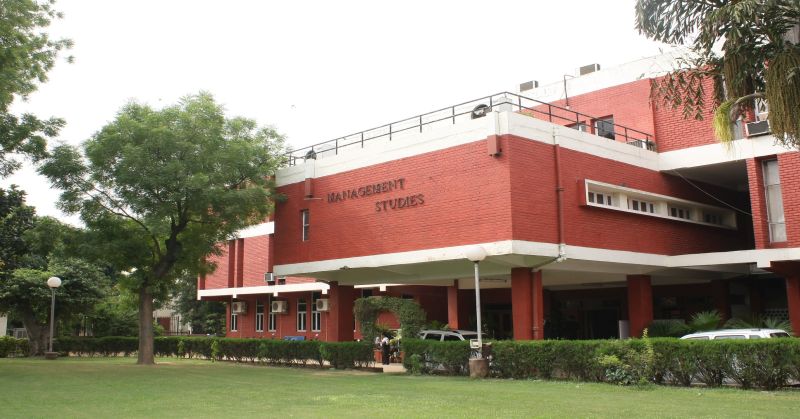 FMS is a small red building in the heart of the lush green Delhi University. It is the only top premier B-schools in the country that follows a university setting. FMS, also called the red building of dreams is a place of aspirations for thousands of students that are daily going to colleges. The university setting gives us access to world-class facilities and faculties that are teaching in the university. Need an expert on economics, walk into the Delhi School of Economics, need legal help understanding your case, walk into the Faculty of Law.
Along with academics, the sports infrastructure in the campus itself is mesmerizing. May it be football, swimming, badminton, gyming, aerobics and many more sports activities are one leap away from our college. Coming to food joints there are multiple options, few of them remain open 24*7 where students could go to binge.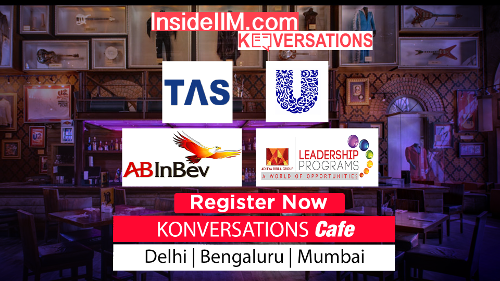 There are even two dogs that are always seen around the reception area have seen multiple batches move out are one of the first friends that I made in FMS.
Memorable Classroom Experience
During the tiring days of induction, getting 2-3 hours of sleep each night and getting back to back submissions, case studies, assignments, PPT we were all living in auto mode. The workload made us into robots that worked towards maximising the time in doing something or the other. During one such day, the seniors had planned a prank. They made up a story that the Dean ma'am was angry and had suspended a few of the seniors due to complain from a student from our batch. All of us panicked and did not want any such thing to happen to our seniors. We understood the necessity of the process and the importance of being "inducted" into an MBA programme.
However, after a while, a video started playing on a projector that welcomed officially welcomed our batch into FMS and the seniors rushed in to celebrate it with us the official end of induction.
Introducing some of my crazy batch mates:-
Himanshu Rajput :- This guy is a meta-human. He has secret superpowers to sleep keeping his eyes wide open. Post MBA he has volunteered to undergo an examination, where top scientists all over the world would be conducting an advanced research on him. He can manage to sleep in small intervals and wake up and answer the question that was asked by the faculty and then resume his naps.
Rohan Gupta :- Legend has it he fell on his head when he was born. The reason for this hypothesis is that he supports Arsenal Football Club. His major concern during induction inspite of the huge workload was a performance of Ozil in the world cup.
Akhil Lanka: – He is a travel enthusiast. He already has his winter internship plans fixed somewhere in Himachal where he plans to do a intensive market research. He wishes to start his own travelling firm and doesn't leave a chance to know more about this industry through people who have experience.
Sreekanth: – He is the John Meyers of FMS, but only in tightly confined spaces (read bathroom). Even while doing assignments or solving cases he has his headphones plugged in and listening to music. He is the only guy that I have come across who like Death Metal and Bollywood equally. Clearly, there is some wiring fault in him.
Dream Company – Peter England
I would like to work in Peter England post my MBA. The reasons of the choice are two folds. Firstly, I like the shirts that they have on sale.  Secondly, and most importantly, I would like to learn more about how does such a large organisation, be so consistent in its processes that they managed to be amongst the top 5 trusted brands for seven consecutive years. In the world of fashion, where trends dictate every other aspect, consistency of performing to the highest standards is something difficult to achieve. It is a one stop shop for men's apparel where clothes for all occasions can be found under a single roof. From business formals, to casuals to traditional to various accessories are managed by them.
Placement Cell FMS Delhi
Established in 1954, FMS has been a pioneer in India offering management education. FMS has the unique advantage of being a premier 'B-school' in a University milieu and in the national capital, thus offering valuable opportunities for our students in interdisciplinary learning and to undertake live projects from national/ international organisations. FMS is proud of a long list of illustrious alumni. It has rich legacy and history of producing World Class Business Leaders who are ranking stalwarts in Top MNCs across the globe.