Red Building Of Dreams – Ashwinikumar Shrivas, FMS Delhi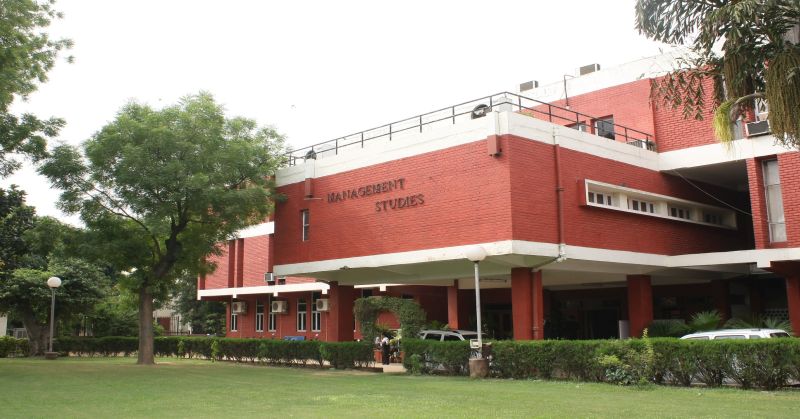 My campus Faculty of management studies is a part of Delhi University. It is one of the top management institutes in the country. What makes this institute one of the best? I think it's the students and the alumni base of the institute. The institute is run by the students, Management Science Association which takes care of most of student-related things in the institute. Most of the other top institutes in the country are not a part of university; they have a different culture altogether. At FMS we get to experience university culture and different atmosphere as it is the institute based in metropolis city like Delhi.
Apart from the regular classes, there are sessions conducted by various societies which are really helpful to clear basics about the subjects. Seniors at my college are really helpful and understanding. We can approach any senior with any doubt and they are always ready to help with utmost sincerity. Seniors make sure that we understand the topic. The unique thing about my college that I feel is that seniors are very helpful to the juniors.
A memorable classroom experience in my B-school
One of my memorable classroom experiences was of class of IT management. The course is conducted by Charu Puri mam. What happened was that it was my first class and all the people have to introduce themselves in front of the class. Then my chance came to introduce myself. I started introducing myself and when I ended my introduction mam asked the guy to stand up and introduced him and after few seconds asked him to stop. Then she turned toward me and again asked me to introduce myself and asked me to keep my voice louder than him. I started saying my name and again interrupted and mam asked the guy to start then again after few moments turned toward me and asked me to start. I started talking in full pitch. After the introduction, she told me that I should always be that much loud so that everyone can hear me.
Introducing – some of my crazy batch-mates
Jyotsana Maurya: She was working in Odisha. On one weekend a trip was organized by her firm to an island in Bay of Bengal. When she went there she was very mesmerized by the ocean and its waves. She just took a dive in the ocean to feel the waves. But she forgot that she didn't know swimming. So she was very scared for the few moments. When she came to the shore by the force of the waves she was relaxed.
Nivedita Sinha: She is from ICSE board and the board exams are held in the college only. When she was in 9th she was allotted as a scribe to one of her senior so that she can write her board exams. At her school students of 9th class are taught about the syllabus of 10th class also. So she knew most of the answers to the questions in the paper. She helped that girl to top the class.
Prakhar Gupta: He likes mountain climbing. He wanted to climb till the height of approximately three storied building. So he started climbing and he reached the peak and then he climbed down but what happened was he didn't know that he didn't use rope to climb a mountain height. And he was not at all afraid.
Sweenal Meshram: She is the craziest girl I met at college. She is from my under graduation college, VNIT Nagpur. She is from Nagpur. And the thing that happened was what we didn't even meet once in college. We are from the same city and we used to follow the same path to reach the college, then also we didn't meet once. I came to know about her when we joined FMS.
Which ABG company would you want to work for and why?
I would like to work for Hindalco. It is one of the major market holders for Aluminium industry in India. I have my prior work experience at Bharat Aluminium Company Limited. I have worked in the aluminium industry before and I want to utilize my knowledge in various other aluminium industries. Hindalco is the largest producer of rolled products in India and it has great working cultures for its employees. One of its rolling plants is in Nagpur, my home city. Aditya Birla Group which is spread across various domains and it can offer a very exciting and diverse working experience. I would also like to work in the fashion segment of ABG. ABG has various in-house brands and I always wanted to serve the fashion industry because I like its dynamic nature. We have to think ahead of time.
Placement Cell FMS Delhi
Established in 1954, FMS has been a pioneer in India offering management education. FMS has the unique advantage of being a premier 'B-school' in a University milieu and in the national capital, thus offering valuable opportunities for our students in interdisciplinary learning and to undertake live projects from national/ international organisations. FMS is proud of a long list of illustrious alumni. It has rich legacy and history of producing World Class Business Leaders who are ranking stalwarts in Top MNCs across the globe.