Red Building Of Dreams – Avinash Yadav, FMS Delhi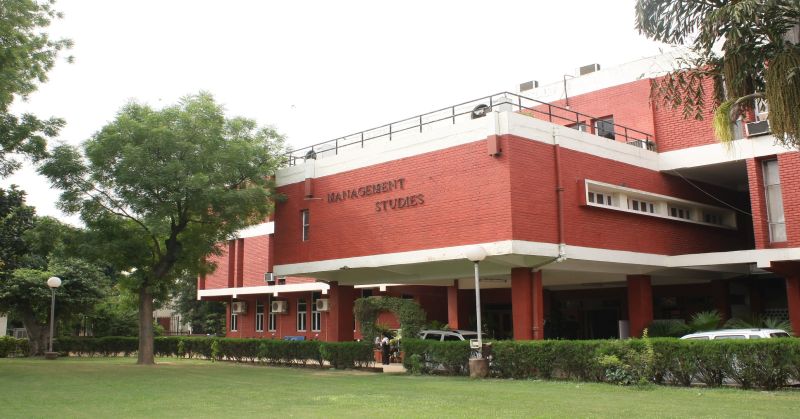 FMS lies in the heart of young Delhi in the very famous north campus of University of Delhi which is very vibrant and energetic. It has more than 15 colleges surrounding campus keeping environment alive and youthful. FMS being a part of university setup enjoys all the facilities provided by university be it "Ratan Tata library", polo ground or SRCC swimming pool, so the reach is immense. Starting from the first entry in campus administration staff welcomes you and provided a small number of students to remember they know people by their names. Being a part of Delhi university fraternity helps us attend sessions among colleges and FMS has enrolment from international students which provides an opportunity for cross-cultural learning and spreads the message of the united world.
A memorable classroom experience in my B-School
When the classes started one of our professors divided us into teams and started a team building exercise to know people in a better way. The activities involved knowing about more and more people about their life journey and interest and the team which could collect information about most people would be the winner, so it gave us an opportunity to interact in a more informal manner and building a connection with our peers. This made me know the various colours our diverse class holds we have international students from other countries and their experiences are great. Everyone had a unique hobby and some were really good at that ranging from music, dancing, playing to tabla, flute and Kathak. After the activity, we find the class more united and together knowing the secrets of others and this made us gel in a bigger way
Introducing – some of my crazy batchmates
Sneha: She is a versatile girl hailing from Andra thought never stayed there and grew up in Jamshedpur . She can't have the same cuisine and likes to try out new dishes every day. Her motive for being in Delhi is to find out new places to visit and enjoy the most.
Vishal Yadav: This chap is a mechanical engineer and has all the characteristics of it. He is a bit shy and can blush for 10 mins if some girl says "Hi" to him, though a sports enthusiast he is up for any game be it football, basketball, chess he can sail through any stuff. There were times when his humour was reflected in bits and pieces and the class really appreciates it.
Mohit: This guy is fresh out of the graduate college, has high energy level and likes to ask a lot of questions to teachers and guest faculties to learn, howeve,r it extends the normal session by 10-15mins.. He is a fitness enthusiast and is very committed to exercise schedule in the gym. Lifting heavy weights and working out hard.
Aditya Bhale: We like to call him "bhale" by his first name and he is modest enough to take that. He is a like the Amir khan of "3 idiots" movie. His focus is on gaining knowledge by any means rather then focusing on just theoretically knowledge. He is an environmentalist and travel by bicycle rather than taking autos or cabs.
ABG company I would want to work for
I would like to select Idea as my favourite ABG company to work for. It is one of the biggest shareholder in the Indian telecom industry and also my family has subscribed to it right from my childhood, so it has been emotionally appealing to me as well. The recent decision of Idea and Vodafone to go into a merger to become the market leader in the Indian telecom industry by replacing Bharti Airtel. This will provide an opportunity to work at an even grander scale and it will further help me to give better shape to my career.
Placement Cell FMS Delhi
Established in 1954, FMS has been a pioneer in India offering management education. FMS has the unique advantage of being a premier 'B-school' in a University milieu and in the national capital, thus offering valuable opportunities for our students in interdisciplinary learning and to undertake live projects from national/ international organisations. FMS is proud of a long list of illustrious alumni. It has rich legacy and history of producing World Class Business Leaders who are ranking stalwarts in Top MNCs across the globe.