Red Building Of Dreams – Lakshay Nagpal, FMS Delhi
I believe FMS is the most unique campus not only in India but the entire world. It is close knit family of 400 old students studying in the two years of their MBA. The faculty is one of the most revered in the country. Such unique is the brand FMS that people have stayed on for more than 35 years in this home. The campus is low on resources no doubt due to its meagre fee, but we are at the center of one of the best universities of the world: University of Delhi. D.U. has some of the finest guest teachers, playgrounds, libraries and other facilities that any world class university could offer. Being a finance student, I would like to mention the Return on Investment (ROI) of the brand FMS. It is probably the best in the world. No college would give such independence in the world to start your life after education risk free. It being the oldest B-school in the country has one of the strongest alumni networks in the world. After all, what is an MBA college without its alumni? It has quantitatively as well as qualitatively the best students in the country which is something no other b-school can boast of. FMS lies in the heart of Delhi. Delhi is full of experiences whether in food or culture. No place would be a better consumer market for market research than the Kamla Nagar market adjoining FMS. Lastly, every top b-school boasts of swanky flats and other facilities, but what they lag is the FMS experience. FMS students learn the true management through managing their life, food, stay on their own. We learn to improvise and strategize the moment we enter the campus. After all, FMS is the best place to be.
The most memorable classroom experience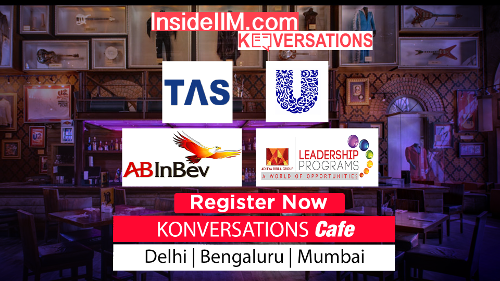 My most memorable classroom experience has been the first class of our Dean, Prof. Sunita Sengupta. She taught us how management is something that has always been in the Indian culture. I have always had the impression that management is something that the western world has perfected. However, this is not the case. Management is something that the western world has only marketed. She taught us using various methodology showing management seeped into Indian way of living. Even yoga and management are interlinked subjects. She also gave the example of interlinking of spirituality and management. We as students are yogis, and yogis are the best managers in the world. It was truly an eye- opening session which changed my perception of the subject. I have since always looked forward to her sessions, where the learning has only increased with practical case studies.
The company I would like to join
I would like to join Aditya Birla Fashion & retail Ltd. which sells in-house brands such as Louis Philippe, Allen Solly, Peter England & People via their individual brand stores as well as through multi brand stores. I would like to join this company because these are the brands that youth can connect to. They are known for their superior quality and variety. These brands clock sales in the vicinity of 1000 crores. They have crazy customer loyalty for their stores pantaloons. I would love to join the brand I can connect to and work tirelessly for it. The target to increase sales, and increase consumer base is something I find challenging.
Interesting people I met in college
Dhruv Gupta: This guy is one of the craziest chap I have met till date. He is guy with brains having passed out of top IITs. But that is the least interesting thing about him. He has the confidence and talent to sleep at any place in the world be it standing or sitting. He seldom talk to himself which scares other people. He is skilled at playing the guitar, ukulele and mouth organ, he will blast music from his amplifier every night before an important submission to calm his nerves.
Aditya Bhale: An engineer who is known for his voice. His voice is arguably the best on campus, once he starts people stop at their places. He is that good. He is also trained in classical vocal experience and table.
Megha Gupta: She is one of the most diverse people on campus. She learnt salsa for almost a year. She likes to play football and cricket (she is in fact great at it). She likes to bet money on horse races and when time allows she rides them for fun. You can see her in the campus with the weirdest hair dyes.
Eshaan Rampal: One of the most avid football fan, he cares not about exams, or deadlines or even sleep when a football match is on. This crazy chap left his job because World cup 2018 came into his way. He roamed around Russia spending crazy amounts in experiences which was his dream since childhood.
Placement Cell FMS Delhi
Established in 1954, FMS has been a pioneer in India offering management education. FMS has the unique advantage of being a premier 'B-school' in a University milieu and in the national capital, thus offering valuable opportunities for our students in interdisciplinary learning and to undertake live projects from national/ international organisations. FMS is proud of a long list of illustrious alumni. It has rich legacy and history of producing World Class Business Leaders who are ranking stalwarts in Top MNCs across the globe.