Red Building Of Dreams – Marina John, FMS Delhi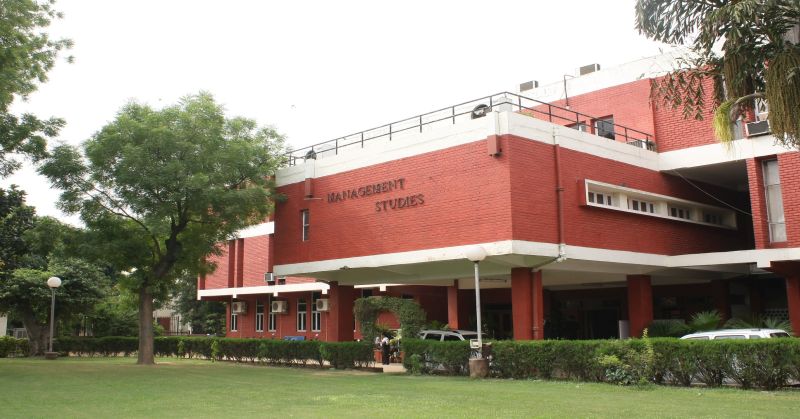 Faculty of Management Studies has been known to churn out one of countries best managers in different domains. But one of hindrances of the red building of dreams is its small campus. I somehow feel that the small instead of being a hindrance has a cosy feel to it.
FMS has been a hectic schedule far. With the class, guest lectures and other sessions the batch has been on their toes. Everyone has been running and trying to catch up with the humongous load of assignments and tasks. In such a stress-filled environment, I chanced upon a beautiful place.
Just outside my classroom, there is a basketball court. On one side of the court, there are a number of trees. There are many of them of different varieties and after living in a brick palace, it is a beautiful sight. The trees bent over almost hide a small path beside them nondescript. It seems like a gateway to Narnia- The mud baked path under the shadows of trees, with the beautiful flowers on one side. Walking on the path feels like entering into an alternate universe. It is like my spot of peace amongst the hardships of the world. I have been brought up in modest means. But since a young child, my parents encouraged me to read book. I've always dreamt of the places Enid Blyton describes in her books and finally, I found it here. It's the calm in the middle of chaos, my calm. The pathway isn't too long though. You reach the exit pretty quickly, but then reality has to strike. The place gives me the calm and determination I need to start afresh and push through.
The other campuses are big, magnificent and breathtaking. But FMS with its walkways feels like dreams come true in more than one way.
A memorable classroom experience in my B-school
FMS is a brand unparalleled. The college thus takes great pains to ensure that we evolve into individuals of unparalleled qualities and skills. As part of this process, a number of guest lectures have been arranged. One of the guest lecturers who had come in was a highly qualified man. He had high credentials and had a wide range of knowledge. There was a question that he had posed to the class. The question being "how can you change the way you think". There were a number of answers but he didn't seem impressed with any of them. I took a shot at it by saying that we can change our perspectives by reading books. I backed it up with evidence by saying quoting two examples:
First, by reading the biographies and autobiographies, we can know about the instance that took place in the life of people of eminence. We can learn of the hardships and challenges that they faced and how to resolve the same. The ethical dilemma that they faced and the way they resolved it is not only an ode to their character but also a way for us to define our lifestyle and channel it accordingly.
Secondly, even by reading different fictional books, there are a number of lessons that one can undertake. We can learn about the number of characteristics eg- Atlas Shrugged taught me that Individual need drives societal needs. This is one of the best ways wherein a book can change a lifestyle.
The guest lecturer cross-questioned me about it and seemed satisfied. I know it isn't a very big achievement but the fact that I could put forward my point and prove it to one of the industry leaders will surely remain one of the memorable incidents of my life.
Introducing some of my crazy batchmates:
Eeshan Anshul- He is a mechanical engineer. Worked for 2 years and done the craziest things, a social butterfly and a total jugadu which is evident by the incident below. He went on a trip to Kodai with four friends. The group size increased by 3 times on the way and 12 of them managed to reach the destination on 3 tickets. The other things were managed along the way.
Shaswat Gupta- Shashwat is a mechanical engineer. He opted out of placement to apply for civil services. Is a calligraphy expert and loves to do origami.
Shreyans Hinga- The guy got drunk and started performing like Bahubali. He carried 4 guys on his shoulder shouting "Bahubaliiiii" on the road. Went about searching for his devasena, couldn't find one and so convinced his best friend to be his devsena!
Ayushi Mehrotra- Just out of college, the girl is a real badass. During a college trip, she got drunk and did Bhangra in front of her whole class on the saddest songs. Tum Hi Ho was one of her favourites.
Which ABG company do you want to join and why?
I would want to join Idea Cellular. This is because the telecom sector is witnessing a huge upheaval. With the Idea and Vodafone merger, the sector is witnessing consolidation. Major structural changes are occurring and I would like to be at the epicentre of it. Also, Idea Cellular's program of Pragya and Stepathlon are major reasons why I aspire to join the firm
Placement Cell FMS Delhi
Established in 1954, FMS has been a pioneer in India offering management education. FMS has the unique advantage of being a premier 'B-school' in a University milieu and in the national capital, thus offering valuable opportunities for our students in interdisciplinary learning and to undertake live projects from national/ international organisations. FMS is proud of a long list of illustrious alumni. It has rich legacy and history of producing World Class Business Leaders who are ranking stalwarts in Top MNCs across the globe.