Red Building Of Dreams – Mohit Agarwal, FMS Delhi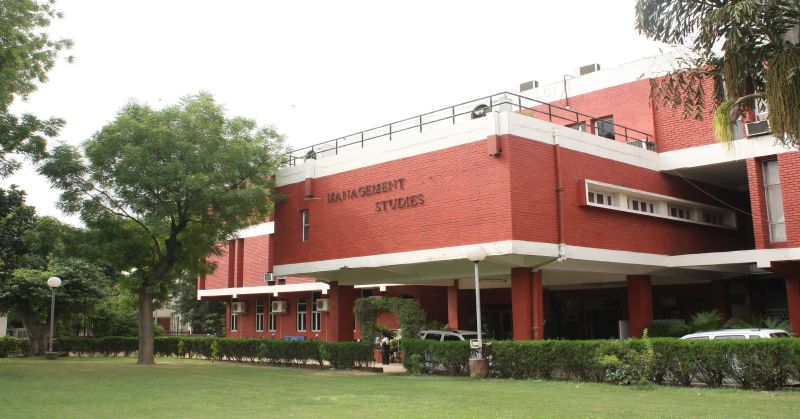 The campus of my college viz. Faculty of Management Studies, Delhi is located in the heart of the national capital within the larger North Campus of Delhi University which is also the fountainhead of knowledge and learning for lakhs of students who have been here and will be here. Ours is a seemingly small campus if one looks at only the three dimensions of it. However, when one becomes a part of the place, one finds out the hidden doorways and pathways which lead to ever bigger spaces that exist in the form of team-spirit and family feeling. Each one covers the back of everyone else. Almost everyone knows everyone else by their name. Even during my under-graduation where I spent four years, my professors did not care much about my name. In a stark contrast, half of the teachers already know more than half of the 70 classmates by their name upon completion of just two weeks at the campus.
Coming to the most enriching aspect of my campus is the opportunities of experiential learning. As all service starts from home, it does here too. We have a very vibrant students body, the Management Science Association. It is an elected body of second year students who take care of all learning of MBA students that happens outside the classroom. As each role in the MSA comes with a set of immense challenges and responsibilities, it provides the students to taste management even before joining the corporate life. While there are many activities which are run by MSA at FMS but are run by the administration at other colleges, there is one activity which can hardly be found among other B-Schools of India. Vihaan, the Social Service Cell of MSA has adopted a village called Ramgarh in Haryana. In spite of the hectic schedule of an MBA program, students make time to visit the village and are involved in life transformation projects at the very grassroots and touch and feel the India which lives in villages. This is reason enough for anyone to yearn to become a part of this unique campus which is nurturing a collaborative attitude in its students at a time when everyone else is talking about competitive spirit.
A memorable classroom experience in my B-School
The most memorable aspect of my B-School life has been the very definition of classroom which has become very lucid. The classroom extends from the physical space called room to the field project to the very rigour of the program which is an experience in itself too! When it comes to sharing the memorable experience, it reminds me of Merchants of Delhi (MoD), a legacy annual competition organised annually The Marketing Society of FMS. We were around 25 teams, each team having 8-9 members and the task was to go out in the city of Delhi with Rs. 1200 and return within 8 hours and earn the maximum cash by way of engaging in a fair and ethical business activity to win the competition.
Our team had 8 members among whom 2 girls were very sweet singers and 3 others were good enough to be the choir. We took no time in deciding that we would earn by way of singing and performing in Connaught Place and Khan Market. We went to both of the places, we spoke to strangers and convinced them to buy our performance. While some smiled and welcomed us and priced our performance generously, others just paid a deaf eat to us and yet others chided us for bothering them. We were improvising our strategy on the go. By the time we came back, we had learned which kind of customer should be approached softly, which one needs a high volume pitch, which customer would pay us and which one would not. This one day taught us more about marketing than I have learned in all my life so far and in the most memorable way too. I found out on that day that I sit among a treasure trove of people with amazing set of skills like singing classic songs, footballers, mathematics geniuses etc. Above everything else, it was most the fun-filled way of learning I have ever experienced.
Some of my crazy batchmates
At FMS, my home for next 2 years, I indeed met kinds of people whom I could not have met anywhere else.
Aditya Bhale – Aditya is a person of so many talents. He is academically bright and yet gifted at music. He plays Tabla and sings classical music as if I were hearing a Guru himself. One is sure to get enchanted the same moment as he starts singing. Now, Aditya's talents do not end here. He is a footballer too and also runs a football training academy for underprivileged children back in his hometown Khairagarh. All of this does not stop him from being humble, helpful and concerned towards friends and strangers alike. He would always carry his characteristically wide smile all day long in all kinds of situations. It is indeed inspiring and enlightening to be around him.
Eeshaan Rampal – Eeshaan appears to be just another person in the classroom. He doesn't speak much and prefers to spend on his mobile whatever seconds he gets in between two sessions. However, I came to know Eeshaan's true self during a quiz competition. Our team couldn't qualify the first round which his team did. It was then that his knowledge of facts, events and incidents surprised me. He is a football geek and he seems to enjoy the history of the sport as much as he enjoys watching the matches. He is well aware of the latest books, popular historic anecdotes and foreign cultures and traditions.
Debangana – Debangana is the most soft-spoken and friendly person I have ever met. It came to me as an utter surprise when I witnessed her performance in the final round of Ultimate HR Manager. In this round, she was playing the part of an HR Manager who was to settle scores between two labour unions who had drawn out swords against each other. It was a highly intimidating situation with members of both unions directing their fury at Debangana. However, during the entire time, she held her ground and kept her cool until the end of the round.
Sophia – I had the pleasure of working in the same team as Sophia in Ecomtrix, a contest by The Systems Society of FMS, with around 20 other participants. The deliverable in this contest was a one page word document. We had already decided them of our document while in the campus. After that, we were to prepare the document itself upon returning home. What I thought was at least an hour long task, Sophia accomplished it in less than half hour. I remember the team connecting over a conference call with Sophia volunteering to do the compilation of information in one document. She was a step ahead of the team all throughout. She would give us some info to find or share. Meanwhile, she would do her part in the document. After we gave her our info, even while adding that to the document, she would assign us the next info she needed and so on. She is indeed the most efficient human hub and repeater I have seen at work!
ABG Company I want to work for
While four-fifths of Indian adults had opened bank accounts by 2017, only 36% of account owners were making or receiving digital payment using their account. This speak about the huge scope available in the banking sector in India especially in the digital and small payments segment which is yet to spread its footprint. I would like to be a part of the disruption technology is making in the banking sector and hence, would like to work with the Aditya Birla Payments Bank. Payments Bank are a young business in India and present a huge possibility for banking at the bottom of the pyramid which is where I too aspire to create an impact through my work.
Placement Cell FMS Delhi
Established in 1954, FMS has been a pioneer in India offering management education. FMS has the unique advantage of being a premier 'B-school' in a University milieu and in the national capital, thus offering valuable opportunities for our students in interdisciplinary learning and to undertake live projects from national/ international organisations. FMS is proud of a long list of illustrious alumni. It has rich legacy and history of producing World Class Business Leaders who are ranking stalwarts in Top MNCs across the globe.