Red Building Of Dreams – Mukul Gore, FMS Delhi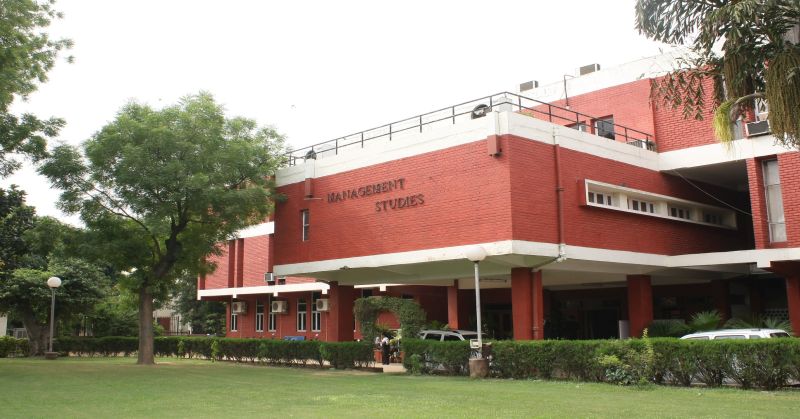 FMS is one of the best B-schools in India and has a unique campus. The thing I love about FMS is that every with the scarcity of so many resources it has created a unique campus where I love to spend time. FMS has all the facilities packed in a small area. It is at the heart of the university area with everything well within my reach. The education provided in college is the best I ever had. Also, all the seniors I had met are very humble and helpful. We have a small but resourceful canteen and a well-equipped library. Also, there is basketball and badminton court in college premises. FMS is a mixture of great learning and fun and I am lucky to be part of this beautiful and unique campus.
A memorable classroom experience in my B-school
Its been a month since I joined FMS and I have already made a lot of memories in this college. One of the memorable and funny moments which occurred in my classroom was during one lecture when one of the guys beside me fell asleep. Even I was surprised at how he felt asleep even when the teacher was teaching such an interesting topic so well.
Not only did he sleep, after some time he even started snoring. The entire class including the teacher burst out of laughter and that woke him.
He made an excuse to the teacher that he is didn't sleep last night and the teacher asked him to go and wash his face. Thinking about this moment really cracks me up.
Introducing – some of my crazy batchmates
Shubham Gajbhe: Shubham is my roommate and a very sincere and hardworking guy. Some of his actions really make me laugh. At the time of studying late night, sometimes he stops thinking and won't even understand what others are saying. His eyes look like that of a zombie. It's like talking to a ghost.
Mukul Yadav: Mukul is a humourous person. He likes storytelling. He has told me about many of his travels and trekking. Even thinking about all the hard work he does and the efforts it takes to travel to the places he has travelled makes me is hard for me. He wants to travel to Mount Everest and I am sure he will do it someday.
Siddhant Arora: Siddhant is my flatmate too. He is a very relaxed and chill person. He doesn't worry much about anything. His famous dialogue is 'Aur bhai ki hal hai'.
He says this dialogue more than 10 times a day. It doesn't matter if a person is happy or he is sad or angry, Siddhant always introduces himself as 'Aur bhai ki hal hai'.
Akshay Tomar: Akshay is a very funny guy but whenever he talks he sounds like he is angry on someone. Whenever he gives attendance in class and says 'present', it sounds like he is screaming. He also seems angry whenever he talks even though he isn't. His behaviour really cracks me up.
ABG company I would like to work for
I would like to work for UltraTech Cement limited. My father is an employee in Ultratech limited and I have spent most of my life in an Ultratech cement colony. I have very close childhood memories attached to this company. The work-life balance and services to the employees which Ultratech cement provides is commendable. The company built houses, school, hospital, playground and a green environment for all its employees. I owe my happy childhood to Ultratech Cement and Aditya Birla group.
Also, I did my internship there and the type of work is very challenging. I have visited the plant a few times and really like to visit it again in the future.
Placement Cell FMS Delhi
Established in 1954, FMS has been a pioneer in India offering management education. FMS has the unique advantage of being a premier 'B-school' in a University milieu and in the national capital, thus offering valuable opportunities for our students in interdisciplinary learning and to undertake live projects from national/ international organisations. FMS is proud of a long list of illustrious alumni. It has rich legacy and history of producing World Class Business Leaders who are ranking stalwarts in Top MNCs across the globe.