Red Building Of Dreams – Navneet Kamal, FMS Delhi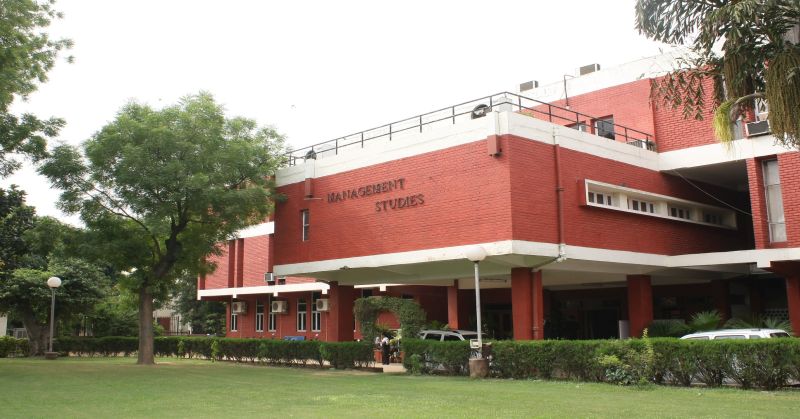 Faculty of Management Studies lies at the heart of Delhi University just like a bright pearl in the centre of an oyster whose glare reaches the farthest of places. It is an institute that teaches the students to maximize the profits while struggling with the constraints. It also has an added advantage of being in Delhi as opposed to other B-schools where the density of companies is not usually that high. The quality of a graduating batch is beyond comparison as almost every year the entire batch gets placed and the average package is comparable to any other top IIMs. The biggest advantage of joining FMs would be the absence of loan pressure as you would be able get MBA degree at the cost of merely 50 thousand which might be even lesser than your undergraduate fees.
The most memorable moment from my experience so far in B-school was the time when our seniors pranked us and the entire fresher batch was so scared that we almost panicked. It was at that instant when the seniors welcomed us brilliantly with a video being played for us. Thereafter, each senior showcased his/her talent and both of the first and second year students finally had fun together followed by the fresher's party the next day.
My crazy classmates
Richa Bubana
She is one of the craziest people I have come across at Faculty of Management Studies, New Delhi. She is like a Pandora's box; full of hidden talents and still exploring more. She is a published author and has already been involved in marketing and sales of her before joining an MBA programme. Also, she is an amateur astronomer and has worked with professional observatories and done some serious stuff in the field. Apart from that, she is a karate black belt holder which is something that makes her a person who has no limits when it comes to realising the dreams.
Aditya Bhale
One of the most talented guys in the batch of 2020 FMS, Mr. Aditya Bhale is a person to look up to. He is national level football player and has been running his own football school where he mentors young kids in the field. He also has worked as an instructor in many coaching institutes while preparing for his CAT studies. But the biggest talent of this guy gets unsurfaced when you hear him sing. He has done masters in Tabla and is blessed with melodious voice which makes him the most talented person in my batch.
Shanky Garg
He is an easy going guy who can instantly make friends with anyone. He has remained a usual guy for most of the initial days until the time when he showcased his mimicry skills. In one of our fun events during induction, we were supposed to prepare a mini skit and he mimicked numerous seniors from our batch to the perfection. That was the tie when he became an instant superstar of our batch. Also, he has some great dancing skills and an ideal mate to hit the dance floor with.
Akhilesh Giri
He is probably the student with the most amount of work experience. He has been in work for almost 6 years and has finally joined MBA programme to upscale his career graph. He has been engaged already to his fiancée and it would usually be extremely hard for normal people to manage hectic studies of MBA and the personal life. But he sets a perfect example of the perfect relationships where both the parties understand each other and support even when the times get hard.
Company: Peter England
I want to work with Peter England as it is an ideal company for marketing enthusiast like me. Peter England has an advantage of having reaches into the deepest sections of the society. Their brilliant marketing strategies over the decades have made their products household commodities. They have options for most of the sections and thus they are able to get strong loyal customer base in India which makes them an ideal case for the perfect example marketing companies.
Placement Cell FMS Delhi
Established in 1954, FMS has been a pioneer in India offering management education. FMS has the unique advantage of being a premier 'B-school' in a University milieu and in the national capital, thus offering valuable opportunities for our students in interdisciplinary learning and to undertake live projects from national/ international organisations. FMS is proud of a long list of illustrious alumni. It has rich legacy and history of producing World Class Business Leaders who are ranking stalwarts in Top MNCs across the globe.