Red Building Of Dreams – Prakhar Gupta, FMS Delhi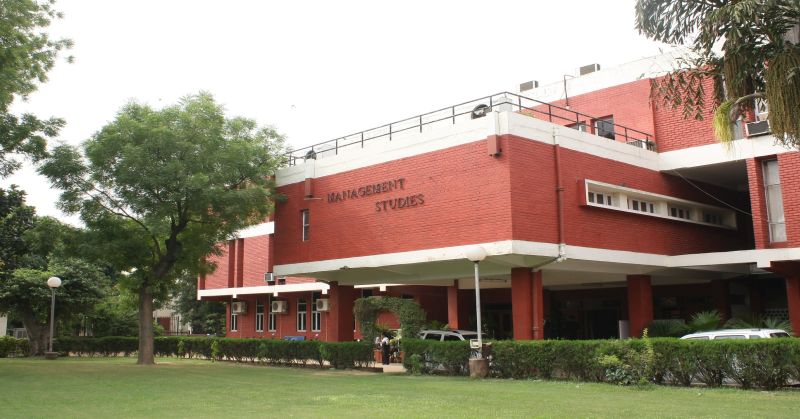 FMS is the oldest MBA College in India. Established in 1954 under the Delhi School of Economics, the first batch of faculty were trained at Stanford University Business School, the college is the best example of working efficiently with limited or constrained resources. A single building where the best faculties from all over India teach MBA students. The faculty who are recognized industry stalwarts in guiding and mentoring both students and industry professionals. FMS has a great diversity in the batches and with the least number of students among all competitive B-schools, it provides the best learning experience due to more teacher-student interaction. The campus atmosphere is such that students believe in collaboration over experience which is one of the most important managerial trait. I believe this is what makes my campus unique.
A memorable classroom experience in my B-school
The most memorable classroom experience has been presenting the Infore WM 9 inventory accounting system used by Indian companies for warehouse management systems (WMS). In the information technology management lecture conducted by our Ex-Dean Mr. M L Singla, we were assigned to read about an inventory accounting system for which I chose Future Supply Chain Solutions Ltd. and with my understanding of logistics, I prepared a one-pager to voluntarily present in the class. But unfortunately, I forgot to bring the one-page the next day. I still was the first to volunteer and explained to the class how WMS works and what are the different stages in a warehouse process along with the benefits of using the Infore software. I was delighted and proud to be able to explain the concept in simple and easy to understand terms which my classmates appreciated after the lecture for clarity in communicating the concept and it felt good.
Introducing – some of my crazy batchmates
Boda Manoj – A south Indian who loves dosa. A fairly balanced person and a funny guy. He jokes around a lot and showed shopping as his sports activity. It is funny as he walks from store to store and runs for the season sale offers. The reason as he quoted was to make everyone laugh.
Ashish Batra – Born and brought up in Patiala, a B.Com graduate with a certificate program in finance, the 5 feet guy is a blast and fun person to be around with. He takes a stand even when the group does not agree and is not hesitant in speaking his mind without thinking about what anyone else will think of it.
Kumar Ravi – An engineer from VNIT Nagpur, Ravi calls himself Limitless and it is only apt that he is limitless in his conversations as well. A communist and extremist, he is an avid reader of non-fiction and limitlessly crazy even if does not show it out loud.
Sparsh Gupta – A CA and graduate in Delhi University Open School Learning. This guy with Gandhi spectacles is famous in our batch for asking doubts from faculty, guest lecturer and learning sessions. His simple doubts always extend the class by 20 minutes and the best part is that he states that I indulge in a lot of question and answers. I think he does it for class participation. Can one believe how crazy he is!
ABG company I would want to work for
I would like to work with ABOF because I want to expose myself to the e-commerce. Since I have prior experience in supply chain management with Future Retail and L'Oreal, and the company has a large scope of growth, I wish to be a contributor to the same. I will mean more responsibility, realizing month-on-month exponential growths which I have never had the opportunity before. I believe with expansion an optimized and efficient supply chain is a key element to brand building.
Placement Cell FMS Delhi
Established in 1954, FMS has been a pioneer in India offering management education. FMS has the unique advantage of being a premier 'B-school' in a University milieu and in the national capital, thus offering valuable opportunities for our students in interdisciplinary learning and to undertake live projects from national/ international organisations. FMS is proud of a long list of illustrious alumni. It has rich legacy and history of producing World Class Business Leaders who are ranking stalwarts in Top MNCs across the globe.