Red Building Of Dreams – Pratistha Agarwal, FMS Delhi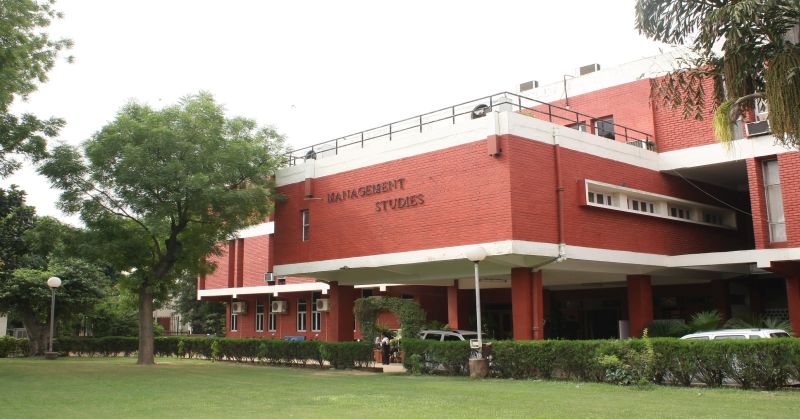 My campus, my Faculty of Management Studies, or the red building of dreams as we fondly call it . The prestige it enjoys and the legacy it has created since decades – is only upheld and propagated with each incoming batch.
The consistency with which FMS has remained on the list of most sought after B-Schools in the country has a lot to do with the academic rigour and exhaustive pedagogy. But the campus – situated right in the middle of North Delhi – is probably the only non-residential B-school in the country that features in the top 10 consistently across all rankings and all metrices of evaluation. Being a non- residential campus is what makes it unique for three reasons in my opinion. The bonhomie and the spirit of oneness that binds the batch together extend beyond the campus walls and seeps into the personal lives. The shared sense of belongingness that comes from living a life outside of the campus, yet together in close proximity to each other is unparalleled and simply cannot be achieved in a controlled hostel environment. Secondly, and more importantly, not having a closely controlled and protected residential complex gives a taste of independence to the students, that is often the first brush of independence for a number of fresh graduates who join this esteemed college. It prepares you better for the real life- it gets you ready for the actual life to come. In the corporate life, problems never come in isolation. You will always have some logistic issues on top of your professional commitments, some personal issues on top of that deadline at work. Living in a non- residential campus prepares you for that aspect of the real life. This is true for, in fact, any professional line that you choose eventually – be it entrepreneurship or public sector service – or anything else, since an MBA prepares you to face almost anything and everything that you can think of, professionally (even personally , but that is a whole other tangent of thought) . The third reason, becomes an actual deciding factor for a lot of extremely bright students that decide to pursue their MBA from FMS instead of the hailed IIMs. One of the reasons of affordability of FMS is the absence of a residential campus. The exceptional return on investment makes it possible for a lot of students from not so financially affluent backgrounds to pursue their dreams without the burden of a hefty debt.
INTRODUCING SOME OF MY CRAZY BATCHMATES !
UTSAV DAVE
This crazy soul defines passion for self-improvement. At a staggering 120kg in 2014, he decided that that was it! Went on an intense diet and workout regime and viola – craziness gives way to passion and passion bears fruit. Right is what he looks like today.
RAJYALAKSHI SWATHI JONNALAGADDA
Her name is not the only thing that stands out. Her wanderlust has taken her to live in more than 3 countries, travelled extensively across 4 more, all before hitting 21. You go Swathi !
MANU S.
This engineer turned manager in making is a man of many talents because his craziness does not let him sit idle! He thus keeps adding to his long list of talents. He is a trained Carnatic singer, professional badminton player, professional chess player, adrenaline junkie, violinist, football player. Phew! Just listing it out makes one dizzy!
ARJIT BHARTIA
This crazy genius is an IITian, CFA, entrepreneur and now a budding manager. Be it following his passion of creating something of his own or living off of money won in online poker for several years – in a city like Mumbai ! he has done it all. Before one jumps off to any conclusions, like a perfect law abiding citizen he has paid his taxes in full on the money won. Talk about balancing crazy with prudence!
MY DREAM ABG COMPANY !
Although working in any part of a $40B company would be equally exciting and challenging, I would like to work with ABG fashion and retail if given an opportunity to choose. Not only do I associate with the vertical in the highest capacity, but also the value system that Aditya Birla Group stands for resonates with me. Be it integrity, commitment or passion – ABG has shown time and again how business and ethics can go together. The seamlessness with which ABG works across domains to harness the synergies and the speed at which it operates – both make the Aditya Birla group a dream destination.
Placement Cell FMS Delhi
Established in 1954, FMS has been a pioneer in India offering management education. FMS has the unique advantage of being a premier 'B-school' in a University milieu and in the national capital, thus offering valuable opportunities for our students in interdisciplinary learning and to undertake live projects from national/ international organisations. FMS is proud of a long list of illustrious alumni. It has rich legacy and history of producing World Class Business Leaders who are ranking stalwarts in Top MNCs across the globe.